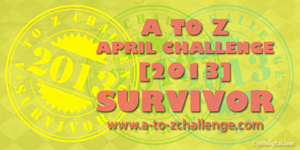 This was my first A-Z Challenge. My main purpose when I started was to make myself write more. It worked. Before April 1, I filled in the calendar with a topic for each day. After the first week, I realized that I couldn't do 26 days of posts that required so much research. I was spending all day, and into the night working. By the end, I had simplified my expectations and even got a few posts ahead. I used my usual theme of family history, past, present and future for the A-Z Challenge.
Although it was somewhat daunting to find blogs that spoke to me in the list of over 1,800 participants, I finally got the hang of it and found it easier to look at blogs of people who made interesting comments on blogs I read or people who posted near me on twitter or fb. I would appreciate having more labels. My blog went unlabeled because none of them seemed to fit. I found some new blogs I will be following and made some new blogging friends.
I don't have a "like" button or a counter, so I have no idea how many people visited unless they left comments. I will probably add both soon. Thanks to Arlee for thinking up this challenge and all the helpers and participants. I look forward to participating in the A-Z Challenge in 2014. Maybe I'll even get a few posts written in advance during the coming year.
Here are my links for this years challenge.
D is for Doctors, Dentists, Nurses and Pharmacists
F is for My Fiercely Creative Family
L is for Long Ago – House War Workers March – 1942 Detroit
M is for the Music of Hubert Averette
N is for a Nostalgic Interview With Henry Cleage
Q is for Questions, Questions and More Questions
R is for Relatives, of the Elusive Kind