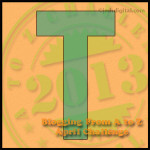 This is my 20th post for the April A-Z Challenge. There are quite a few teachers in my family – my mother, Doris Graham Cleage, taught Social Studies and then reading on the elementary level. My father spent his life teaching and preaching. My Aunt Gladys Cleage Evans taught art on the elementary and junior high level. Two of my daughters are teachers. One of my sons is an educational paraprofessional. And there are more than a few teachers amongst the cousins. How could I almost forget my sister Pearl, my Uncle Henry and cousin Warren who all taught college classes.
Today I'm featuring my Great Aunt Daisy Turner who was an elementary school teacher in Montgomery Alabama in 1918 and 1919. In 1920 she was a clerk in her Uncle Victor Tulane's store. There is a transcribed article about that school year below.
City Public Schools Will Open for 1918 Term Sept. 30; Plans for Opening Are Made
All Buildings Are Being Put in Good Condition- Increase of 601 Children Shown by Census
The next session of the city public schools will begin September 30 and the board of education and the superintendent of schools are putting forth every effort to have all school buildings in the city in perfect condition for the reception of teachers and pupils on that day.
Attendance
the school census taken last July shows an increase of 401 children in the school population since July, 1916. A large increase in school attendance next winter is therefore expected and is being provided for.
The city schools last year took care of 622 more children than in any other year of their history. The majority of these were negroes (sic), and to provide for tuition for them it was found necessary to employ eight additional colored teachers and to rent four additional schools rooms. Even with this additional room it was necessary to hold two daily sessions of first grades at some schools.
Four additional white teachers were employed to provide for the increased number of white pupils.
New Buildings
Last year the board erected in North Montgomery a modern school building for white children which was ready for occupancy January 1st. This building, though small, is representative of what is best in modern school architecture and will provide ample accommodation for the pupils of that district for some years. It was named in honor of Charles F. Floyd who recently retired from the office of superintendent of schools after many years of efficient service.
A neat little building was erected on the grounds of West End school and equipped for the purpose of providing room for conducting classes in Home Economics for the girls of the school.
Sanitary toilets were installed at Day street school.
Last year several thousand dollars was spent in putting certain school buildings in good condition for the winter's work. Bellinger Hill and West End schools were put in perfect repair, new plumbing was installed at Decatur street school, repairs less important but necessary were made on Highland Park, Chilton, Decatur street and Booker Washington schools. Two rooms in the basement of Lanier High school were plastered, painted and equipped for the uses of the newly organized commercial department.
This summer contracts for painting, repairs on plumbing, repairs on heating plants, floors, walls, etc., on various school buildings have been let. New plumbing will be installed at Lawrence street school and new heating plant at Decatur street school. An adequate supply of first class fuel for each school has been stored and by September 20 it is expected that the entire school plant will be in splendid condition – comfortable, sanitary and attractive.
The increased enrollment last session made necessary the purchase of school desks and other equipment for several additional school rooms. The rooms occupied by Home Economics classes at West End and Chas. L. Floyd schools were equipped for this work and the rooms for the commercial department of Lanier high school were furnished with filing cases, typewriters, bookkeeping, desks, etc.
During the summer, as far as time allows, the school desks now on hand which are not in good condition will be repaired and refinished.
Curriculum
The course for study at Lanier high school will be practically the same as that followed last year, except that special emphasis will be placed on the subject of physical education. The board has secured the services of Maj. H.H. Burdette who will have charge of military training, etc.
The study of Spanish was introduced last year and proved a very popular course. Mrs. Helen Laughlin, well known in the city as a teacher of Spanish will be at the head of this department.
The commercial subjects also proved very popular and this work has been selected by such a large number of students that it has been found necessary to employ an assistant in the department. The commercial course is a regular high school course leading to graduation.
The work at Lanier High school last year was of it's usual degree of excellence. The standing of the school is evidenced by the fact that its graduate students are accepted without additional preparation by leading colleges and universities. Last year we received report of the excellent records made by our students from the following institutions without the state: Yale University of Pennsylvania, University of Virginia, Goucher Wellesley, Randolph-Macon and Agnes Scott. Similar reports were received from state institutions as follows: University of Alabama, Alabama Polytechnic Institute, Auburn, Ala., Alabama Girls' Polytechnic Institute, Montevello, Ala, State Normal schools at Troy and Florence.
A new course of study in the elementary schools provides for physical education. Miss Annie Tyson who last year successfully conducted the classes in physical training for girls in Lanier High school will have charge of the work.
A course in Civics begins with oral lessons in the first grade and continues throughout the grades. Its object is the train the pupils for citizenship and the for service and to teach the spirit of democracy.
The text book commission has changed texts in only two subjects – Geography and Spelling- so no undue hardship will be due to change in text books.
Extra Curriculum Activities
Many activities outside the daily lesson programs were undertaken by the pupils and teachers during the past session and will be continued when school opens again. These were chiefly of a patriotic nature and the teachers have expressed the opinion that these activities were a very potent factor in teaching "the heart to feel, the mind to think, and the body to act" which is the end of education.
There was organized at each school in the city a branch of the Junior Red Cross of which every child in school became a member. A War Savings Society was organized in every grade in school and thousands of dollars were invested by the pupils of war savings stamps and liberty bonds. Patriotic leagues were organized by the older students and hundreds of garments were made by the members for the Red Cross.
Numbers of entertainments were planned by the teachers and executed by the children and a considerable amount of money thus secured was divided among various patriotic enterprises.
On the whole a most successful year's work was done due to the enthusiastic help of the Board of Education along all lines looking to the rendering of efficient service to the children enrolled in school, to the loyalty and efficiency of the principals and teachers and to the ready response of the pupils.
Teachers
Mr. J.S. McCants will return as principal of Lanier High school, but there are several changes in the personnel of the faculty Mr. E.N. Mallory of New Orleans will succeed Mr. H.L. Weatherby as teacher of manual training, Miss Lila Overstreet and Miss Ruby Crawford, who last year taught mathematics at Montevallo, will teach mathematics, Miss Gussie Harris will assist in the English department, and Miss Zilla McWhorter of Athens, Ala, will teach chemistry.
Misses Sara Walker and Frances Duggar have been recently elected grade teachers in the elementary schools and Daisy Turner a grade teacher in the colored schools.
The Montgomery County Institute will be held in this city the week beginning September 21 and at that time the city teachers will assemble at that time and the new course of study will be discussed, plans made for next year's work, etc., at these meetings.
The pupils of Bellinger Hill and LaFayette schools planted and cultivated successful and profitable school gardens. These gardens brought in additional revenue for patriotic causes. Similar gardens were cultivated by the pupils of Day street and Booker Washington schools.
A full list of teachers for 1918-1919 follows: (long list of names follows)