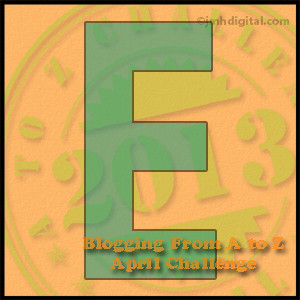 This is my fifth post for the April A-Z Challenge. Every day in April I am using the letters of the alphabet as prompts for my blog posts. Today I am going to write about the Emancipation of slaves in the United States.
After publishing my blog about Samuel Cleage and his trip down the Wilderness Road to Tennessee, I got a question about Northerners moving South and taking up slavery. I began wondering when the states in the North, like Pennsylvania, outlawed slavery.  I knew that slavery had been practiced in all of the original colonies, but I didn't know when it ended.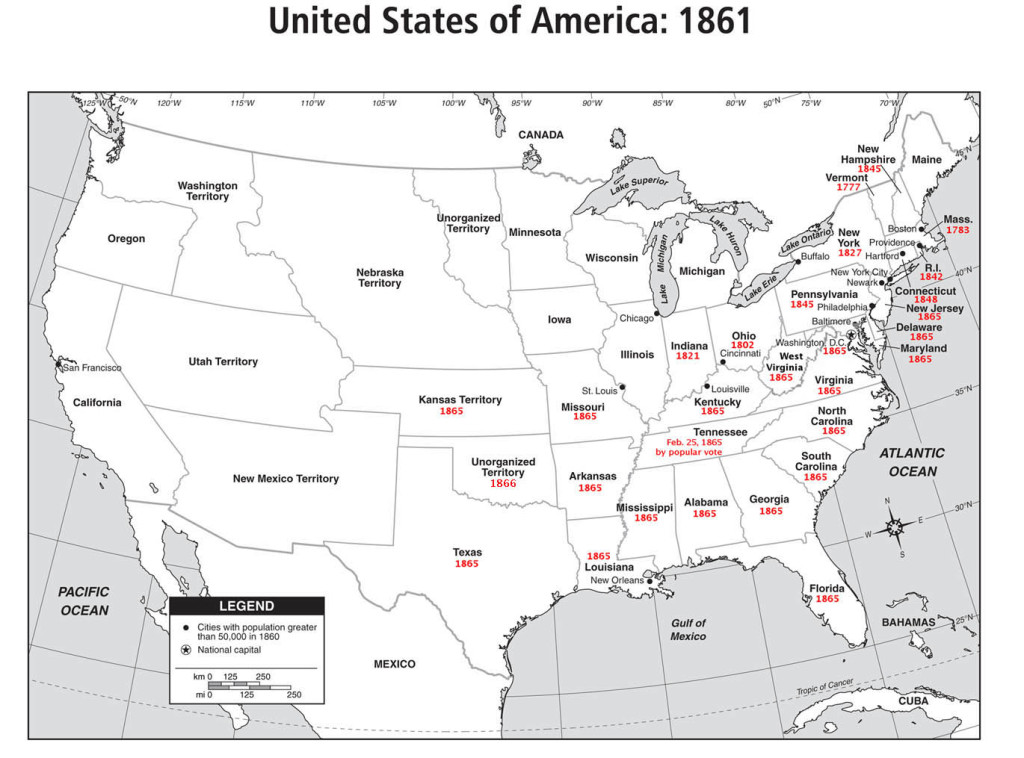 There are varying emancipation dates given for some states. For instance, Pennsylvania passed a law against slavery in 1790 but it was to be accomplished in gradual steps. Those already enslaved would remain so. Children born to enslaved women would become indentured servants until they reached 28. The number of slaves declined until by 1845 there were no known slaves in the state.  I used the later date.
In all of the Northern states, the numbers of slaves had fallen into the hundreds or below by the time of the dates on the map above. Using a map of the US, I  found the dates for each state by spending today looking on the internet. I often got side tracked reading about the Civil War and slavery and arguments over slavery. I am learning a lot doing this series. Below are two sites I found interesting.
While researching today, I found something I looked for when doing the Cleage's Bricks post – a photograph or painting of black people with a Conestoga Wagon. Today I found two, as well as some discussion about the 2nd photograph, on this site: A Profound and ubiquitous image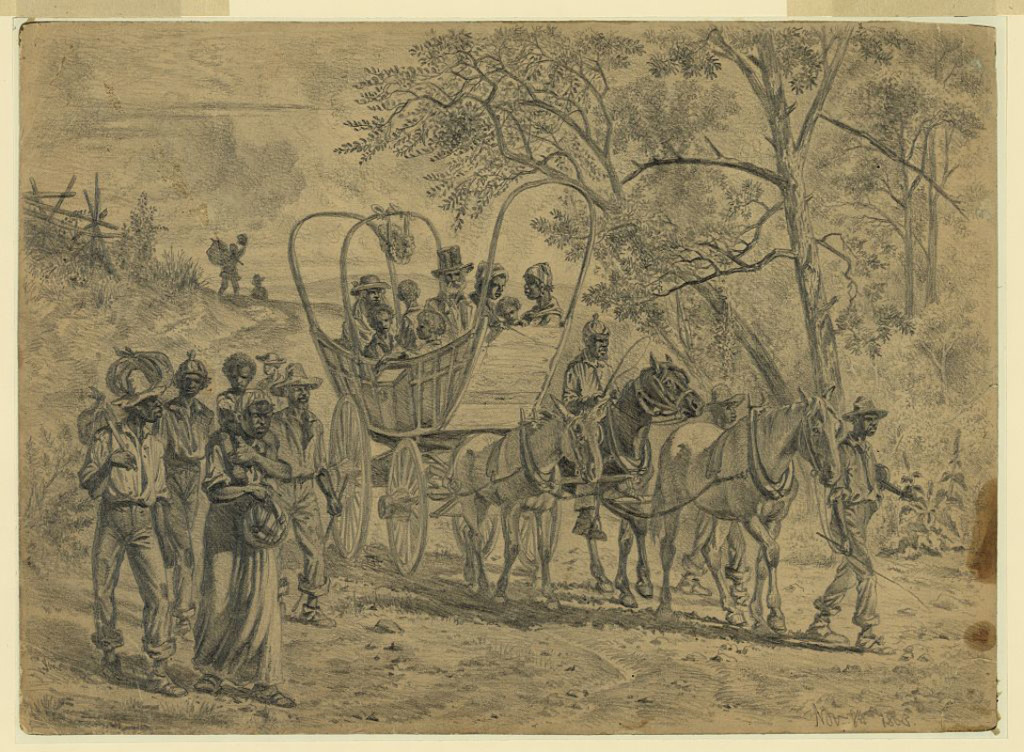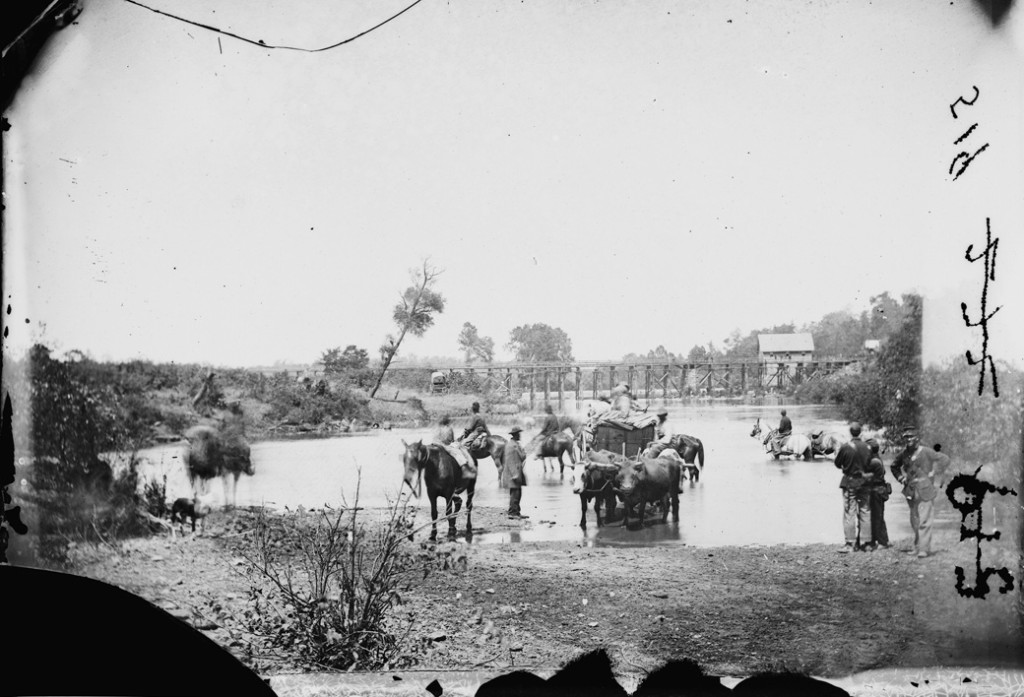 Booker T. Washington was a nine year old boy in Virginia when Freedom came to his plantation.  This is how he remembered it in his autobiography:  Up from Slavery – pg 20
 As the great day drew nearer, there was more singing in the slave quarters than usual. It was bolder, had more ring, and lasted later into the night. Most of the verses of the plantation songs had some reference to freedom. True, they had sung those same verses before, but they had been careful to explain that the "freedom" in these songs referred to the next world, and had no connection with life in this world. Now they gradually threw off the mask, and were not afraid to let it be known that the "freedom" in their songs meant freedom of the body in this world. The night before the eventful day, word was sent to the slave quarters to the effect that something unusual was going to take place at the "big house" the next morning. There was little, if any, sleep that night. All was excitement and expectancy. Early the next morning word was sent to all the slaves, old and young, to gather at the house. In company with my mother, brother, and sister, and a large number of other slaves, I went to the master's house. All of our master's family were either standing or seated on the veranda of the house, where they could see what was to take place and hear what was said. There was a feeling of deep interest, or perhaps sadness, on their faces, but not bitterness. As I now recall the impression they made upon me, they did not at the moment seem to be sad because of the loss of property, but rather because of parting with those whom they had reared and who were in many ways very close to them. The most distinct thing that I now recall in connection with the scene was that some man who seemed to be a stranger (a United States officer, I presume) made a little speech and then read a rather long paper—the Emancipation Proclamation, I think. After the reading we were told that we were all free, and could go when and where we pleased. My mother, who was standing by my side, leaned over and kissed her children, while tears of joy ran down her cheeks. She explained to us what it all meant, that this was the day for which she had been so long praying, but fearing that she would never live to see.