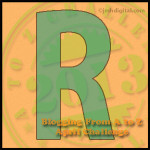 This is the eighteenth post for the April A-Z Challenge. Finding a small New Testament inscribed to Jacob Graham in my grandfather Mershell C. Graham's belongings raised questions that I am still trying to answer. To read what I wrote earlier, follow these links, Jacob Graham and Abraham Graham. Today I am going to write about William Graham and Mary Jackson, the parents named on my grandfather's delayed birth record.
Information My Mother Gave Me
In 1974, my mother had copies of some family photographs made for my sister and me. She identified the one below, on the left, as my grandfather, Mershell's "real father". She said that when she asked him if he wanted a copy, he said, no. I hung it on my wall with the others until I came into the possession of the family photograph collection. I noticed that the man in the picture looked exactly like the father in my grandfather's informally (in adulthood) adopted family, Joseph Graham, and the house was their house. On the left you see a photo that was identified as "The Graham's at home". The man and the house in both photos look the same to me. I have heard nothing or found anything that makes me think that Joseph Graham was actually my grandfather's father.
Before I forget here is something Daddy said to me once late in life, while we lived on Fairfield. He said his real family, the ones in the album, his real sister who is in that picture, wrote once to the Theodore address and asked for old clothes or anything they could send because she was having a hard time and mother threw the address away before they could get anything together. He said that he had always taken care of Mother's people and she would have nothing to do with his. Now that doesn't sound like mother, but on the other hand, she had often said that he was too good, that he didn't have a dime when she married him although he should have, had always made good money, but his adopted family got it all from him because he was so generous, so when they married she told him let me take care of the money, if you do we'll always have some when we need it. He did. She did. And they did!!
I wish I knew Daddy's real family. Bet they still live in Alabama and could be found if anyone had the energy.
My grandfather's delayed birth record, which he filed in 1941, gives his parents names and ages at his birth. He named William Graham as his father and said he was 35 in 1888. That meant he was born about 1853. He named Mary Jackson as his mother who was 30 years old in 1888. She would have been born about 1858. He said he was the 4th of 4 children.
Early in my use of the internet for research, I looked for William Graham and Mary Jackson. I found a marriage record for them.
Alabama Marriages, 1809-1920 (Selected Counties)
Name:
William Graham
Gender:
Male
Spouse:
Mary Jackson
Spouse Gender:
Female
Marriage Date:
20 Dec 1874
Marriage Place:
Elmore
Surety/Perf. Name:
Wm. B. Hall
Perfect. I looked in the 1880 census and found them living in Robeson Springs, Elmore County, Alabama with two children, 8 year old Crofford and 3 years old William. Next I looked for them in the 1900 census, expecting to find them with two other children, one being my 12 year old grandfather Mershell. I didn't find them. I didn't find him. I couldn't find a trace of any of the family that was there in the 1880 census. Or the 1900 Census. There is a William Graham the right age in the 1910 census living in the Elmore County Alms House. That's it.
Monday I will write about what I found for Annie Graham, the other member of the 1900 household that included Jacob, Abraham and Zacharies. She, too has William Graham and Mary Jackson listed as parents. Her youngest son was named "Mershell".