A post about finding my great great grandmother Susan Rice Ragan that I wrote several years ago and never published.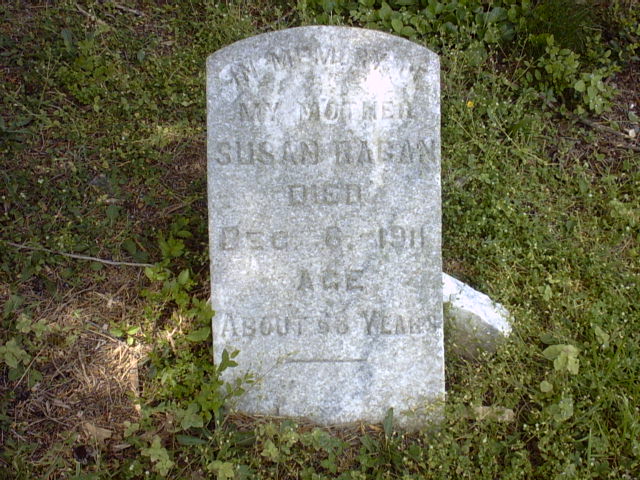 Riding home today after getting my ears dewaxed, my mind wandered to… pension files.
Recently I joined fold3 to find information about one of the people I wrote up in the Katie Cleage's series – Lucy McCaury. I couldn't find anything about her, so I decided to see if there were any interesting widow's files from the same Troop with the Cleages. I found one yesterday for Susan Regan, from Athens TN. As I went through her file, I noticed a name I recognized – W.R. Sherman and thought, well, I know him. He was my great grandmother Celia's second husband. He was writing concerning final expenses for Susan Regan and he listed himself as son-in-law. It took me overnight to realize that would make her Grandma Celia's mother.
Susan Ragan and the three children of Nelson Ragan/Reagan were named in the file. They were born in 1857, 1860 and 1864. My great grandmother was born in 1855. Henry was born in 1854. They weren't named in the pension file because they were not Nelson's children and therefore didn't qualify for any pension money. In the 1870 census, Susan Ragan appears with those three plus Ann and Henry. All were using the Ragan surname. I had looked at that file several times before when trying to find Celia in the 1870 census and discarded it because the names were "wrong". This time I remembered that Celia's first name was Anna on her death certificate.
Monday I was following my newly found 2X great grandmother Susan Ragan through the census records on ancestry.com. She was only appearing in every other census. I finally decided to go ahead and add her to my main family tree as my great grandmother's mother. (I had set up a separate tree for them until I was sure.) Once I added her as my great grandmother's mother, she appeared in the missing censuses as Susan Rice . "Rice" being the name of their former slave holder and my great grandmother's father so "Rice" became one of Susan Rice Ragan's surnames and she began to show up when she used that surname. The children identified as 'Ragan" before, now appeared as "Rice" in those censuses. It's all so amazing to me. I even found her grave on Find-a-grave and had it transferred to me.
Other posts about Susan Rice Ragan
TIMELINE: Susan Rice Ragan
NELSON Ragan
QUITE a Surprise
ON this the 29th day of March…
PHILLIP Born Dec. 21, 1857
VALVULAR Heart Disease
UNDERTAKER: Susan Rice Ragan's burial
SHOT By Robbers
WILLIAM Roger Sherman