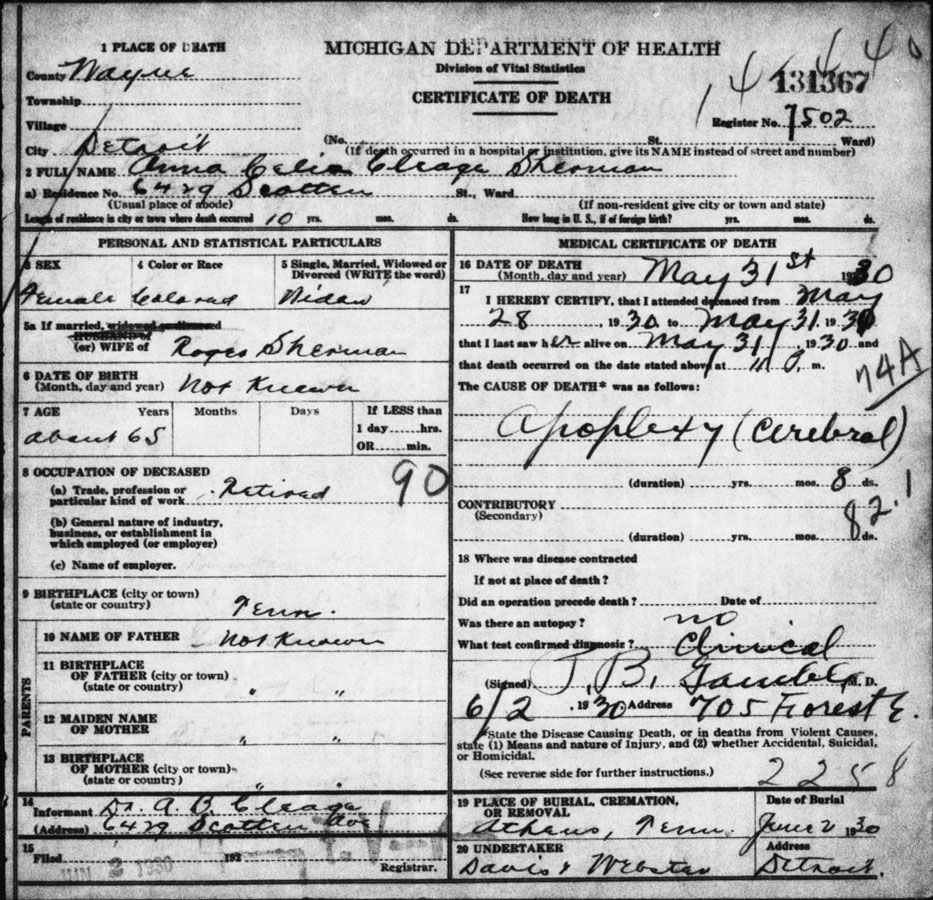 I finally was able to see a copy of my great grandmother, Anna Celia Rice Cleage Sherman's death certificate. I had been searching for it for years, not realizing that her first name was "Anna". It doesn't have her parent's names or tell where in Athens, Tennessee she is buried. What it did was to tell me when and where she died and to verify some of the information I already have.
My grandfather, Albert B. Cleage Sr was the informant, he provided the information. I thought his close friend, Dr. P.B. Gamble signed, but the initials are wrong.
She died on May 31, 1930 of Cerebral Apoplexy, a stroke, which she suffered on May 28, 1930. That would have made my Aunt Anna 6 years old, the age she told me she was when she saw her grandmother suffer a stroke while sitting at their kitchen table.
Great grandmother Anna Celia married Roger Sherman in Athens, Tennessee on April 25, 1897. He was 51 and she was 42. He was a carpenter and worked for himself. It was the second marriage for both of them. His 4 children were all grown and living on their own. She had 5 children. In 1900 the oldest daughter, Josie was married with two children and was sharing the house with Roger and Celia Sherman, as were three of her younger brothers (Henry, Edward and Albert) who were all students. Jake, the 2nd oldest, had been working in Knoxville as a waiter for several years.
Celia and Roger Sherman were living together in the 1910 Census, but by the time of the 1920 Census, Mr. Sherman was living with his daughter, Mamie Sherman Kennedy, in Winston Salem, NC. Later that same year he died. His body was also shipped back to Athens for burial in an unnamed cemetery.
Anna Celia lived in Athens with her son Charles Edward and his family in 1920. In 1924 he died. She moved to Detroit where her other three sons lived. In 1930 she is enumerated with my grandfather and his family. Several months later, she died.
On the death certificate, my grandfather says that he doesn't know when she was born but guesses her to be about 65. He was 47 at this time. His oldest sister was 57. If their mother was 65, she would have been 8 when her daughter was born. She was old enough when Freedom came to remember her life on the Rice plantation where she was born. If only she could have written it all down. In the 5 censuses I find her, the date of birth is given as "about 1855". She was closer to 75 than 65 when she died. He says that she was born in Tennessee. The information on the census records are split between Virginia and Tennessee. All agree her mother was born in Virginia.
What else do I want to find out about my great grandmother Anna Celia Rice Cleage Sherman? I want to know where she is buried. I want to find her in the 1870 Census and I want to find out her mother's name and what plantation they came off of.
In my minds eye, I see a large stone grave marker in Hammonds Cemetery that said "Sherman".  I did not go up to it, just saw it across the grass. When I get back to Athens, I am going to go look at that marker and see if it has any other information on it.  Not to mention looking at every other stone there.