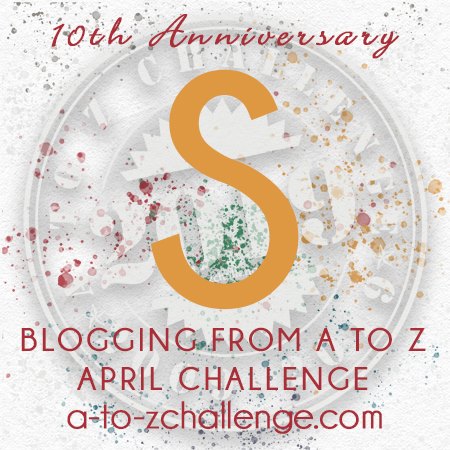 This is my 7th year participating in the A to Z Challenge. In the 2015 challenge, I wrote about the Cleages formerly enslaved on the plantations of Samuel and his sons Alexander and David Cleage of Athens, McMinn County, Tennessee. Most of the people in these posts are not related to me by blood or DNA, however my ancestors were enslaved on the same plantations with them.
Late last year, I ordered the Civil War Pension files of the Cleage men who served in 1st Regiment, United States Colored Heavy Artillery (USCHA), during that war. Through these files I learned that their lives were much richer and more complex than census, death and other records can show. I am using the information from pension files and records that I found through the pension files for this years challenge.
Charles Hale was the grandson of Susan Rice Ragan (my XX great grandmother) and the son of her daughter Sarah Hale Gallimore, which makes him my first cousin twice removed. Although not expected to live, Nellie Hale did survive and lived until 2004.
2 Negroes Arrested in Attack on Hale and Wife
A hat, lost by one of the two bandits who shot and critically wounded Charles Hale, well-to-do negro grocer, and his wife Nellie, at their home, 2519 Herman street, late Saturday night, led to the arrest of two negro men, one of whom yesterday confessed that they both fired on the couple.
The two negroes who are charged with hiding in the Hale home and attacking the man and his wife in an effort to rob them when they came home from Hale's grocery store are Robert Waddy, 26, coal dealer, 2811 Clifton road, and George McAdoo 19, 2627 Herman Street, charged with assault with a pistol with intent to commit murder, burglary, and carrying pistols.
Though Waddy steadfastly denies any implication in the crime, McAdoo, in his confession, outlined the entire scheme, accusing Waddy of laying the plans and furnishing the weapons.
Hale and his wife are not expected to live, offices said.
Feeling in the Northwest Nashville section where the Hales were leaders in the negro neighborhood, is heated.
Incessant detective work on the part of Detectives Leo Flair, John Shepperson, George Redmond, Earl Gore and Sergeant John Griffin resulted in the arrest, for investigation, of McAdoo, Monday night. A hat which had been found near the scene of the shooting shortly after the Hales had been waylaid as they came into their house had been identified as McAdoo's.
Quizzed by Chief of Detectives Elkin Lewis on Tuesday, McAdoo made a full confession, implicating Waddy, who was arrested late yesterday by the afore-named officers. The charges were then placed against both negroes, although Waddy steadfastly denied implications.
*********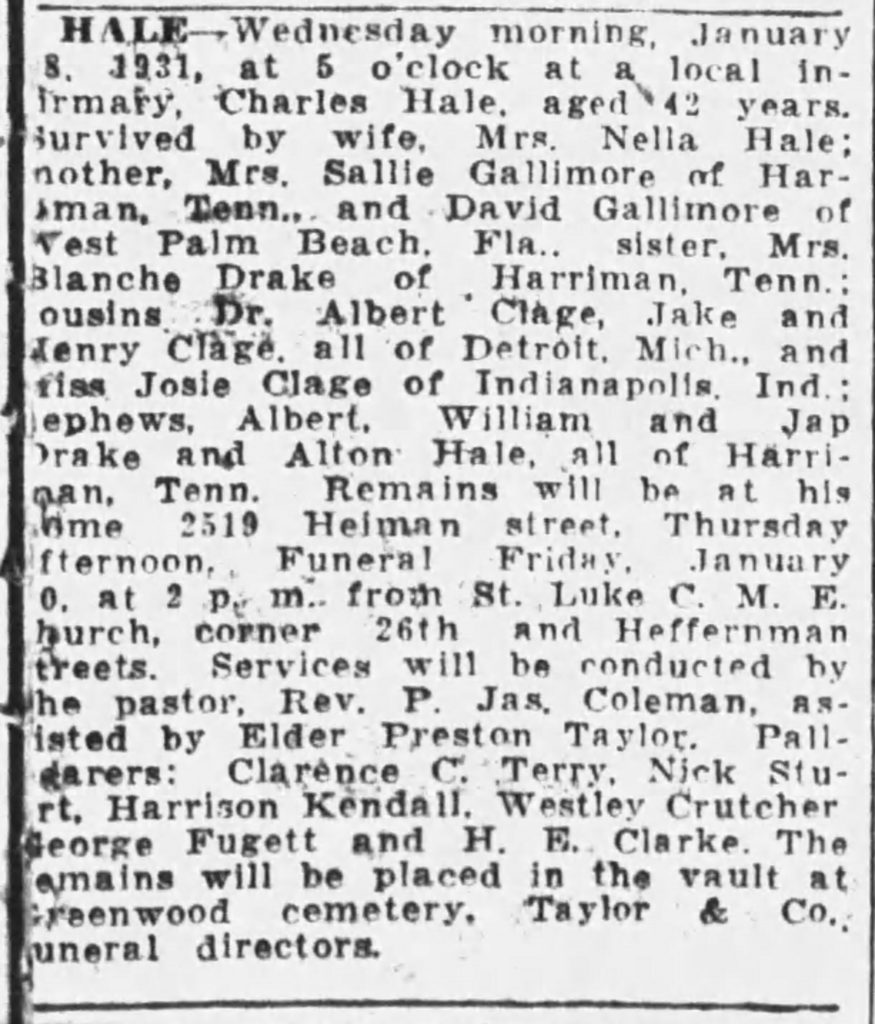 Hale – Wednesday morning, January 8, 1931, at 5 o'clock at a local infirmary, Charles Hale, aged 42 years. survived by wife, Mrs. Nella Hale; mother, Mrs. Sallie Gallimore of Harriman, Tenn., and David Gallimore of West Palm Beach, Fla., sister, Mrs Blanche Drake of Harriman, Tenn.; cousins Dr. Albert Clage, Jake and Henry Clage. all of Detroit, Mich., and Miss Josie Clage of Indianapolis, Ind.; Nephews, Albert, William and Jap Drake and Alton Hale, all of Harriman, Tenn. Remains will be at his home 2519 Heiman street. Thursday, afternoon, Funeral Friday. January 20 at 2 p.m. from St. Luke C.M.E. Church, corner 26th and Heffernman streets. Services will be conducted by the pastor, Rev. P. Jas. Coleman, assisted by Elder Preston Taylor, Pallbearers: Clarence C. Terry, Nick Stuart, Harrison Kendall, Westley Crutcher George Fugett and H. E. Clarke. The remains will be placed in the vault at Greenwood cemetery, Taylor & Co., Funeral Directors.
*******
The names in bold are those of my grandfather, Dr. Albert B. Cleage and his siblings, another proof of relationship between the two families. Now I have to figure out who Alton Hale is.