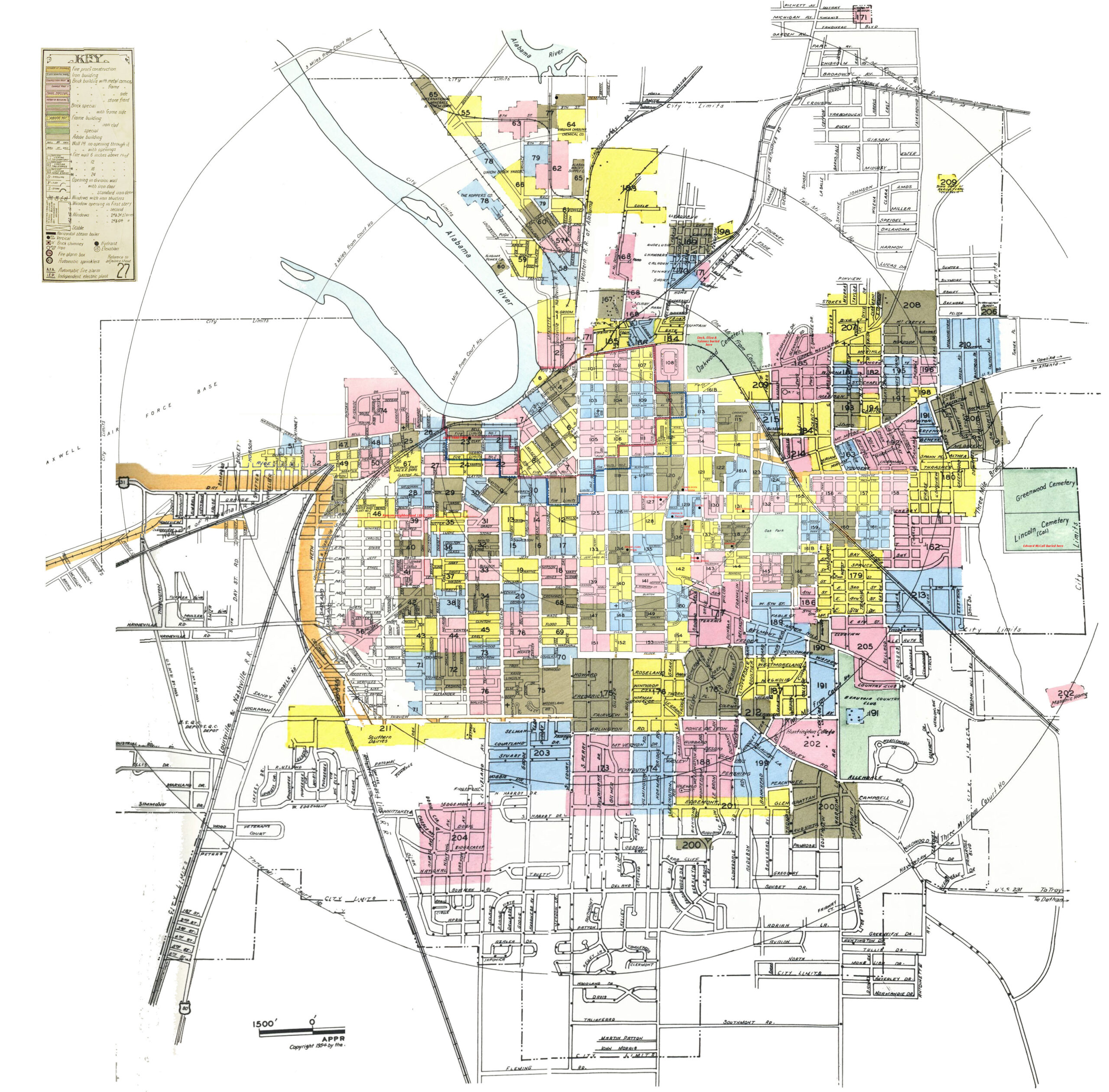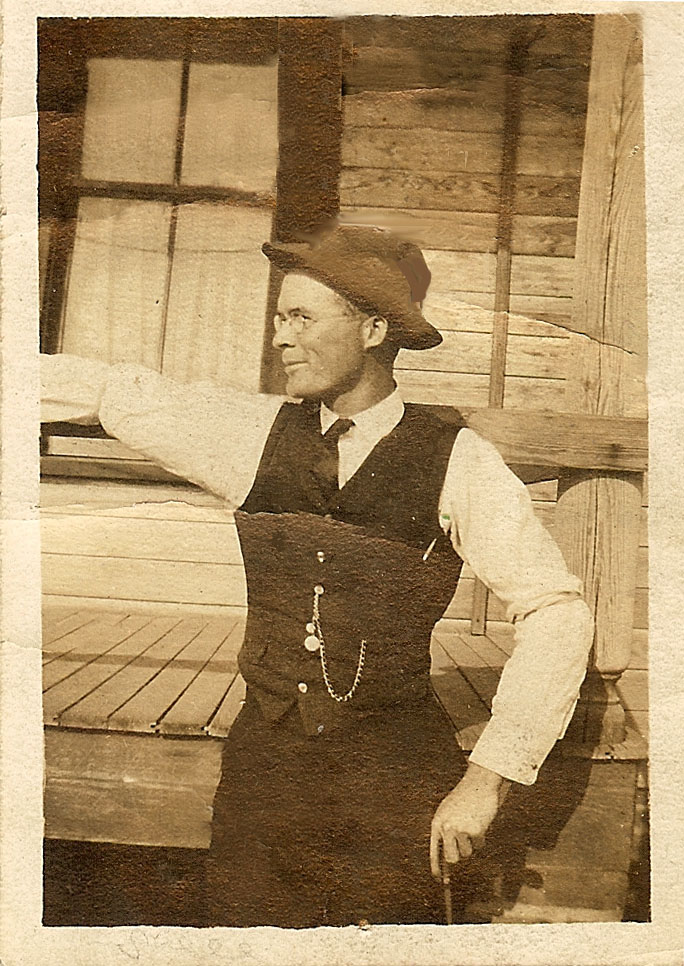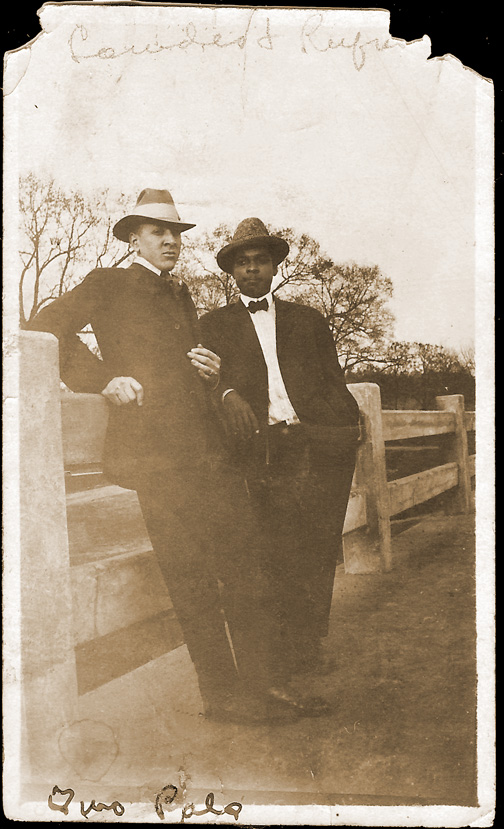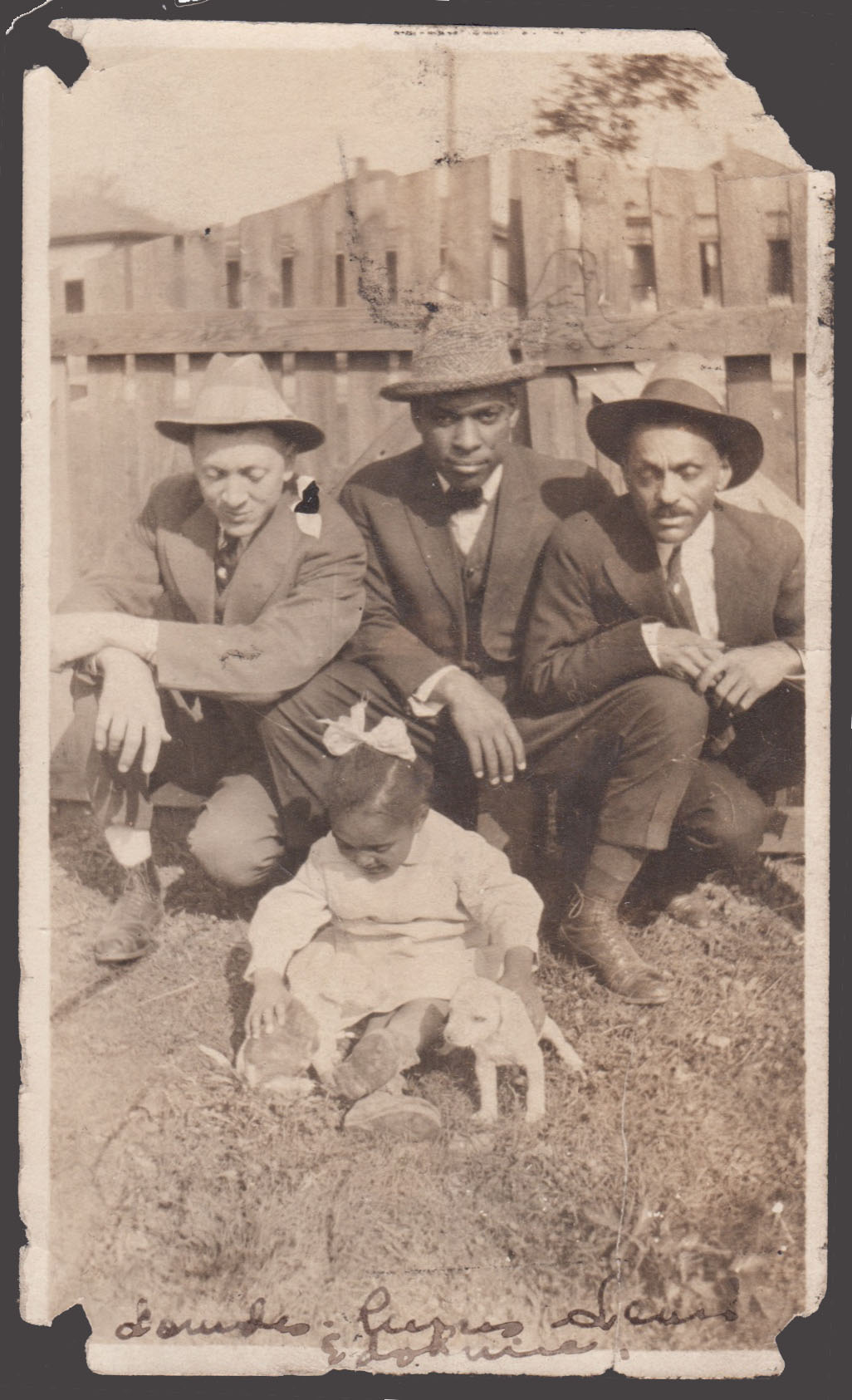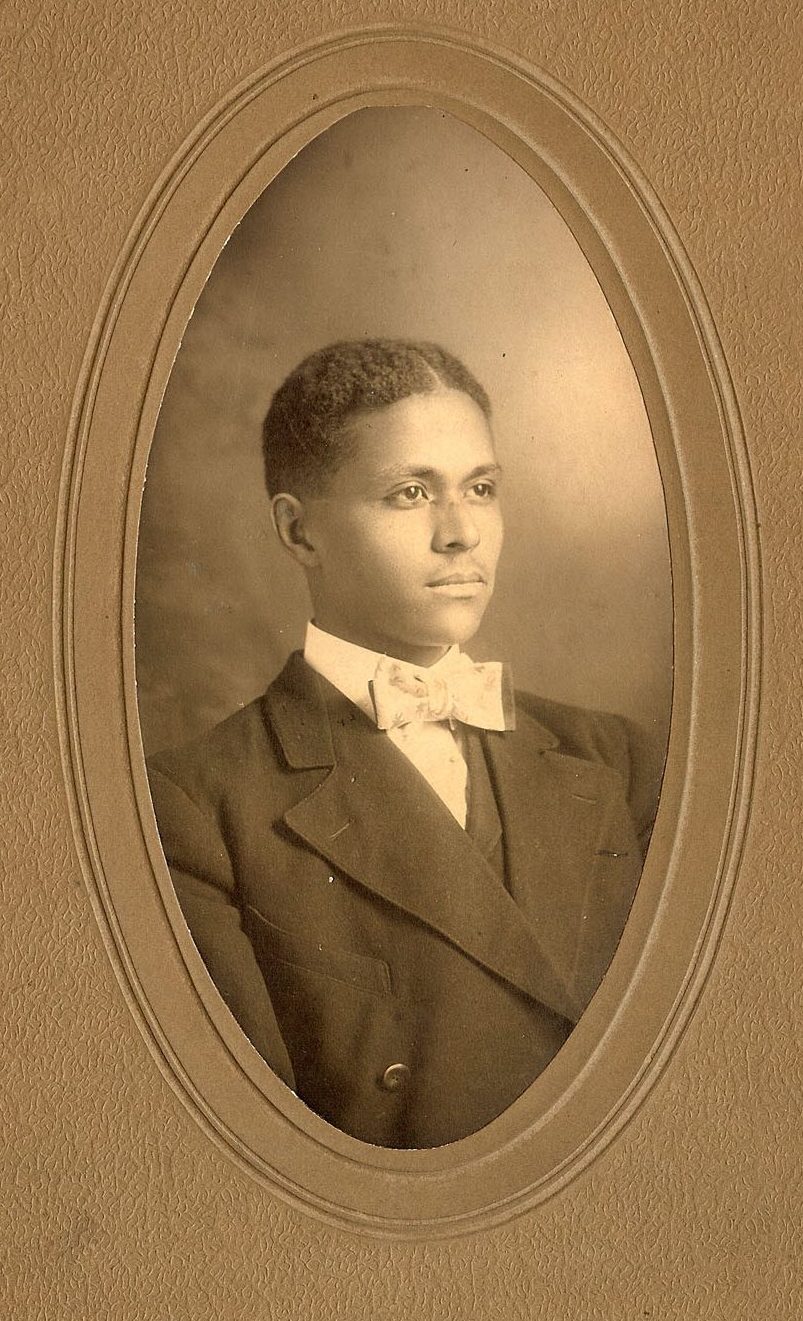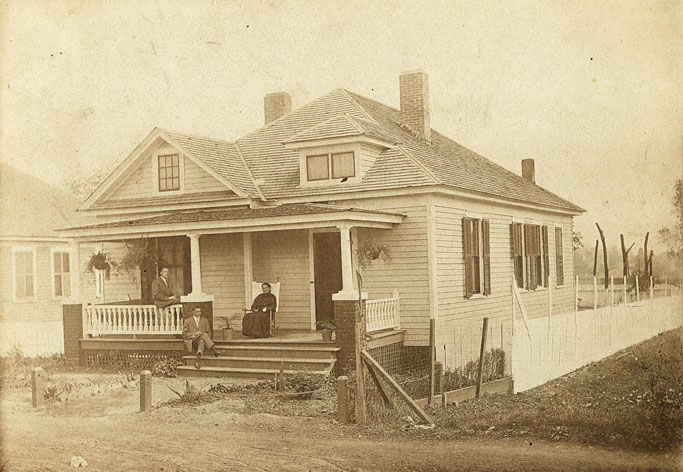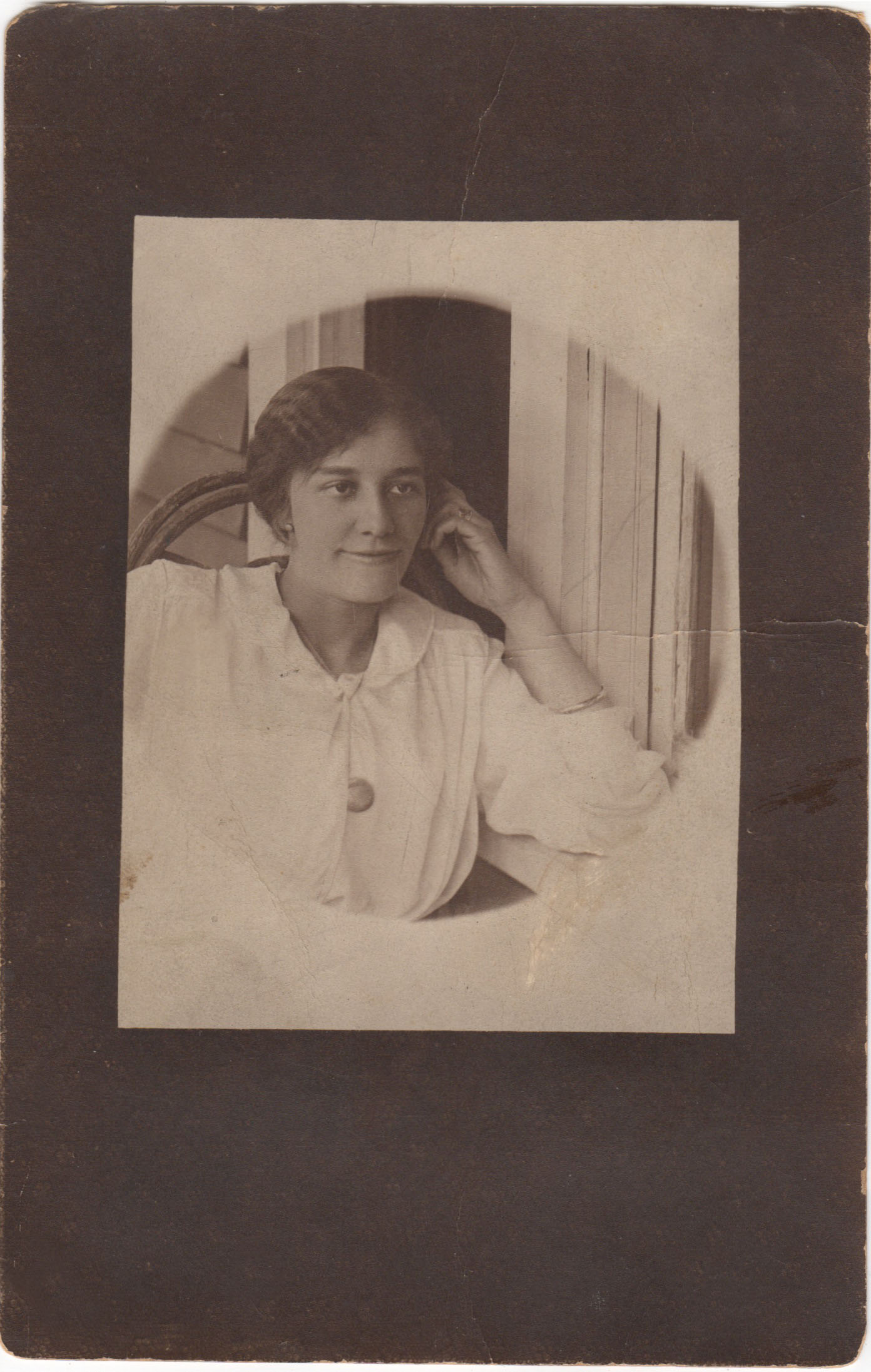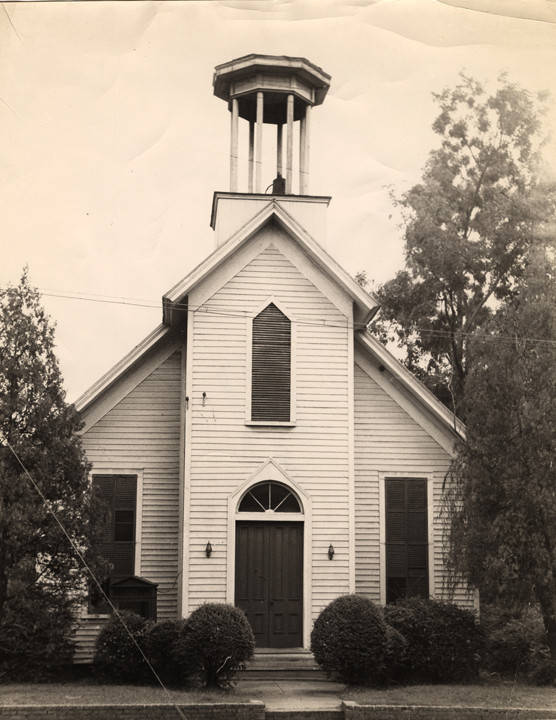 lowndes, rufus, lewis, edoline
Fannie Mae Turner before marriage
First_Congregation_Christian_Church_in_Montgomery_Alabama
Click to pause slide show. Click again to start.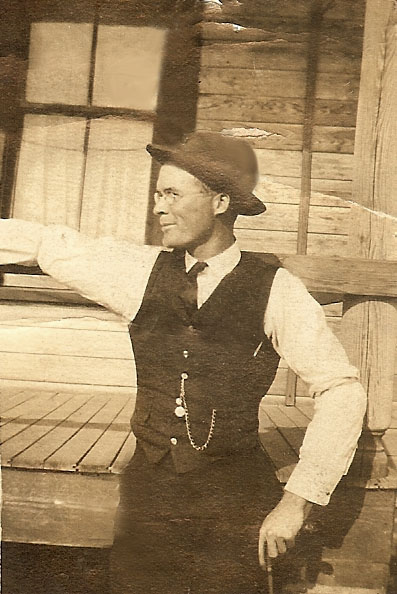 My grandfather Mershell C. Graham was born in Coosada Station, Elmore County around 1886. He was not given a middle name. He picked "Cunningham" as an adult. His father farmed. He had a sister and several brothers. At some point the brothers all left for the city, leaving their sister Annie, who stayed in Elmore County for her whole life.
The two older brothers, William and Crawford disappeared into the unknown after the 1880 Census. My grandfather left for nearby Montgomery and from there to Detroit. Jacob died young. Abraham moved first to Nashville, Tennessee and then to Cleveland Ohio, where he died in 1948 of tuberculosis.
Click all images to enlarge in a new window.
The 1910 Unitd States Census is the first census that my grandfather Mershell (Shell) Graham appears in. Twenty-two year old Shell worked at a railroad repair shop in Waycross Georgia. He was boarding with Irwin and Mary Warren and their three daughters. The Warrens owned their home free of mortgage. Irwin Warren worked as a car inspector for the railroad. Mary Warren did not work outside the home. She had birthed four children and three were living. The daughters, ages 18,15 and 7, attended school. Everyone in the household was literate and identified as black. Below is the household with Mershell Graham at the bottom as a border.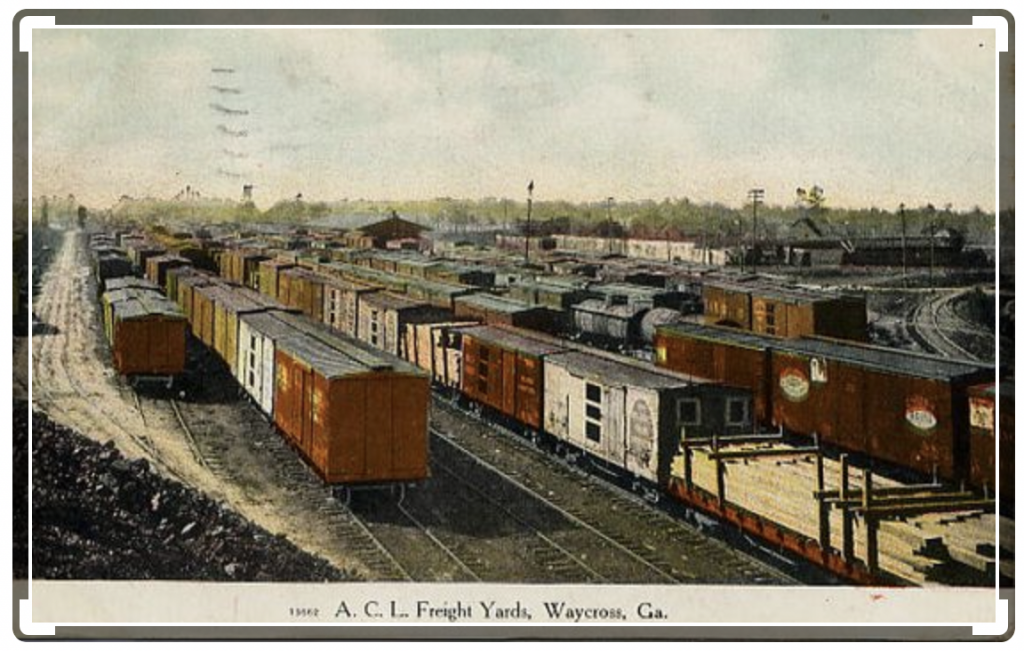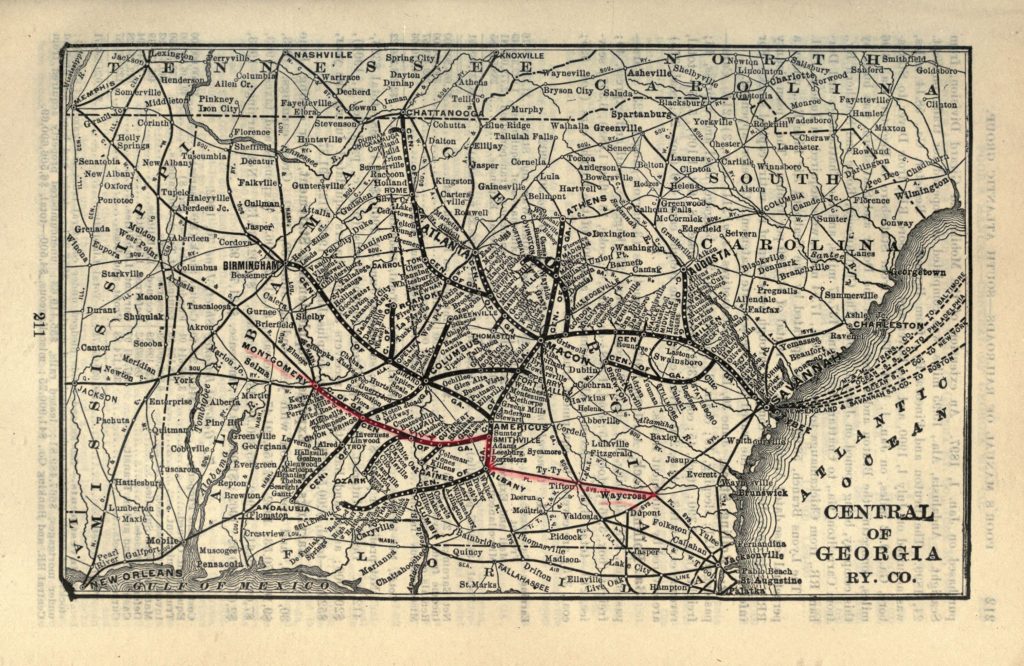 "Waycross began as a crossroads for southeastern travel. We were first a hub for stagecoach traffic, and then became a center for the railroad when it laid its tracks in the mid 1800's. As the Plant System Railroad started to grow, so did the town surrounding it."
Waycross Facts
Mershell was close friend with Cliffton John Graham, who was not a blood relative. He lived with the family for five or six years before migrating to Detroit. My grandmother referred to Mary Graham, Cliff's mother as her mother-in-law. Cliff came to Detroit at around the same time as my grandfather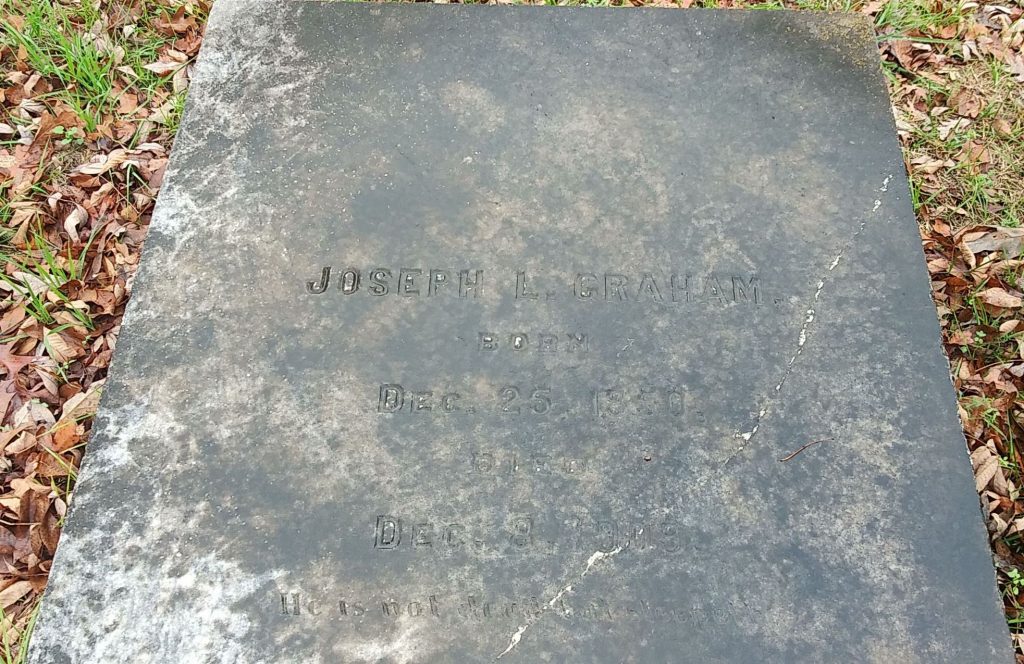 Death of friend Cliff's father Joseph L Graham(1853–1910) December 28 1909. Montgomery, Alabama, USA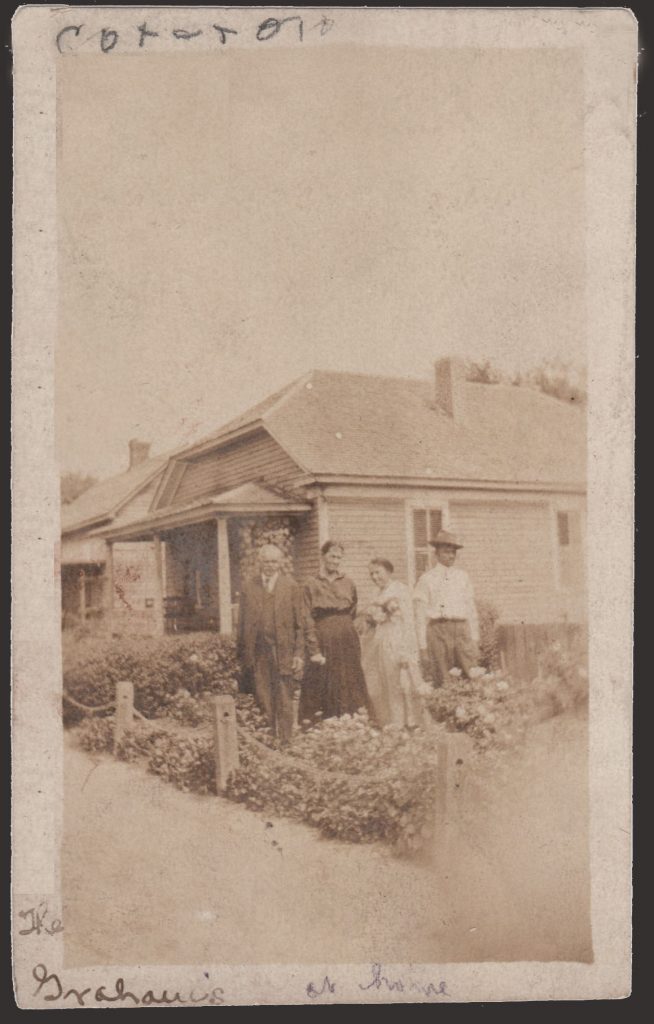 Age 24 — In 1912 Mershell Graham lived at 715 Union Street. This was his close friend, John Clifton Graham's family's home. My grandfather was a waiter and Cliff was a bartender. Also living in the house were Cliff's widowed mother Mary and his sister Mattie.
The asterisk in front of a name meant that they were black. The dots were added by me. (m) means married. (wid) means widow. The letter "h" before the address means "house". The letter "b" before the address means boards. The Grahams that are not marked, are not in the household with my grandfather Mershell.

My grandfather Shell's brother Jacob was three years younger. Jacob died from TB at age 21, on June 30, 1913 in Montgomery County at the Fresh Air Camp. The Fresh Air Camp was set up to try and give health to those with TB.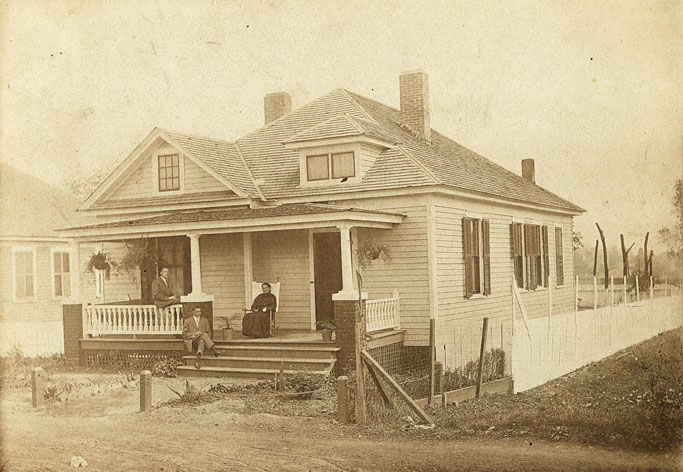 In 1914 my grandfather was 26. The Graham's had moved from Union street to 224 Tuscalousa. Mary Grham was working as a cook. Clifton and Mershell were both bartending. Mattie was a teacher.


Age 27 – Residence 1915 • Montgomery, 224 Tuscaloosa bartender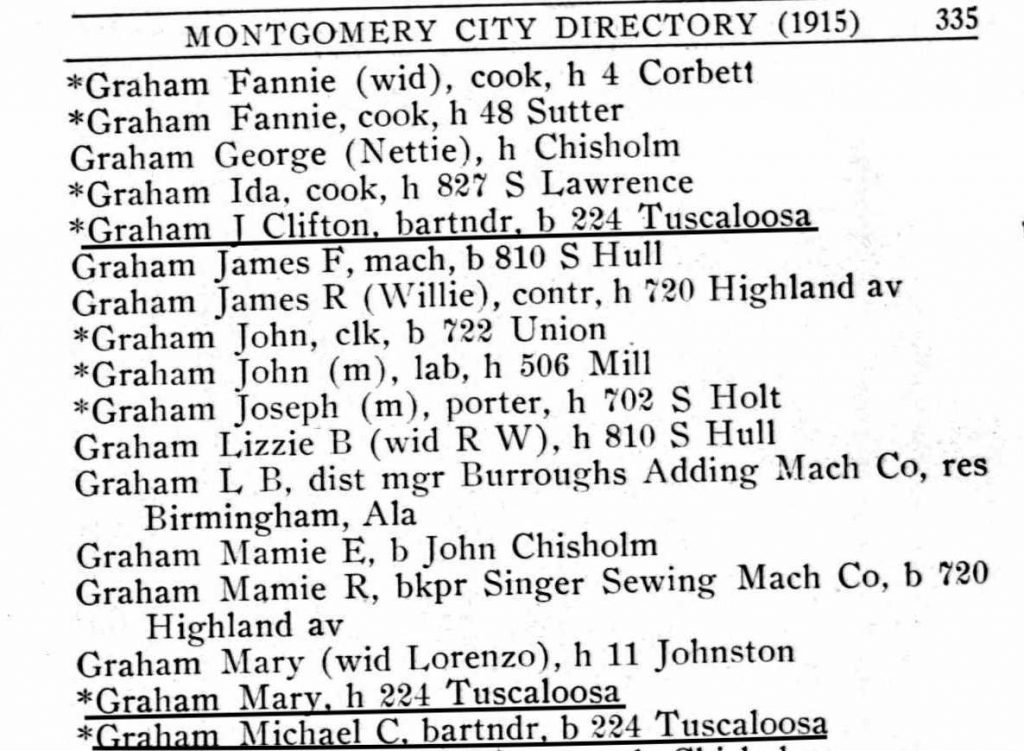 In 1916 my grandfather was living with the Grahams at 224 Tuscalousa. His employment is listed as "Farmer." Clifton is now a funeral dirrector, Mary is a widow and Mattie is no longer in the home, she was studying nursing in Kansas City.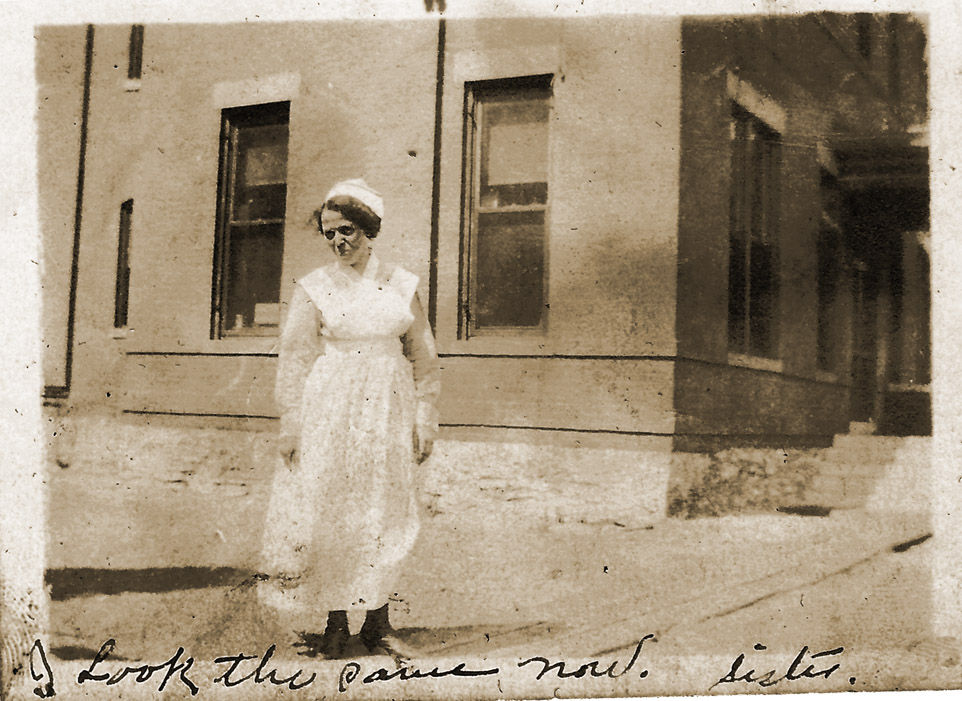 By late 1916, early 1917 my grandfather had made the move to Detroit. He received a letter dated February 16, 1917 from Seligman & Marx at 293 Catherine Street. Catherine Street was located in Detroit's Black Bottom.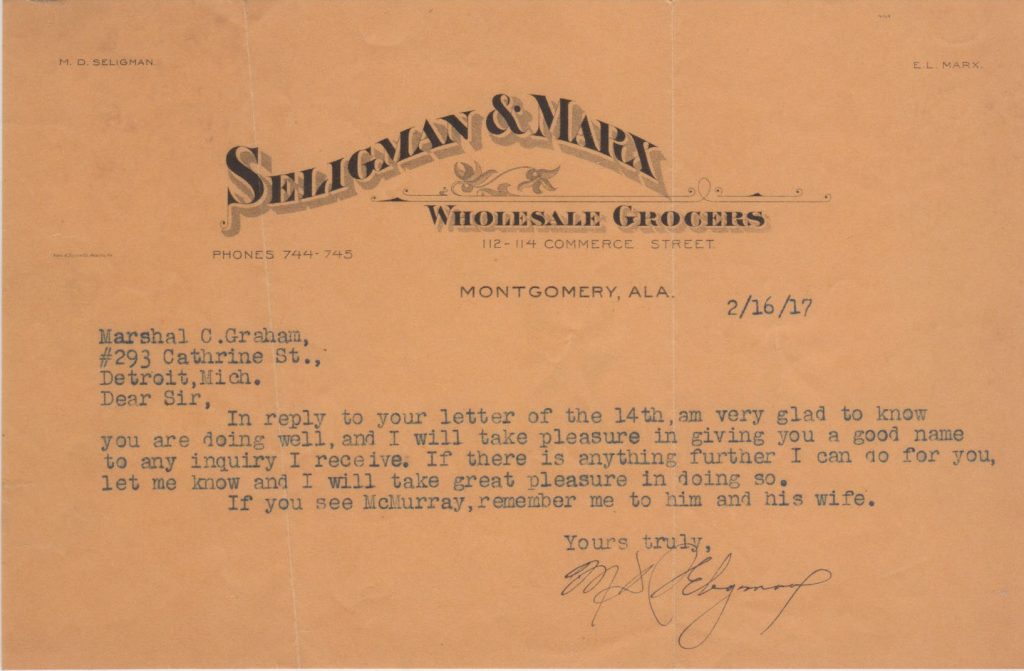 Other posts about Mershell C Graham going to Detroit
Bound For the Promised Land
One Way Ticket
Letters From Home
Those Left Behind
Founding a New Congregational Church
The Proposal
The Proposal Accepted
Rev. E. E. Scott
Winter In St. Antoine
The Steamer "Eastern States"