Tag Archives: #Theola Davenport Williams

Click all images to enlarge.
Other Posts about Theola Davenport Williams
Christmas Cards
1940 Census – Chester and Theola (Davenport) Williams
Fire-Bombing- A Williams Family Memory
Five Generations of Marie 1891 – 2003


Today would have been my mother-in-law, Theola Marie Davenport Williams, 94th Birthday. It's hard to believe so much time has passed since she left us much too soon in 1981.  In honor of the day I am sharing the Marie's in the Davenport/Williams family.  There may also have been some cousins with the middle name of Marie but I am unaware of them at this time.  Click to enlarge the chart.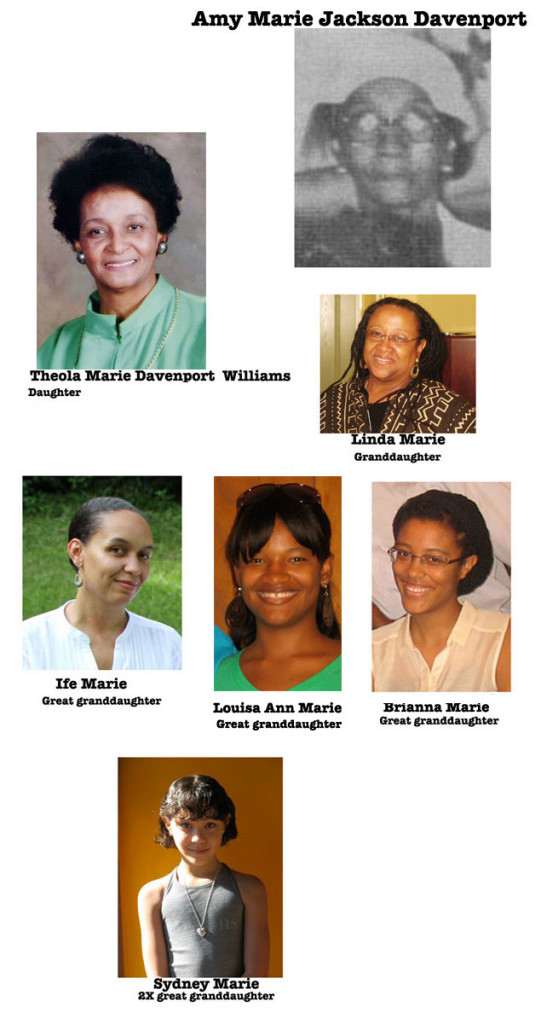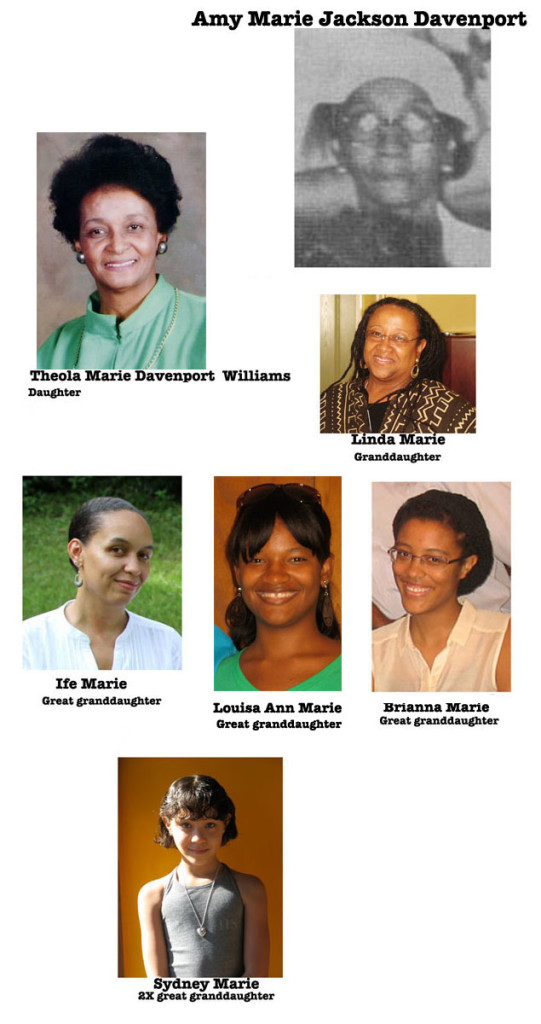 1.  Amy Marie Jackson Davenport was born in Portland, Arkansas on March 17, 1891 to Allen Jackson and Lettie Gray Jackson.  She married James Davenport of Mer Rouge, LA in 1909.  They made their home in Portland, Ashley County, Arkansas.  They were the parents of 7 children.  Most of the children migrated north to St. Louis, MO and Chicago, IL. In 1967 Amy died in Chicago, IL.  I wish I had a better photograph of her.
2. Theola Marie Davenport Williams  was the daughter of Amy Marie Davenport.  She was born March 7, 1920, in Portland, Arkansas, the fifth child of the late James and Amy Davenport. Arkansas was her home for many years, where she attended Dermott High School and Arkansas State University at Pine Bluff. The greater part of her adult life was spent in St. Louis, Missouri where she attended Meramec Community College and Washington University.
Theola married  Chester Arthur Williams on June 20, 1938.  Together they had 12 children – 6 sons and 6 daughters. She was an active member of the Church and Community, which involved the following; Sunday School Teacher, Primary Department, Women's Missionary Union and was named to the Deaconess Board of Washington Tabernacle Baptist Church; she was a secretary at the Webster Groves High School; an active Top Member and a member of the In Roads Parents Association for the City of St. Louis.  She was 61 years old when she died September 21, 1981.  I remember her as a very calm, accepting and thoughtful mother-in-law.
3.  Linda Marie, born in 1954, is the daughter of Theola and the granddaughter of Amy.
4. Ife Marie, born in 1973, is the daughter of Theola's son James (and me!), granddaughter of Theola and the great granddaughter of Amy.
5. Louisa Ann Marie, born in 1990, is the daughter of Theola's daughter Deborah, granddaughter of Theola and the great grandaughter of Amy.
6. Brianna Marie, born in 1995,  is the daughter of Theola's daughter Deborah, granddaughter of Theola and the great grandaughter of Amy.
7.  Sydney Marie, born in 2003, is the daughter of Ife, granddaughter of James, great granddaughter of Theola and 2X great granddaughter of Amy.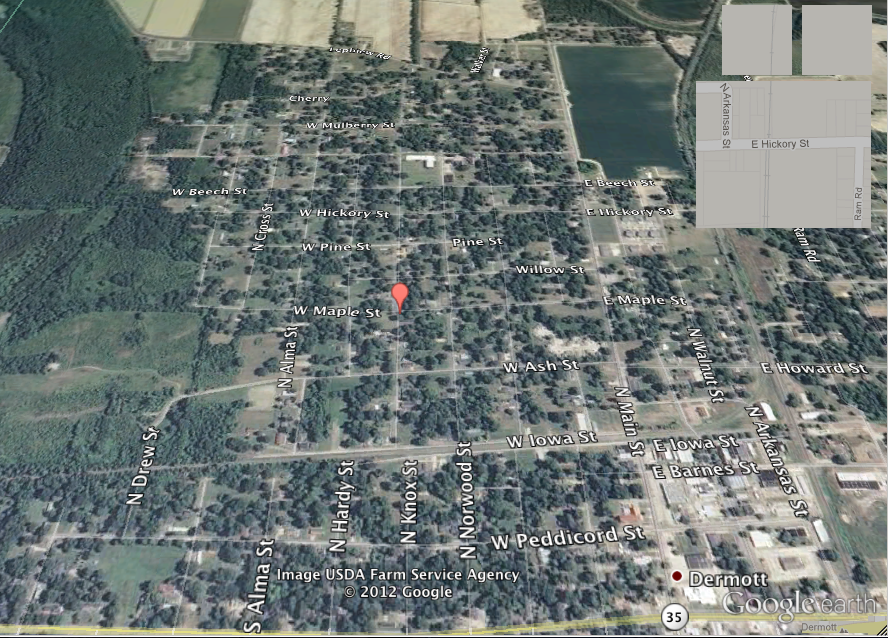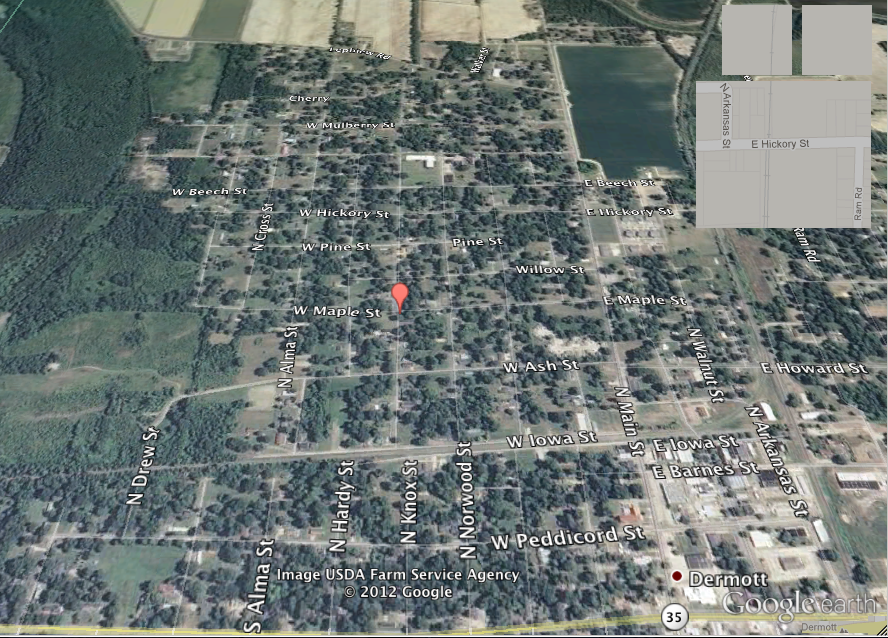 In 1940 my husband's parents, Chester and Theola Williams and baby Maxine were renting the house at 395 North Knox street in Bowie, Chicot County, Arkansas for $1 a month. I will tell you that it is very hard to find illustrations for places out in the country unless the family took them. Google maps does not even make an attempt to get in close enough to see the house, although we can see what the neighborhood looks like now, lots of trees and a little distance from Dermott, where they later lived.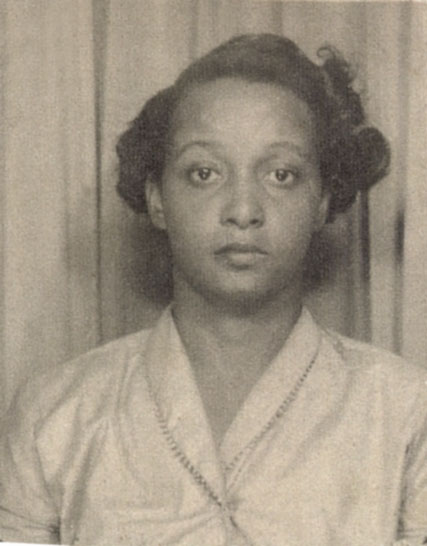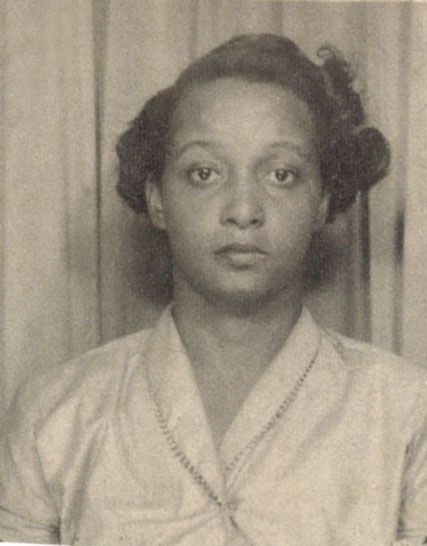 Chester Williams was 23. He was a farmer and working as a farm hand. He had worked 24 weeks in 1939 and earned $240. Chester was asked the extra questions and both his parents were born in Arkansas and he grew up speaking English. Farming was his usual occupation.
Theola was 20 years old. She didn't work outside of the home. Both of them had completed 4 years of high school and lived in the same place (not the same house) in 1935.  Jocelyn Maxine was 11 months old. They were enumerated on April 25. Chester Jr. would be born in September of that year so he was already on the way.
They had one roomer, Eliza Robinzine. (Note to those helping index the 1940 census, I'm sure if I were indexing this the arbitrator would say it was something different but it looks like Robinzine to me.) Eliza was 66 years old and born in Mississippi. She was a widow and had completed 4 years of college. In 1935 she worked 32 weeks as a school teacher, earning $360.
Theola's mother, Amy Davenport lived next door. She rented her house for $1 a month and had not worked in 1935. She was born in Arkansas, a widow, 49 years old and had completed 5 years of school.  She lived alone and had lived in the same place in 1935.
Looking at the 8 other households enumerated on that page we find that people had from no schooling (2 elderly women) to 4 years of college. Six families owned their own homes with values of $7,000, $500, $480, $300, $200 and $75. People were working at a variety of jobs. There was an undertaker, two real estate salesman, a secretary, a butcher, a carpenter and a cook. One man did odd jobs at a laundry, one was doing timber work and three people were seeking work. Most people were born in Arkansas but several were born in Mississippi and Louisiana. Two children living with their grandparents were born in Illinois and one man was born in Texas. Everybody was identified as Neg(ro).
You can see the 1940 Census Image with the Williams family HERE.