This is the 28th and final post in the February Photo Collage Festival and the Family History Writing Challenge.  Today I will write about this photograph which appeared in the Ebony Pictorial History of Black America, Vol. III. It was taken at the Association of Black Students Symposium at Wayne State University in Detroit, February of 1968.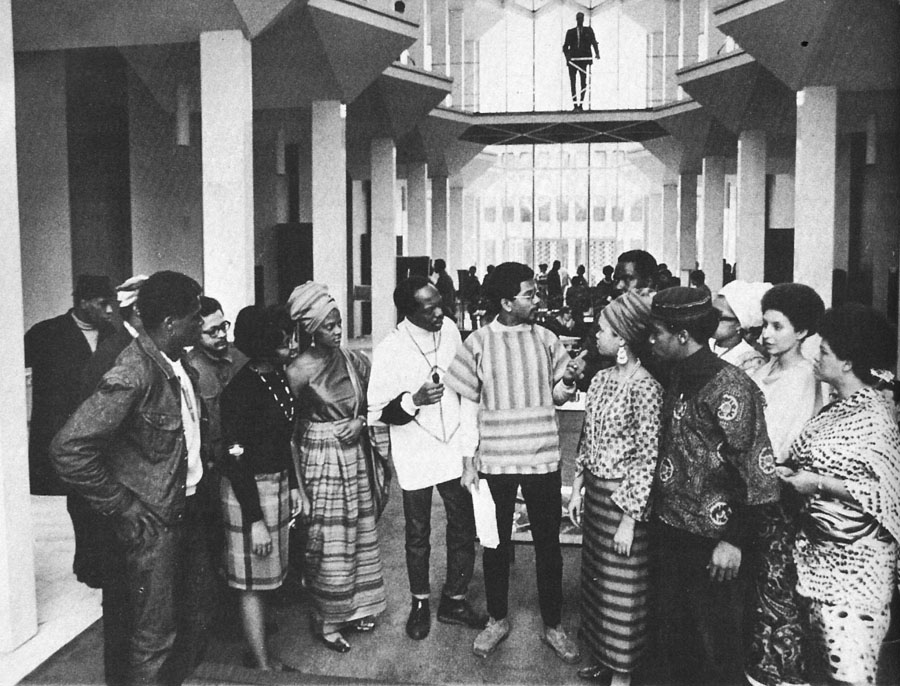 I remember when this photograph was taken. The photographer asked some of us to gather around Lonnie Peek and look interested. Lonnie is in the middle, wearing a striped dashiki. Back in February of 1968, nobody was selling authentic African print fabric in Detroit. We went and bought regular fabric, made our lapa wraps and head wraps with that.  I made mine out of a green paisley print and the top was a thin green fabric that I folded over and sewed into a blouse without a pattern. Later, I tuned the skirt into a dress. By the next year, I was sewing garments out of African fabric at the sewing factory.
I didn't really work with the Association of Black Students. I remember helping on some of the layouts for posters or brochures. I was using insta-type – letters on sheets that you rubbed onto the paper.  It has been years and years since I have seen anyone here. Some are dead.
On the far left, in the background is Beverly Williamson. He did security duties for my father for several years. The man leaning in with glasses was Rufus Griffin who became a judge in Detroit. Brenda, with the stripped, draped skirt, later married Rufus. Next to her is Bell.  He was a tailor and was framed by a drug dealer and spent time in prison. Then we have Lonnie Peek who is now a Baptist Minister. Cynthia Washington is wearing a striped lapa and polka dot blouse. She graduated from Wayne and returned to Mississippi.  Behind her, you can just see the top of Homer Fox's head. He became a lawyer and is now dead.  Next to Cynthia is Nana Kwadwo Oluwale Akpan, then known as Gerald Simmons. He was a photographer, among other things.  He died in Ghana several years ago.  On the end is Kathy Gamble. She moved to New York and died there a few years ago. I am next to Kathy and right behind her, you can see part of my father's head. He must have given a speech.
I don't know who the man watching us from the balcony was.