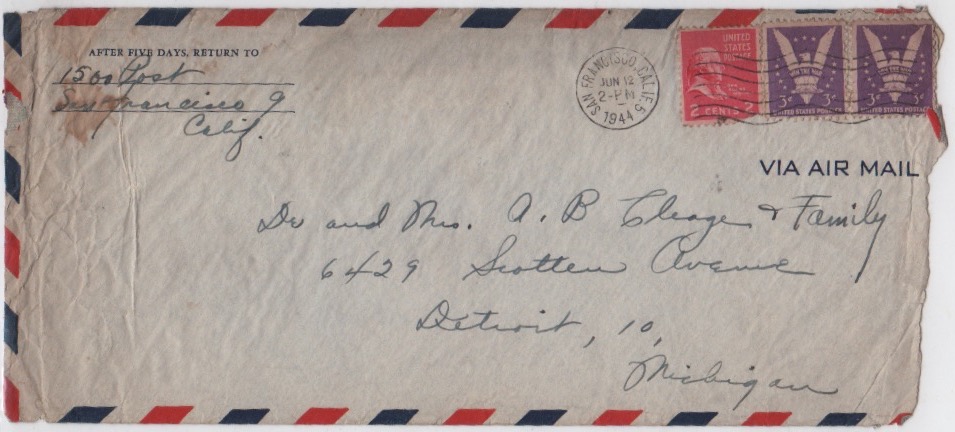 June 11, 1944
Dear Folks,
Just a short not to tell you-all that we have our Los Angeles address and that the apartment is at least partially furnished. We received a Special from Mr Woodard, the agent who has been looking for a place for us, and this is what he said about the apartment he has for us.
"It is a modern apartment in every detail and is equipped with a living-room suite, carpet, Venetian blinds, and a pull-out bed in the living-room. Adjoining the living-room is a small alcove which is used as a kichenette. It has a frigidaire (I can hardly wait!!) in it but does not have a stove. Adjoining this kitchenette alcove, is a complete tile bath." The rent is $37.50 per month.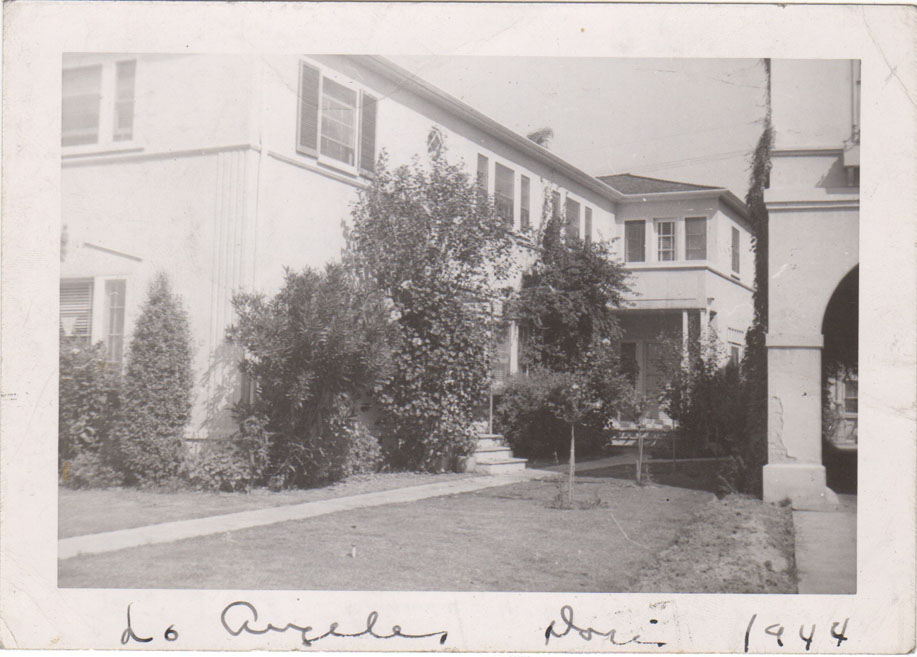 So ——it looks like we will go to Los Angeles and stay awhile. I hope the apartment is as good as he makes it sound. We are very lucky to have a furnished one…. it will save us quite a bit of expense. We have our tickets for July 2 and will leave at 8:15 a.m. and arrive at 6 p.m. the same day. The apartment will be ready for us when we get there, so we will not have to spend money for a hotel room. I am getting all ready to pack. Freight rate from here to L.A. is 90¢ a hundred pounds and if we ship our things four or five days before we leave, they should get there when we do.
Everything here goes well. We went down to Palo Alto yesterday with the Brittons and had a very good time. It was cold and foggy in San Francisco, but down there the sun was shining and we felt the first hot weather we've seen since last summer! Stanford University campus was a very interesting place to see what white-folks money can do. Five thousand acres of palm trees, huge stone buildings, carillons, a 30-room house for the President of the University, and an estate for Herbert Hoover… a mess.
Don't worry about us if our letters are short for awhile. We'll be busy getting ready to go. We'll write something every week, though. It takes about six days for your letters (not air-mail —three days for them) to reach us, so if you mail any after June 25, send them to 2130 South Hobart Boulevard, Apartment 4, Los Angeles.
Doris
Hi Folks:
Looks like the "fabulous" Cleages are off on another "fantastic" adventure or something. WE'D VERY MUCH LIKE TO BORROW HENRY'S ELECTRIC-STOVE if you-all aren't using it (or planning to use it soon.) It's about the only thing we'll have to buy for the apartment … except a desk (or table) for me. IF you-all can see your way clear send it to us at the address above RAILWAY EXPRESS right away SO IT WILL BE THERE WHEN WE ARRIVE. and (O.K. LOUIS) send us the bill (for carting and shipping)
I don't remember whether I mentioned this or not. I heard from the Detroit Council of Churches a few days ago…saying that my application will be placed on file until they raise the money… and promising to contact me this FALL when the plans are worked out a little more definitely.
Don't worry too much about our Los Angeles expedition… if it doesn't work out WE'LL BE ALONG HOME ANY DAY. Seems like it might work if the good Lord decides to keep Albert B. Cleage, 3rd in heaven for a couple more years … and Doris can find an EASY job (which is the only sort she'd keep!)
Everything here is just too sweet … the church is arranging a farewell party … and getting a present etc. I preach my last sermon here next Sunday. We had a fine trip yesterday … down to Palo Alto … SOUTH …warm and everything … (Like Los Angeles). A lady in the church has a FORD she wants to sell for $250.00 … I'm trying to talk Doris out of getting it … (since it would leave us too close to broke!) (You can see she sure is a STA-BAL-IZING INFLUENCE! DON'T FORGET THE STOVE! Let us know, either way as soon as possible so we can try to pick up something here if you're using it!
Toddy
_______________________
Other Letters Home
My Parents Time in San Francisco January to July 1944
Its Friday afternoon August 18, 1944
I have a little problem in "Design" December 20, 1944
Christmas Day 1944 – Part 1
Christmas Day 1944 – Part 2
Christmas Day 1944 – Part 3
Guess we must be writing too much.. January 6, 1945
Thanks for the Springfield information January 13, 1945
We received your letters…March 3, 1945
The Missing Months – March to November 1945