2130 S. Hobart Blvd. #4
Los Angeles 7, California
January 13, 1945
Hi Folks:
We received your letters… Daddy's and Mama's. Thanks for the Springfield information … even though there ain't no Springfield church. (Guess you-all have received my Special by this time and have finished laughing) I hasten to tell you-all that the Dean called me into the office the other day to inform me that the United Presbyterians have contacted him regarding me (Knoxville!) He had letters from Rev. Ritzer or whatever his name is that Uncle Henry corresponded with from Pennsylvania and Rev. W.E. McCulloch (name sounds familiar) out here. I'm supposed to go and see McCulloch for an interview when I get around to it. I suppose I'll go see him although I'd rather not go to Knoxville!!!! I've EXHAUSTED everyone in the Congregational Church who has influence or MIGHT know of something and to no avail. Since the United Presbyterians seem determined to make a point of this Knoxville thing I suppose it would be in poor taste or something to mention something entirely different, a church in Detroit. So, knowing that, you-all can use your own judgement about the thing.
I'm still in the process of exhausting possibilities … I've gotten down to some pretty long chances at present … but so long as the typewriter holds out and we can keep in stamps we're goin' to keep a pesterin' everybody. (Ain't wrote to Mrs. Roosevelt yet!) I ain't as panicky as I sound (I hope) but our present set-up ain't tolerable for long…We can't live in the manner to which we aint accustomed on $30.00 a week. We'd like to figure out something semi-practical soon! (See, Louis, we are too a-tryin') (and registration just around the corner!)
I wasn't laughin' at those shirts and ties, Mama! They just looked like Pee-Wee and Gladys rather than you. I could just see you a-tellin' them that a PREACHER shouldn't wear such sporty attire. Pee-Wee: That there tie-clasp of your-n is the only way I can really tell that I'm dressed up now… When I got it on I'm "ON"… and when I got my everyday piece-of-one on I'm rough-sharp. (Everything else remains the same!)
Well, so long…got to go to bed now. Doris is stretched out on the bed (with all her clothes on … just like Pee Wee on the couch (mouth open … droolin' and everything).
Did I ever mention, Doris is a perfect combination of Louis and Pee-Wee (Evil as a snake sweet like Louis and triflin' industrious like Pee-Wee!) We received Gladys' letters too, in case I didn't mention them in the last letter.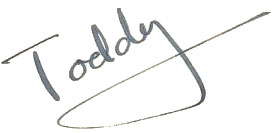 Doris made me change this!