It is now 12:15 AM… we just got home… (and I have to get up at 7!!) … having been interrupted in our "spending Christmas quietly at home." A boy named Lee and his girl, Naomi, who are studying Cinema at school dropped by for a Merry Christmas. (They're Jewish). They brought me a Christmas present … two books on Cinema published by the Museum of Modern Art… very nice of them… and as usual I had no presents to return … being somewhat flabbergasted by the whole thing …anyway …we bulled for some little time …and then went to the Faun (the 4 of us) again for dinner …and had a very nice dinner… and then (still the 4 of us) went downtown to a little show that has foreign films and saw a Russian Film "The Rainbow". It was very good… the dirty nastys killed and shot and poked out eyes until everyone was throwing up all over the place or crying (Naomi and Doris) and then the Russians came skiing down the mountain and gave the dirty nastys a taste of their own medicine while we all cheered (Me and Lee… Doris was still crying…and you can't cheer and cry very well at the same time… she tried but 'twasn't much of an artistic success. So we came home. (Just thought Barbara would like to know what happened to her Christmas present… it was quite nice, however, kept my little spouse from having time to get homesick as she is very wont to do what with Christmas trees about and that there… and her wonderin' every ten minutes what you-all are doin' at that particular minute.)
Speaking of Christmas presents Mr. Moore, the head of the Cinema department gave me a Christmas present the last day of school. The best book published about cinema is now out of print (collectors item and that) well, I've been a tryin' to find one in a used book-store…but Moore had already bought up every copy on the West Coast…so I couldn't find any. Well, anyhoo…he gave me one of his copies for Christmas! Surprised me…don't know yet whether I thanked him or not or just looked stupid (O.K. Louis, "as usual") 'Twas nice of him, anyhow…especially with folks all trying' to buy the few copies he has left after stocking up the Library.
Before I was interrupted I was telling about the Grahams present…Doris got some slips or something like that etc. etc….and we both got a large box of cup-cakes we are in the process of devouring with the Cherry Jam Mrs. Graham sent us a bit earlier. Speaking of food…Did you-all can any chicken this year…WELL!!! (Can't you take a hint!) ('Splain it to 'em Pee-Wee. Pee-Wee ain't home, she's out amongst em'…well, you 'splain it Gladys…She ain't home either…O.K.) Find attached sugar stamp which we let the OPA slip by us… Thought maybe you-all could still find some use for it… (Know what I mean.) Mrs. Graham's got (or had) 5 pounds for you-all.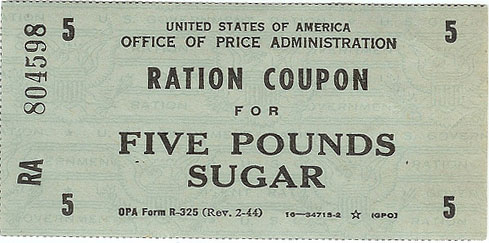 Really ain't no need for no nother sheet of this!
To be continued.
Related Posts
You can read a review of the movie Raduga/The Rainbow from the October 1944  New York Times by clicking HERE.
Missing Christmas Carols 1944
Christmas Day 1944 – Part 1
Christmas Day 1944 – Part 2
Christmas Day 1944 – Part 3
New Year's Eve 1944 – Part 1
New Year's Eve 1944 – Part 2
4 Responses to Advent Calendar of Christmas Memories – Christmas Day 1944 part 2