This is the 23rd post in the February Photo Collage Festival and the Family History Writing Challenge.  The photograph for today is a corner of our living room at 5397 Oregon in Detroit. My mother and I are reading the newspaper. I was 16.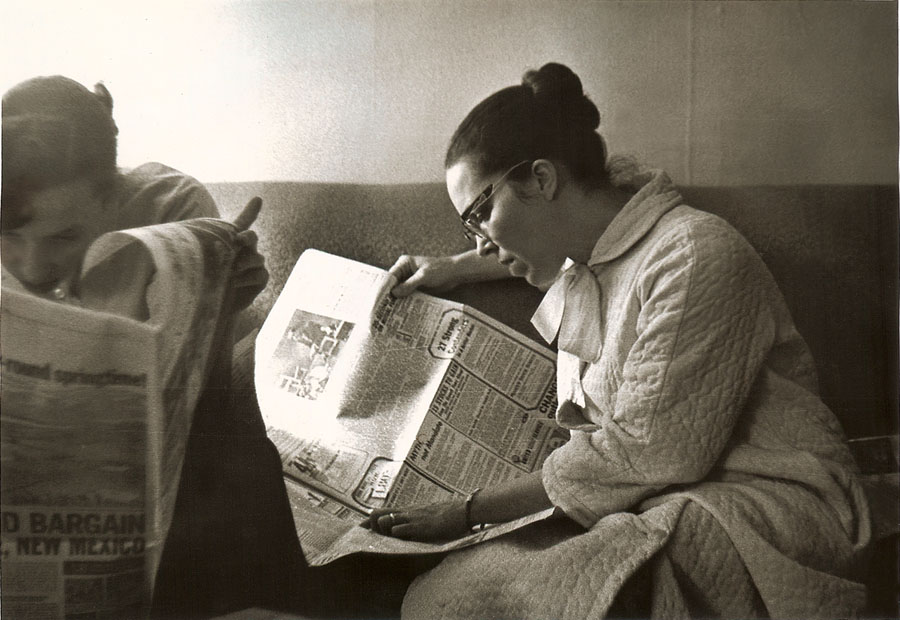 It is probably Sunday, because my mother is still in her bathrobe. And who reads the Saturday paper so avidly? I think the bathrobe was light pink, but I'm not sure. The couch was an old one that my mother brought from Sally and Ivy's mother when we lived on Calvert.  They moved out to Southfield, near the zoo, and bought new furniture. I remember going to visit once and hearing the lions roar.
The couch was old. My mother had a slip cover made. It was blue with a blue design.  I patched it once, in a fit of fix-it-up. It has been a long time since I have read a newspaper offline.  I wonder what we were reading about.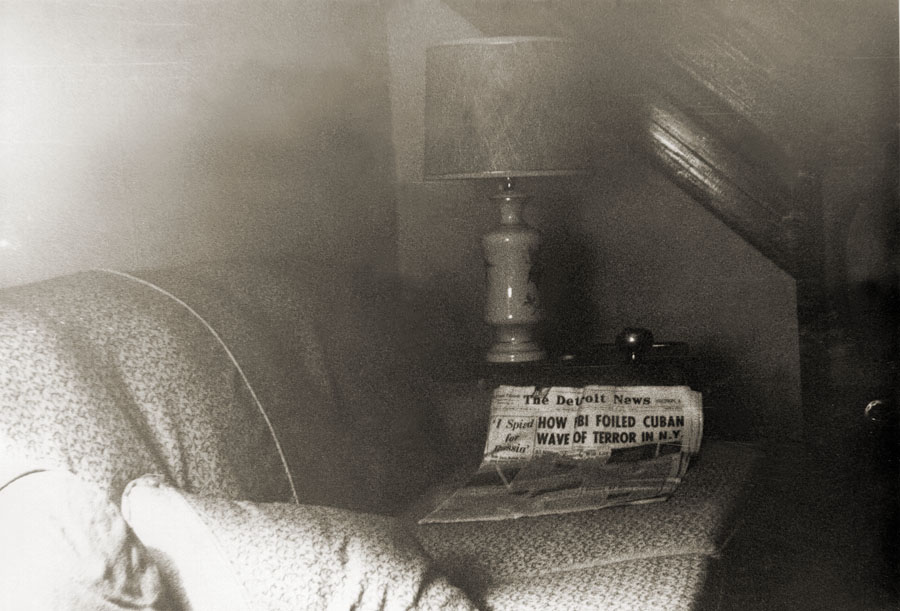 There was an end table with a lamp and a brass ash tray. Both my mother and Henry smoked. The table had a fake leather top and a big drawer. One of my daughters has that table now. The lamp was white with red flowers and green leaves painted on it. There were gold lines at the top and base. The old television, in a wood cabinet ,was still working.  Later it died and for awhile there was a smaller TV, that worked, sitting on top of it.
The walls were beige. When we moved in, they were covered with wall paper. As soon as she could afford it, my mother had Mrs. Bruce's brother come and paint it a clean, beige color.  There is no art work above the couch in this photograph. When I graduated from high school and began studying art at Wayne State University, my mother would tack one of my drawings up on the wall. Later on she had me frame them for her, badly. I never could cut the mats right.  You can't see the rug here but it was a faded wine colored pattern. It was wall to wall and never replaced while we lived there.