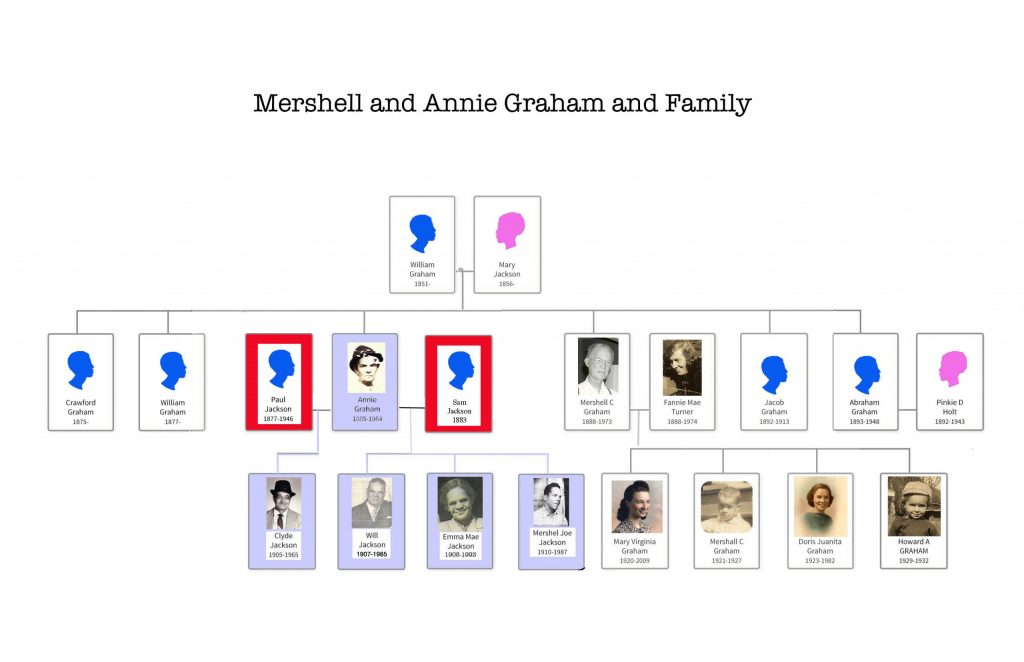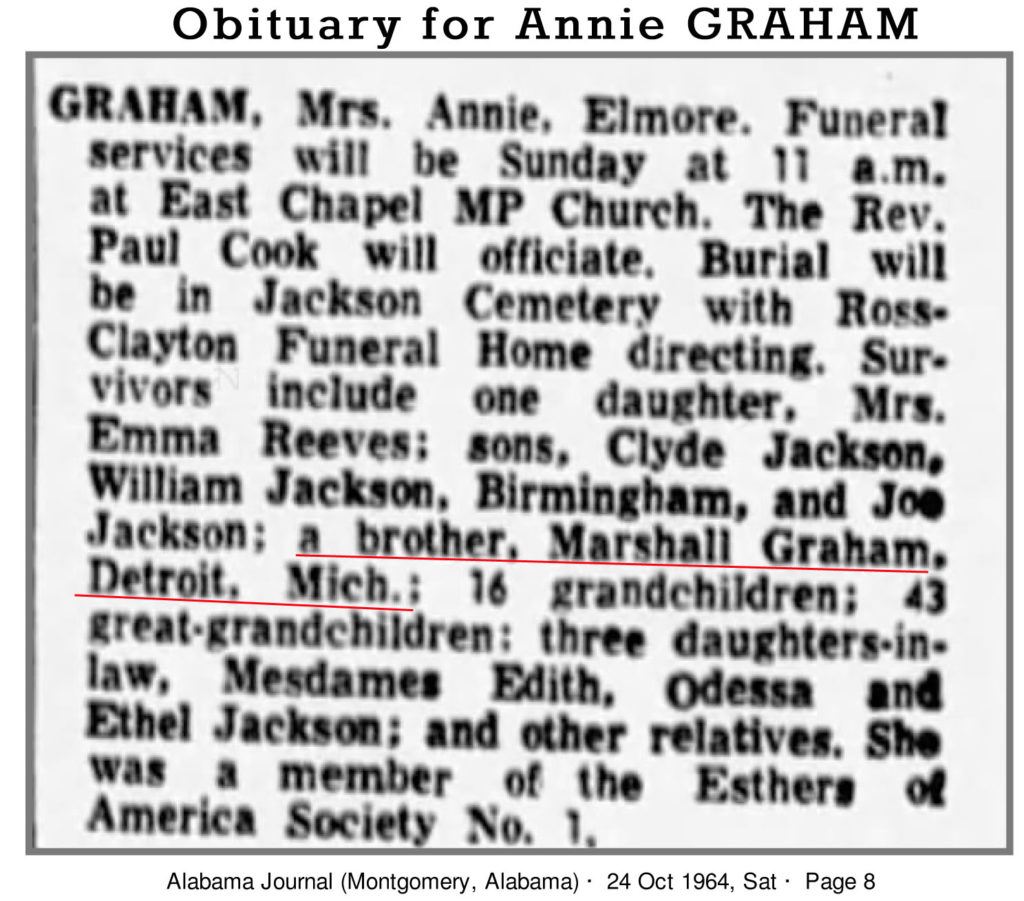 Graham, Mrs. Annie, Elmore. Funeral service will be Sunday at 11 a.m. at East Chapel MP church. The Rev. Paul Cook will officiate. Burial will be in Jackson Cemetery with Ross-Clayton Funeral Home directing. Survivors include one daughter, Mrs. Emma Reves; sons, Clyde Jackson, William Jackson, Birmingham, and Joe Jackson; a brother, Marshall Graham, Detroit, Mich.; 16 grandchildren; 43 great-grandchildren; three daughters-in-law, Mesdames Edith, Odessa and Ethel Jackson; and other relatives. She was a member of the Esters of America Society No. 1.
When I found this obituary for Annie Mae Graham on Newspapers.com, I wondered who the son "Joe" was. I had never heard of him before. At first reading I thought that "Marshall Graham" in Detroit was her son, formerly identified as "Michele" in census records. On re-reading, I realized that the "Marshall Graham" was named as her brother, and was my grandfather Mershell who lived in Detroit. And that Joe was Annie's son, Michele.
I had been looking for something to tie my grandfather Mershell C. Graham to those I suspected were his siblings – Annie, Jacob and Abraham Graham. All of them listed the same parents on their delayed birth records and death certificates, but I could not find them in the same household. In 1900 my grandfather was not in the home with the other children. I have yet to find him in 1900.
Annie Graham's great grandson, Cedric Jenkins, saw the obituary and contacted me on Ancestry. That was the first he had heard of my grandfather Mershell. We exchanged photographs and information. Annie and Mershell certainly look like sister and brother in the photos below.
After Cedric got in touch with me, I realized I had a DNA match on 23 & me with the surname Jenkins. That Jenkins matched my maternal first cousin, Dee Dee, and was identified as a probable third cousin. He turned out to be Cedric's nephew.
Using an obituary, a genealogical paper trail, DNA and a newly connected cousin, I was finally able to connect my grandfather Mershell Graham to his sister.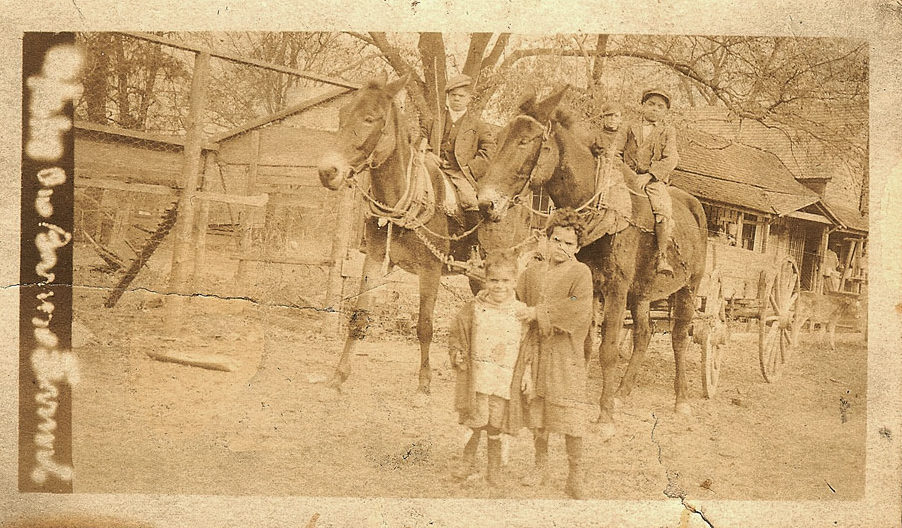 Cedric was also able to identify the children in the photo above as Annie Mae Graham's children. In the front are Joe (Michele) and Emma. On the mule closest to us is Will and next to him is Clyde.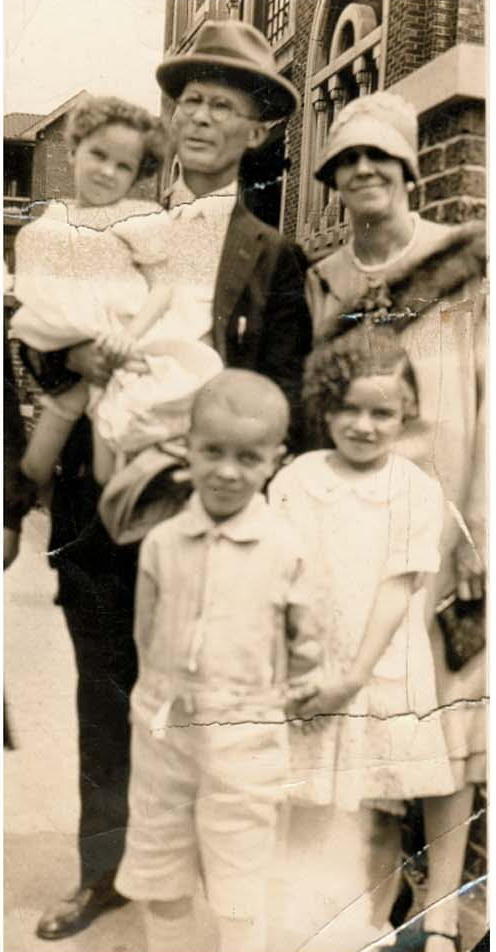 Mershell Graham with his wife Fannie and children Doris (my mother), Mary Virginia and Mershell Jr. Standing in front of Plymouth Congregational Church in 1927. Detroit, Michigan.
Other posts about Mershell's siblings
R is for Relatives, of the Elusive Kind
Mystery Photograph
Annie Graham – Sibling?
Jacob Graham – Sibling?
Inside Cover of Mershell C. Graham's Bible

Note: I published an earlier version of this post but I got so much new information that I decided to re-write it but keep the comments from the first post, as I did not want to leave that one up.