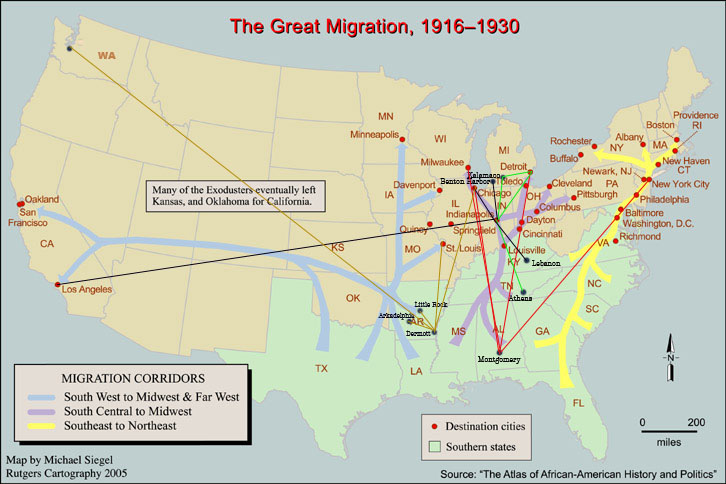 In the latest episode of Many Rivers To Cross, the Great Migration was briefly discussed. It got me to thinking about my family who pretty much all left the south in the early 1900s. I wrote an earlier series about the Graham side of my family and their move from Montgomery, Alabama to Detroit in 1917. You can read about that at these links:
To continue the story, I will start by writing about my Grandfather Albert B. Cleage and his siblings move from Athens, TN to Indianapolis, IN and finally to Detroit, Michigan, with mention of Uncle Edward Cleage and his family who remained in Athens.
Next I will cover my Grandmother Pearl Reed Cleage and the Reed family's move from Lebanon, KY first to Indianapolis in the 1890s and on to Benton Harbor and Detroit, Michigan, with Uncle Hugh (Reed) Averette moving out to Los Angeles California.
Finally I will write about Eliza and Dock Allen's children leaving Montgomery for Chicago, Detroit and New York.
I wanted to add my husband's family, not sure if I will write them up soon though. They started in Dermott, AR. Catherine Williams went to Seattle, WA. Vennie Jean Williams went to Arkadelphia. Sterling Williams spent time in Little Rock before going to Chicago. Chester and Theola (my in-laws) moved to St. Louis, MO. Members of both the Davenports and the Williams migrated to Chicago. Many relatives remained in rural AR, although none of my husband's aunts or uncles.
As I write I will probably come up with stories within stories. This should provide me with writing material for weeks!
To see other posts I've written about this series , click this link My Responses to Many Rivers to Cross. You will also find links to other bloggers responding to this series by sharing their own personal family stories.
For those interested, I found the map I used at this site about the Great Migration.