William Quinn was 36 when he testified for Thomas Ray Allen at the beginning of the pension process, when he was just trying to get his pension. This testimony was given in 1891. The pensions were instituted in 1890. This General Affidavit was "For the testimony of EMPLOYERS OR NEAR NEIGHBORS of the soldier, (other than relatives) who have known him before his enlistment or since his discharge and return from the army." Quinn testified that he had known Thomas Ray Allen for twenty years.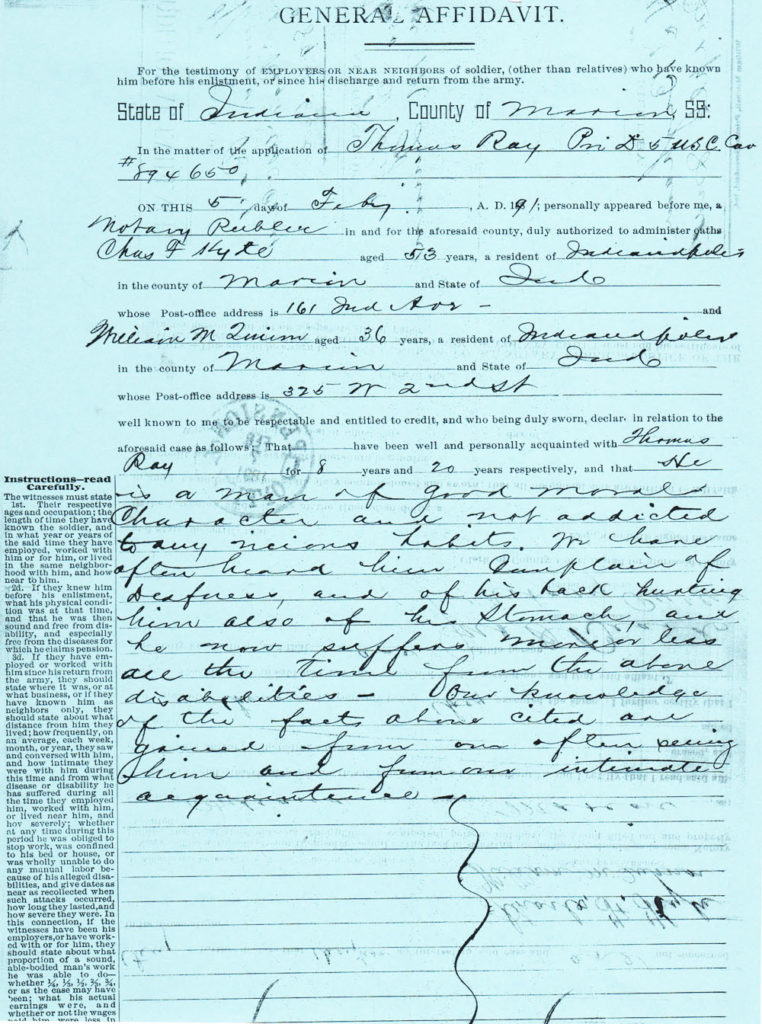 William Quinn and Charles Kyte testified that: "he is a man of good moral character and not addicted to any vicious habits. We have often heard him complain of deafness and of his back hurting him, also of his stomach and he now suffers more or less all the time from the above disabilities – our knowledge of the facts above cited are gained from our often seeing him and from our intimate acquaintance."
William Quinn was born into slavery about 1854 in Hodgenville, Larue County, Kentucky to Simon and Phoebe Quinn. He was the oldest of seven children. Thomas Ray Allen's first wife was also born in Larue County.
Twenty-two year old Quinn married Julia Ann Cole in their home county on May 31, 1876. She was eighteen. By 1880 he was in Indianapolis, Indiana working at a barber shop. Julia was not with him. Probably she was waiting back in Kentucky for him to get settled.
By 1900 they were together again and had been married 24 years. There had been no children. Quinn was a barber. Julia did not work outside of the home, however they had seven lodgers so she had plenty of work.  All of the lodgers were born in Kentucky, except for the wife of one who had been born in New York.  Everybody was literate.
William Quinn continued to barber, eventually having his own shop. Julia continued to have a house full of borders until 1940 when they were living in an apartment and neither was working. They did have another, unnamed, source of income. Perhaps they were renting out the barbershop and the boarding house. Or maybe they sold them. Quinn had never attended school while Julia had attended for three years. That makes it all the more impressive that they were both literate and that he was able to sign his name so well when giving his testimony.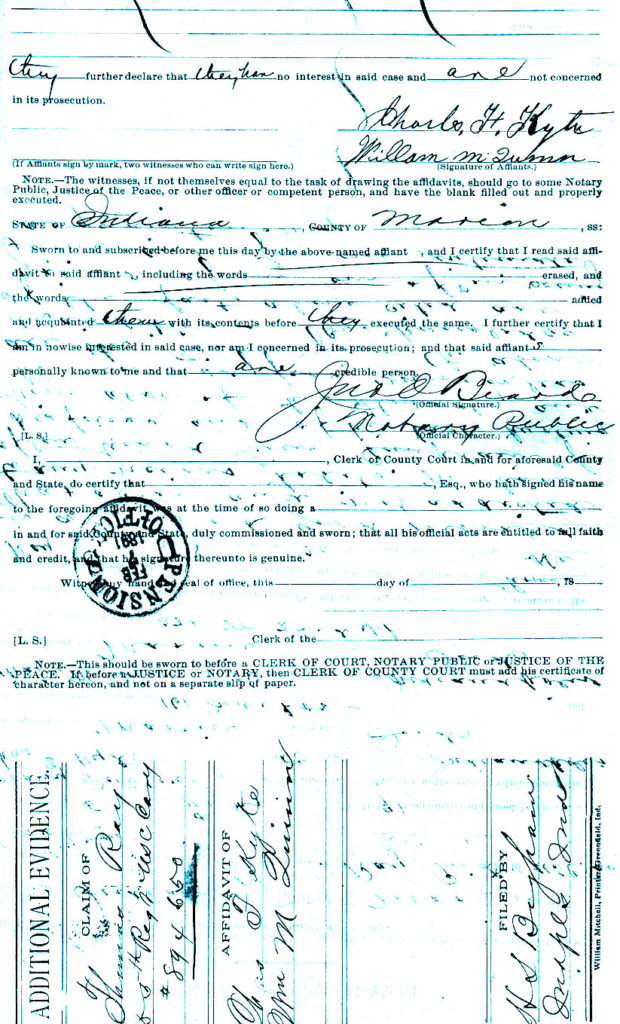 Julia Ann Quinn died of an intestinal obstruction at home in their apartment, on February 8, 1943. She was 83 years old. Her husband was the informant.
A little over a year later, on April 25, 1944, William Quinn died of hemiplegia, which means that half of his body was paralyzed due to a stroke. He died at home in the old boarding house. He was listed as 87 but if the earlier dates of his birth are correct, he was closer to 90. Thomas Quinn, his younger brother, was the informant. Thomas lived in Illinois so perhaps came down to be with his older brother while he was ill, or maybe he hoped to persuade him to move to Chicago and live with him.
William and Julia are buried side by side in Crown Hill Cemetery in Indianapolis.
_______________________
I found this information on ancestry.com, familysearch.org, Thomas Ray Allen's Pension File (It is about 1/2 an inch thick when I squeeze it together, over 100 pages.). I also used google to find out about hemiplegia.