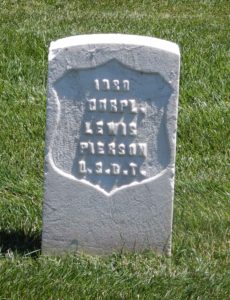 Lewis Pierson (sometimes spelled Louis Pearson) was born in Shelby, Kentucky about 1837. By 1860 he was living in Danville, Indiana with the Atty. James M. Gregg family. He had no occupation listed and was unable to read or write.
On July 4, 1864 Pierson enlisted in Company G US Colored Troops 28th Infantry in Indianapolis, Indiana. He was mustered out on November 8, 1865 at Corpus Christie, Texas. He was described as a farmer, 36 years old, 5 ft 9 in with black hair and black eyes.
He appears in the Indianapolis City Directory starting in 1879 as a barber and continued to follow that profession. He applied for a pension in 1890. In 1904 he testified at Thomas Ray Allen's pension hearing that Allen was who he claimed to be.
I could not find him in another census until 1900 when he was a lodger in Mrs. Jennie Sanders house on Center Street. He and Mrs. Sanders shared quarters at several different addresses from 1900 to 1907. She worked as a laundress while he continued barbering. Neither one was able to read or write.
On December 7, 1907 Lewis Pierson died of pulmonary tuberculosis at home. His father's name was given as Dock Pierson. No name for his mother. Mrs. Sanders was the informant. I wondered if Mrs. Sanders was Lewis Pierson's sister, but not knowing the mother's name made it seem unlikely. He was buried in Crown Hill Cemetery.
The information for this post came from records found on ancestry.com and Thomas Ray Allen's pension file.