Benjamin Clay first appears in the Indianapolis City Directory as a laborer in 1867. He and his wife, Zina Fishback Clay were born in Kentucky. His son Richard was born in 1868, the second of seven children, all born in Indianapolis. All of the children attended school. Richard went through the sixth grade.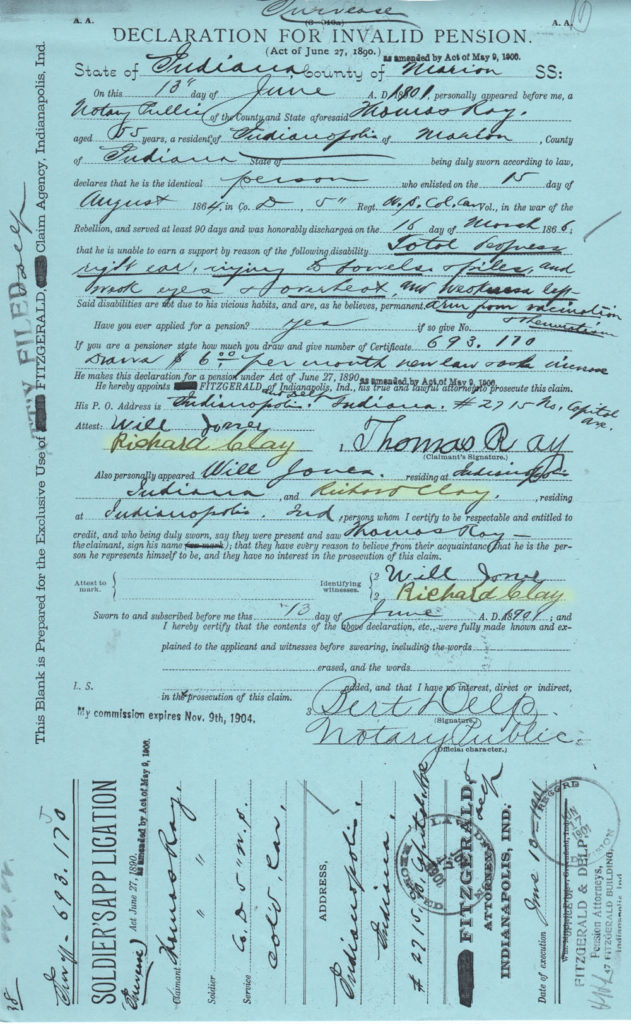 In 1892, Richard Clay married the first of his three wives, Minnie Cummings. Both were 24 years old. She has also been born in Indiana, but could not read or write. In the 1900 census she had given birth to three children and one was still alive, but did not appear to be living with them. He was working as a laborer and continued to work laboring jobs for the rest of his life, including a coal yard, a grocery/bakery and a foundry.
In 1901, Richard testified at Thomas Ray Allen's pension hearing that he had heard him say that he suffered from various ailments. That same year he married his second wife, Hattie Elkins. I have Elkins cousins, but was unable to find a connection.He was 33 and she was 22. They had no children. Richard and Hattie continued to live in rental houses. In 1921, Hattie died of uterine cancer that metastasized to the abdomen. She was 40 years old. Her husband was the informant and gave her parents names. She was buried in New Crown Cemetery.
In 1929, sixty one year old Richard married forty year old Nettie Kelly, his third wife. She was born in Georgia, was literate and worked as a servant for a private family. By the 1940 census, Richard was 72 had not worked during the past year. She had worked as a home aide for 32 weeks during that year. They rented their house and did not own a radio. Nettie had completed the 2nd grade. She was the one who gave the family information to the census enumerator.
In February of 1948, Nettie Kelly Clay died of a cerebral hemorrhage. She was buried in New Crown Cemetery. Richard was the informant. He did not know her parent's names. The undertakers were Jacob Brothers Funeral Home. I noticed that they were undertakers for quite a few of the people I am writing about.
In January 1941 Richard Clay applied for social security benefits. He gave his birth date as 1858 and his birth place as Bowling Green, Kentucky.
Richard Clay died at home of stomach cancer on October 15, 1951. His age was listed as 93, although he was closer to 83. He had been seeing a doctor for six months. His nephew, Gilbert Hall was the informant.
________________________________
Contradictions in researching Richard Clay.  In the earliest records, 1870 and 1880 censuses and the record for his first wedding, his birth date was given as 1868. In the 1900 census his birth date was given as 1855. In the 1910 census his birth date was given as 1860. In all of these records, his birth place is given as Indiana.
In 1920 his birth date is again given as 1855. In 1930 his birth date was given as 1880.  In 1940 his birth date was given as 1858. In his social security application his birth date is given as 1858, as it is on his death certificate.  On all of these records his birth place is given as Kentucky, Olan County Kentucky or Bowling Green Kentucky.
His parent's names are consistent.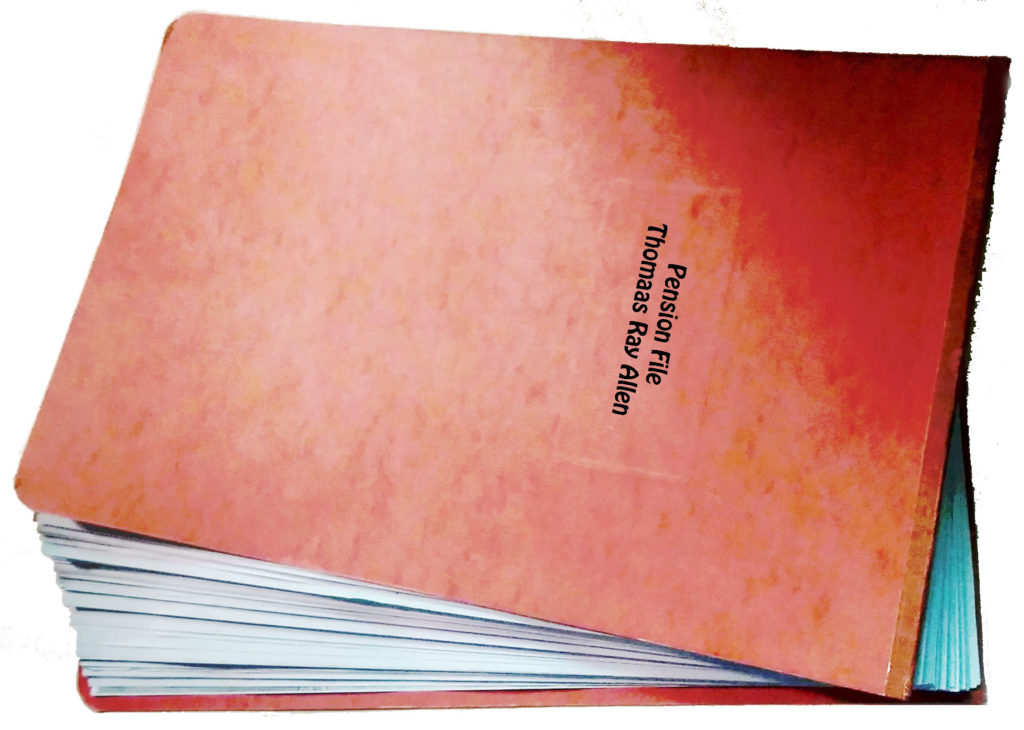 I found the information for this post on Ancestry.com and in the Pension File of Thomas Ray Allen.