I had never heard the name of Foster Ray before reading it in my 2X great uncle Thomas Ray Allen's military papers. Foster Ray was born in Washington County Kentucky in 1796, the second son of Nicholas Ray Sr. and his wife Susan Sheckles. They were a large family with seven or eight children. In the 1820 census he was 24 years old and was the only person in his household. He had no slaves and was engaged in manufactures.
Foster married Marietta Phillips in 1829. In the 1830 census he was enumerated in Lebanon, KY. There were 9 people in his household. That included 4 enslaved. In 1837 he received a land grant for 50 acres in the recently organized Marion County. The new county included Lebanon and other parts formerly of Washington County. In 1840 Foster's brother Nicholas died and his son Hugh Ray came to live with Foster, who seems to have had no children. In the 1840 census the household included three free white people – Foster, Marietta and Hugh, who was about five years old. There were also five enslaved which included one male under 10; one male and one female between 10 and 23 and two females between 24 and 35.
In 1850 when Thomas would have been about 2 years old, Foster Ray was enumerated in Hannibal Missouri. He was lodging at the Brady House with his wife and nephew. His occupation was listed as "Pork Packer" with real estate valued at $12,000. Hugh was attending school. There were 38 people staying at the Brady. This included nine families. This is the first census where slaves were enumerated separately. One fourteen year old girl was counted for Foster Ray. He had land in Missouri, Kentucky and Illinois. Thomas would have been about two and living back in Kentucky on Foster's land there. I could find no list of his enslaved there.
In the 1860 census, Foster was enumerated in Lebanon, Kentucky again. He was 62, his wife Marietta was 47, Hugh was 24. They were all literate. Ninety year old Nancy Ray, black, was enumerated with the family. Had she been freed? Was it a mistake? I don't know. She was illiterate.
Foster's occupation was "farmer" with real estate worth $120,000 and a personal worth of $100,000. In 2015 dollars, this would come to over six million dollars. He owned 28 slaves between the ages of six months and sixty years. My uncle Thomas Ray Allen, now about 12 was among them. No names are given for the enslaved, so I can only guess. Hugh was a clerk with real estate worth $700 and personal worth of $24,000. He owned one 64 year old male.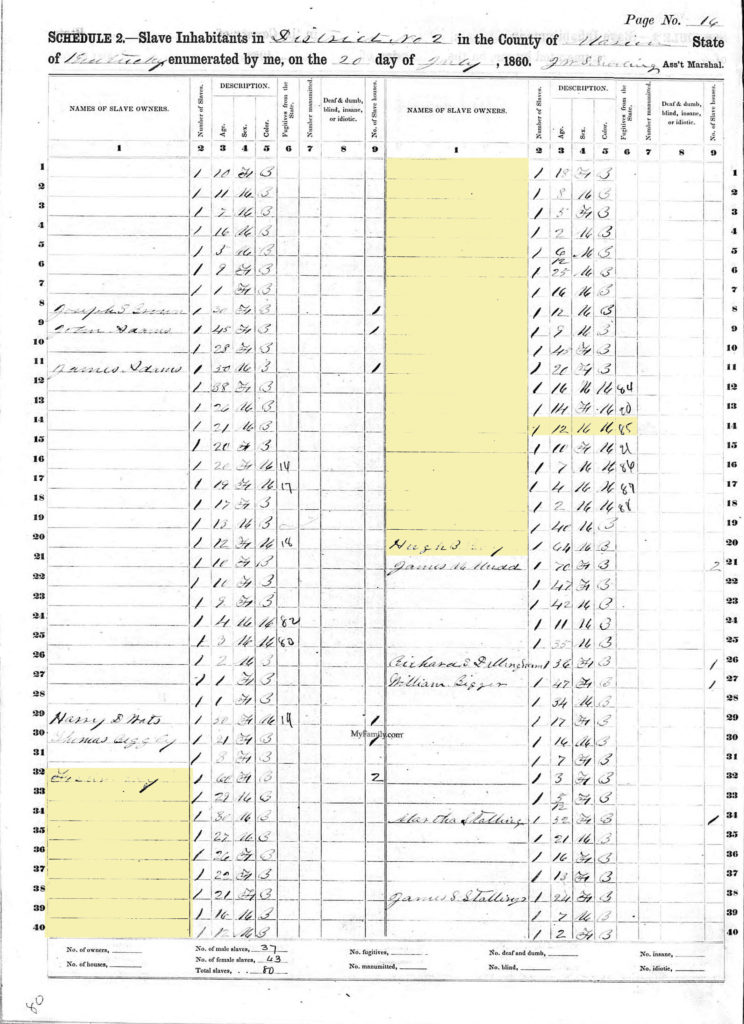 Foster Ray died on January 15, 1863. He wrote a will and left everything, his lands and slaves and all to his wife Marietta Phillips Ray and his nephew Hugh B. Ray. Unfortunately for me, because he left his estate in order, there was no list of those enslaved on his plantation.
Thomas Ray Allen joined the United States Colored Calvary two years later. He considered that Foster Ray was the only slave owner he had.