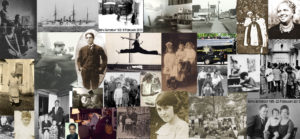 This is the 7th post in the February Photo Collage Festival and the Family History Writing Challenge. Today I am going to write about Theresa Pearl Reed Averette Shaffer, Hugh and Blanche Celeste's 3rd child and 2nd daughter.
Theresa Pearl was born in 1913 in Indianapolis Indiana.  Her middle name, Pearl, was for my grandmother, Pearl Reed Cleage.   That is probably why there are more photographs of her in the family photo collection than of any of the other children.  Theresa spent her early years in Indianapolis, Indiana.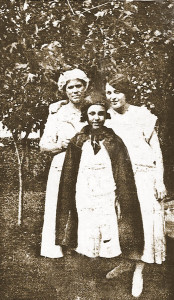 In 1930 Theresa was a 17 year old student living with her family in Los Angeles California. She was identified by her nickname "Tut".
About 1932 Theresa married Bennett Shaffer. Both of them had finished 2 years of college. Their daughter, Betty Jeanne, was born in 1934. Their son, Bennett Shaffer Junior, was born in 1935. The family lived in Los Angeles.
By 1940 Thresa and family were living in Glendale, California at the Glen Haven Sanitarium.  Although the census page says the name was Glen Haven Sanitarium, all of the investigating I have done turns up the Glendale Sanitarium in Glendale, California. Theresa and her husband, Bennett, were both 27 years old.  Bennett worked as distribution manager of a daily newspaper. Six year old Jeanne was attending school. Bennett was only four and too young for school.
Theresa Pearl Averrett Shaffer died in 1941 at age 28. She is buried Forest Lawn Memorial Park Cemetery in Glendale, California. Bennett died the following year.
 For other photographs of Theresa go to these posts:
Theresa Pearl Reed  – Sepia Saturday
Other stories in the series about my Uncle Hugh Marion Reed Averette
Hugh Marion Reed Averette 1876 – 1953
Hugh Marion Reed Averette – US Navy Experience 1898 – 1901
Blanche Celeste Reed aka Celeste J. Averette 1887 – 1988
Anna Roberta Reed Averette Flores 1907 – 1987
Hugh Marion Reed Averette – 1910 – 1993