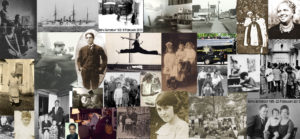 This is the 4th post in my February Photo Collage Festival and the Family History Writing Challenge. Today I will write about Blanche Celeste (Young) Reed Averette, Hugh Reed Averette's wife.
Blanche was the oldest child of James Harvey Young, a teacher and Roberta Ruth (Jordan) Young, a housewife. Blanche was born on October 26, 1887 in Indianapolis, Indiana. Her brother Clifford was born in 1897 followed by three sisters, Nellie, Bessie and Elizabeth.  Blanche's mother died in April of 1901 shortly after the birth of Elizabeth. In December of the same year, her father James married Sibba Turner, a divorcee with a young child.
They went on to have four more children. The youngest children were born in California. Blanche's younger sisters, Nellie and Bessie moved with them and appear to have remained in California. Their older brother joined them there after leaving the US Army. James Young died before 1920. I wonder if Blanche's family reconnected with her siblings when they moved to California years later.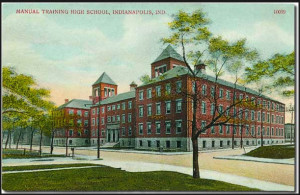 Blanche remained in Indianapolis. She completed 2 years of high school at Manual Training High School.  This was an innovative and highly praised school. You can read more about it by clicking the link. She was an 18 year old student when she married 30 year old Hugh Marion Reed. His occupation was listed as janitor and I wondered if he had worked at the school.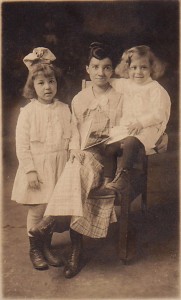 Anna Roberta, their oldest child was born the following year. A son, Hugh Marion was born in 1910. Theresa Pearl was born in 1913 and Thomas Perry in 1915.  The family remained in Indianapolis until their move to California in the 1920s.  When Blanche surfaces in the 1930 census she is using the name Celesta Averette. Her birth place has changed from Indiana to Michigan. The three children are using the Averette surname. Theresa "Tut" and Thomas are said to have been born in Kansas. Anna's birth place remains Indiana.  Husband and son Hugh were not enumerated in the household.
Later that year Anna and Hugh (the son) both married. Daughter Anna seems to be keeping to the truth most faithfully. She gives her mother's maiden name as "B. Celeste Young", born in Indiana.  Son Hugh gives his mother's maiden name as "Celestina Joven" born in Michigan.
In the 1940 Census Celeste Averette was living with her son Thomas Averette. Also living there was a mystery man of 67 years also named Thomas Averette. Is this Hugh Marion Reed Averette with the wrong name?
Celeste kept to this spelling of her name. It is the name used on her voter registration form where She is listed as a republican.  This was not unusual for black voters back in those days who remembered both Abraham Lincoln and the Dixicrates. Celeste Averette is also the name on Hugh's death certificate, where she was the informant.
In , at the age of 69, Blanche Celeste married August Miklovich. Blanche Celeste Averette  Miklovich died February 3, 1988.  She was 100 years old.
Other stories in the series about my Uncle Hugh Marion Reed Averette
Hugh Marion Reed Averette 1876 – 1953
Hugh Marion Reed Averette – US Navy Experience 1898 – 1901
Anna Roberta Reed Averette Flores 1907 – 1987
Hugh Marion Reed Averette – 1910 – 1993
Theresa Pearl Reed Averette Shaffer 1913 – 1941
Thomas Perry Reed Averette 1915 – 1986