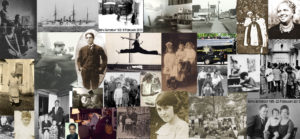 This is the 3rd post in my February Photo Collage Festival and the Family History Writing Challenge. Today I will write about Hugh Marion Reed, my grandmother Pearl (Reed) Cleage's brother, and how he and his family were found after years of searching.
Hugh's parents were never married. His mother, Anna (Allen) Reed had 4 children when Hugh was born on April 23, 1876 in Lebanon Kentucky. Anna was described as "mulatto" in the 1870 and 1880 censuses. According to my Aunt Barbara, Anna had been married to George Reed and after he died married his brother Palmer Reed. I have no documentation for this. At any rate, they parted company at some point.
Hugh's father, Buford Avritt, was a doctor with an office in nearby Bradfordsville. This was Kentucky in the 1800s and Buford could not have married Anna even if he had wanted to. As far as I know they never shared a house and there are no family stories that he supported his children or made life easier for Anna. In fact, I know nothing about the nature of their relationship except that they had 4 children together. Hugh was the first of the children. I think a little chart here might make things less confusing.

Older brother George and sister Sarah (known as Sallie) first appear in the Indianapolis Directory  in 1887. His mother, Anna, appears in the 1892 Directory. That would make Hugh between 11 and 16 when he moved to Indiana.  He finished the eighth grade and worked as a laborer for several years before enlisting in the US Army on 13 July 1898 in Indianapolis, IN for three years.  He was 22 years old.  He then enlisted in the U.S. Navy out of New York City on 8  December 1898.  He was discharged in 1901 in Boston, MA.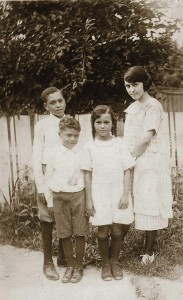 My Uncle Henry remembered that his uncle Hugh Reed passed for white and joined the Navy, working as a stoker during the Spanish American War.  His uncle Hugh told them he would be so tired after his shift that he would just lay down on the floor and go to sleep until time for the next shift.  They were locked down there during the shift. Click to read an account of a Coal Passer during the Spanish American War.
Back in Indianapolis, Hugh lived with his family and worked as a laborer. In 1906 when he married Blanche Celeste Young, the occupation listed on the marriage license was janitor.  Oldest daughter Anna Roberta was born in 1907. Son Hugh Marion was born in 1910.  Theresa Pearl was born in 1913 and youngest son Thomas Perry was born in 1916.
In both the 1910 and 1920 census Hugh and his family were living in Indianapolis. According to his brother George's 1946 will, Hugh was living in Los Angeles at that time. I spent years looking for him in Los Angeles. Finally, he turned up in 1928 where, according to the U.S. National Homes for Disabled Volunteer Soldiers  Hugh Reed was admitted for treatment 13 December 1928 with rectal prolapse.  Rectal prolapse occurs when the intestine comes out through the rectum.
I was unable to find Hugh Reed in either the 1930 or 1940 census. I could not find a death record for him or any member of his family.  Then, several weeks ago, I got a phone call from my cousin's husband Eric, (a fellow researcher and a very good one!). He told me to check my messages on Ancestry.com and waited while I did. Now, he never calls so I knew this had to be big. It was. He had found Hugh's death record and the reason we couldn't find him.  Hugh's name on the death record was listed as Hugh Reed Averette. Was it a case of faulty transcription? Or had the family moved to California, changed their name and decided to fade into the white population by "passing"?
For the next several weeks I was unable to devote full time to researching. One morning I got another call from Eric – he had found the answer to our question by locating Blanche Reed (now Celeste Averette) in the 1930 census. Three of the children were living with her, Anna, Theresa and Thomas. Neither Hugh or his son, Hugh, were enumerated in the household.
Using Ancestry.com and Family Search we found marriage records for Hugh's children and birth records for their children – all under the name of Averette. This week I will write about each member of Hugh's family. Today I will finish with Hugh by saying that there was a Hugh Reed living in Eugene Oregon in 1940 that fits the profile of my Hugh Marion Reed. His son was living in Silverton Oregon which is 77 miles from Eugene. I have found no record, except for his death record that gives Hugh's name as Averette. If he was undergoing medical treatment from the Veteran's administration I assume he would have to go by Reed, unless there was a legal name change.
Hugh and all of his siblings listed Palmer Reed as their father on legal documents. They all used the last name of "Reed". It is only on some of the death certificates, when someone else in the family was filling out the information, that various forms of Buford Avritt appear. The story in my family was that Dr. Buford Avritt refused to help the family during hard times claiming "I know nothing about you people!" when George and Hugh went to him for help. I was told to not even mention the name of Buford Avritt to my grandmother. The question that will probably never be answered is, did Hugh decide to use his father's name or did Blanche decide to do it?
Other stories in the series about my Great Uncle Hugh Marion Reed Averette
Blanche Celeste Reed aka Celeste J. Averette 1887 – 1988
Anna Roberta Reed Averette Flores 1907 – 1987
Hugh Marion Reed Averette – 1910 – 1993
Theresa Pearl Reed Averette Shaffer 1913 – 1941