This post begins a series using the Alphabet to go through streets that were significant in my life, as part of the "Family History Through the Alphabet" challenge.
I will start with Atkinson in Detroit. The layout of the house isn't exact as far as scale, but it is as close as I remember it. The last time I was in this house was in 1953. I was 6 years old.
In 1951, when I was four, my father received a call to St. Marks Presbyterian church in Detroit. We left Springfield, Massachusetts and moved into 2212 Atkinson, down the street from my paternal grandparents who lived at 2270 Atkinson. St. Marks was located a block away, in the other direction, on 12th Street. The 1967 Detroit riot started a block from the church.
I attended kindergarten at Brady Elementary School. I was eager to start school and there were no tears or fear. I remember a cartoon with the white corpuscles battling it out with germs, painting everyday on the easel. I don't remember my regular teacher but a substitute teacher stays in my mind. She was short and wore her white hair piled high on top of her head, kind of like a wedding cake. I remember her as wearing a purple dress and being mean.
I walked to school by myself – two blocks down Atkinson, a short distance on Linwood to the light and a long block next to Sacred Heart Seminary. Usually there were no other walkers because I was late. I especially remember being late when I started first grade and came home for lunch. I must have been a slow eater because I was late just about everyday. I didn't mind walking alone but I didn't like being late. One day I was coming home for lunch and as I was passing the neighbors house, two girls around my age, were outside with their dog Duchess. The dog came up growling and caught my wrist in her mouth. They just stood there and I just stood there. Soon my mother came out and rescued me. She said she heard me calling her but actually I hadn't said a word. My father kept a big stick by the door to hit Duchess with when she ran out to attack.
Pearl and I shared a bedroom. For much of the time she was still in her crib. She was 2 or 3 when we moved. She would tell me stories about Oliver Olive and a tear on the wallpaper right over her crib that we called Tecumseh. Later, after I learned to read, I taught Pearl to read when we were supposed to be going to sleep. We had a little table over by the window and the street light gave us enough light. Out of our side window we would watch our neighbors, the two girls with the mean dog, playing in their fantastic attic playroom. We had to go to bed at 8pm all year long, light outside or not. They did not. When it was light outside and I was in bed, I imagined pictures from the folds in the curtains.
We were not allowed to play outside of the backyard, even though I was walking alone blocks and blocks through rain and snow and sleet to school. There was a large screened in porch on the back of the house but we couldn't play on it because it never got cleaned off and we would have tracked dust and dirt into the house. It was a really nice porch and I longed to play on it. But I didn't. My mother bought us some easels and paint because I liked to paint at school so much and I used to paint in the basement when she was washing or hanging up clothes.
We didn't have a car and we took the 14th street bus to go downtown and to go over to my grandparents on the east side on Saturdays. There must have been a streetcar around there too because I didn't get sick when we rode the streetcar but when we took the bus we sometimes had to get off and walk because I would be getting ready to throw up. My mother's bank was on Linwood and I remember the black and white squares on the floor that my sister and I used to walk around on. Down the street was a Dime store where we use to buy tiny little dolls with tiny blue bath tubs and a comparatively big bottle. There were a lot of little toys but that is all I remember buying. The bank is now deserted and the rest of the block is empty.
During first grade I told my mother I didn't feel good one morning. She thought I was just trying to get out of school, although I don't remember trying to get out of school, and made me go. By the time I came home for lunch I had a fever. It turned out I had pneumonia and missed half of that year of school. I was moved into my parents room and I guess they moved to the guest room. My uncle Louis, who was a doctor and lived down the street at his parents house came by to see me everyday. I remember him singing "Oh if I had the wings of an angel over these prison walls I would fly…" as he came up the stairs. For a while I had to use a bedpan and I remember holding on to the wall for support when I finally was allowed up. By the time I got to go downstairs it was like being in a new house it had been so long since I saw it.
In 1953, my father was involved in a church fight and led a faction of 300 out to start another church which became Central Congregational Church, then Central United Church of Christ and finally The Shrine of the Black Madonna. My sister Pearl and I spent that summer with my mother's parents on Theodore. My father stayed with his parents on Atkinson. In the fall we moved to a new parsonage on Chicago Blvd.
I found this description of 2212 Atkinson online. Built in 1921, it is a single family 2,222 square foot residence. Has two stories with a basement. (I recall an unfinished attic.) It has one full and one partial bathroom. The heating is by hot water. (I remember the radiators) The exterior walls are brick and there is a fireplace. (The fireplace was in the room designated for the use of the church only.)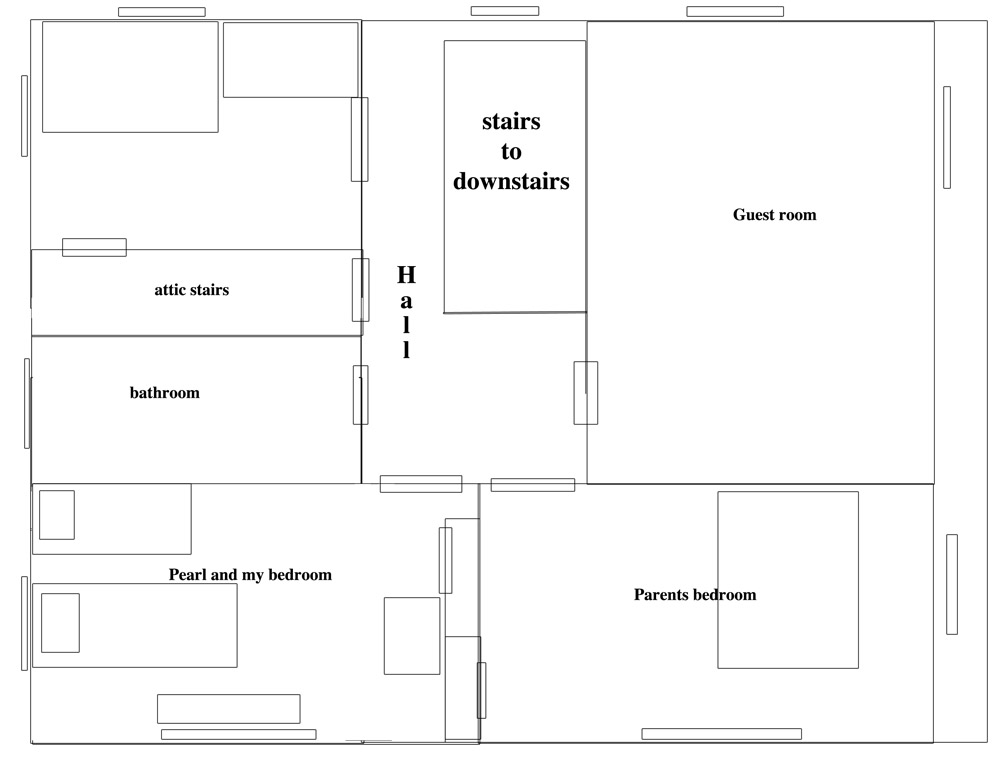 View Atkinson Street Detroit, Michigan in a larger map
Other posts that relate to the house on Atkinson and St. Marks;
Dinner Time
Ghost photo of Atkinson then and now
A Day in 1953 Merges with a day in 2011
Politics