I looked for the house my grandparents lived in in 1920 on the Sanborn Fire Insurance Maps, to no avail. I couldn't even find the block. However, I do have the photos above which were taken at the house so at least we can see the backyard and their housemates. Perhaps it's because the house was located in St. Clair Heights at the time.
Mershell Graham and Fannie Turner married on June 15, 1919. They left that same evening for Detroit where they boarded with friends from Montgomery, Moses and Jean Walker. Moses wasn't related to my grandparents, but he was the brother of one of Fannie's cousin's wife, Margaret Walker McCall.
The Household of Moses and Jean Walker in 1920
Everybody in the household was wrongly labeled as "white". They were all African American. Moses and Jean Walker, were old friends of my grandparents from Montgomery, Alabama. There were three family members and four boarders in the house.
Moses and Jeanette Walker owned their home free of mortgage. Moses was 38 years old and born in Alabama, as were his parents. He was literate, and had, in fact, attended business college. In 1920 he was employed by the US government as a Customs Inspector.
His wife Jeanette, was 38 and born in Tennessee, as were both of her parents. She was literate and not employed outside of the home in 1920.
Moses and Jeanette's daughter Mignon Walker was born in Tennessee in 1909. She was 10 years old and was attending school.
My grandfather, Mershell Graham was 30 years old he and my grandmother, Fannie (Turner) Graham were both born in Alabama as were their parents. They had married the year before and Fannie was about seven months pregnant with their first child, Mary Virginia Graham. Both were literate. Mershell worked in an Auto plant as an inspector.
Harrold Gumble was 23 years old. He was born in Louisiana as were his parents. He was single and worked as a labor boss in a foundry. He was literate. Several years later he returned to New Orleans, married and raised three children there.
Mrs. Emma Davis Topp roomed with Moses and Jean Walker after her husband died in 1912. She was born in Mississippi and attended school through the 8th grade. She was a dressmaker.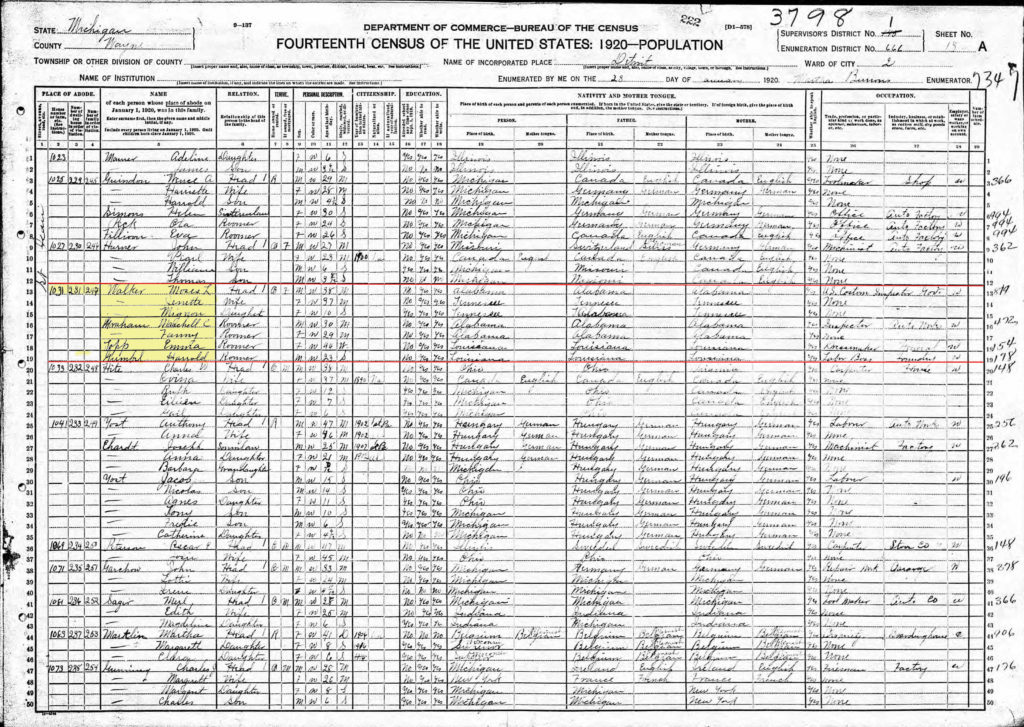 All of their neighbors were listed as white. Most of them were immigrants or children of immigrants. Some worked in auto plants, there were two carpenters and several auto mechanics. All of the school age children, except one fifteen year old, attended school. None of the married women worked outside of the home. There were several unmarried women who worked in offices. Emma Topp was a dressmaker and there was a widow who kept a boarding house.
________________
You can see the letter from Fannie accepting Mershell's proposal here The Proposal Accepted.
See the proposal letter here The Proposal – Migration Story.
To read all about the wedding click Announcement