This year I am going through an alphabet of news items taken from The Emancipator newspaper, published between 1917 and 1920 in Montgomery, Alabama. Most are about my grandparent's circle of friends. All of the news items were found on Newspapers.com. Each item is transcribed directly below the clipping. Click on any image to enlarge.
________________________
After they married in Montgomery, my grandparents relocated to Detroit. They roomed for awhile with the Walkers, who were not blood relatives but related through marriage. Mrs. Emma Topp was also a roomer in the house.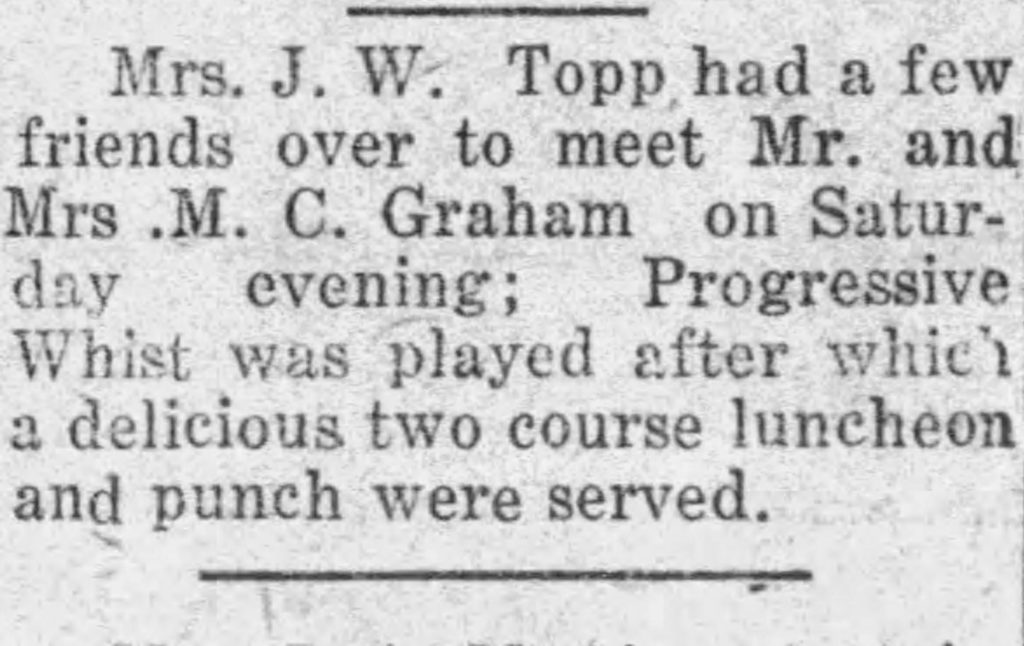 "Mrs. J.W. Topp had a few friends over to meet Mr. and Mrs. M.C. Graham on Saturday evening; Progressive Whist was played after which a delicious two course luncheon and punch were served."
Mrs. Emma Davis Topp roomed with Moses and Jean Walker after her husband died in 1912. Her husband, John W. Topp had been an engineer. He was a black Canadian who arrived in Detroit at age 17, in 1875.
Mrs. Topp was born in Mississippi and attended school through the 8th grade. She was a dressmaker. By 1930 she had moved to Los Angeles, CA and was living with her cousin and aunt. Mrs. Topp was no longer working and lived with her cousin until her death in 1948.
In 1938 Mrs. Topp visited Detroit and was entertained by her old friends.

___________________
Wikipedia says that "Progressive whist, similar to whist, except one suit is declared trumps at the beginning of play, and usually remains so throughout the evening."
Progressive Whist scoring cards
________________
I found this information on Ancestry.com in Census Records, Directories, Death Records, Military Records and Marriage Records. The news item was found on Newspapers.com.