My grandmother, Pearl Doris Reed, was born in Lebanon, Kentucky in 1886. She was the youngest of the eight children of Anna Ray Allen Reed. The four youngest, including Pearl, were the children of Buford Averitt, a white physician. The older children had different fathers. By 1888 Pearl's oldest brother, George, had moved to Indianapolis Indiana to work at Van Camps cannery. The rest of the family soon followed. She graduated from high school and took music lessons. In 1903, Pearl was nineteen years old. She lived with her mother and older brothers in North Indianapolis, Indiana.
Oldest sister Josie was dead before 1900. Sisters Sarah and Louise were married and lived in Benton Harbor, Michigan with their husbands and families. Minnie and James Mullins and her growing family moved back and forth between Indianapolis Indiana and Benton Harbor during this time.
Pearl's mother, Anna Ray Reed, was born into slavery about 1845 in Lebanon, Kentucky. For most of her life she worked as a domestic or a laundress. During the time of the letters, she was often ill. Her sons supported her. Anna had two siblings. Her sister Clara remained in Lebanon, Kentucky. Her brother Thomas served in the Civil War. He moved to Indianapolis, about 1877. During the time of the letters, Anna and her family lived in the house directly behind Thomas'.
Homer Jarrett was a cousin of Minnie's husband, James Mullins. He was born in Harris County, GA in 1882. He completed 8th grade. During the time of the letters he was moving around a lot, from Indianapolis, to Pine Bluff Arkansas to St. Louis MO and back to Indiana. He eventually moved to Boston, MA where he made his living in real estate. He never married. According to his draft records, he was short, slender, tan complexion, black hair and blue eyes, . He died in Boston in 1959 at 77.
Minnie Averette Reed Mullins was born in 1878. Completed 8th grade. In 1898 Minnie married James Mullins in Indianapolis, IN. Their daughter, Helen was born in 1899, son James in 1900, Ben in 1901. Arthur was born in 1904. They had 12 children in all. They continued to move between Indiana and Michigan, settling in Michigan permanently by 1920. Minnie died in 1963 at 84.
Hugh Marion Reed Averette was born on April 23, 1876, in Lebanon, Kentucky. He completed the 8th grade. Hugh served as a coal presser during the Spanish American War and returned to Indianapolis in 1902. He married Blanche Celeste Young in 1906. They had four children. They moved to CA in the 1940s and the whole family passed for white. He died in 1951 at 75.
Lillian Louise Reed Shoemaker was born about 1873 in Lebanon, Kentucky. In 1891, Louise married Michigan native, Solonus Shoemaker, in Benton Harbor, MI. Daughter, Mildred, was born in 1899. Son, Floyd 4 years later in 1903. She died in 1938 at 65.
George Reed: Was born in 1867 in Lebanon, Kentucky. His mother was 18 when he was born. There was an older sister, Josephine, who was born during slavery and died before 1900. George never married and had no children. As the oldest son in a home without a man, he became the man of the house. He never learned to read or write and earned his living as a laborer. He moved to Indianapolis in 1887, where his mother's brother Thomas Ray Allen had been living for at least five years. The rest of the family followed. George died in 1945 at 78.
Sarah Jane Reed Busby was born in 1871. Completed 4th grade. In 1889, she married James A. Busby in Indianapolis. They immediately moved to James' home in Benton Harbor, Michigan. They had ten children. She died in 1954 in Benton Harbor, at 84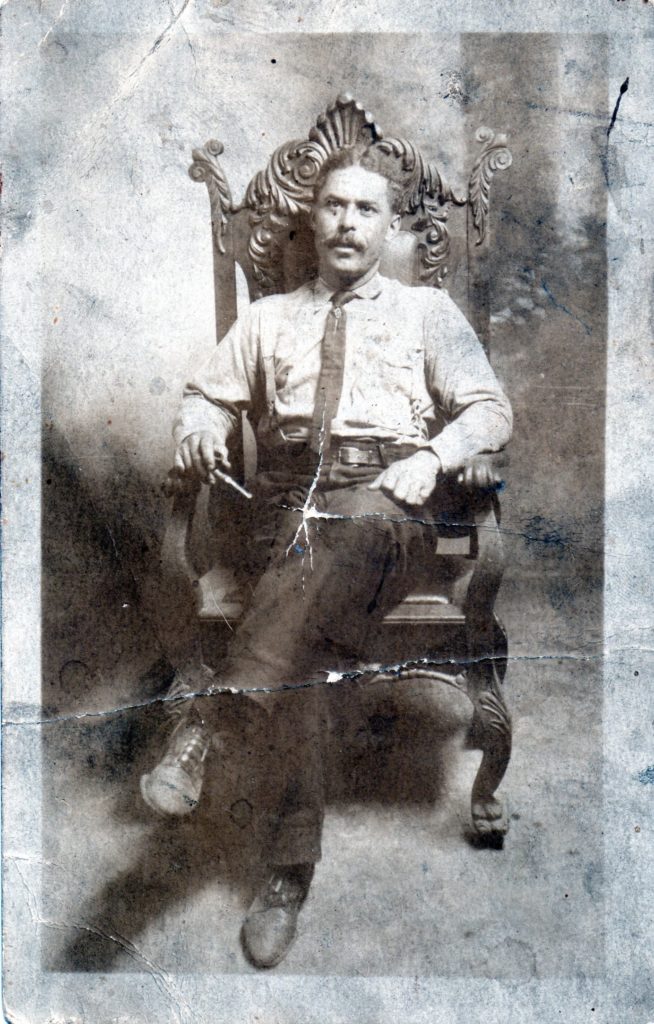 Clarence Elwood Reed was the youngest son of Anna Reed and the brother next in age to my grandmother Pearl. He completed 8th grade. In 1902 he moved with the rest of the family to 2730 Kenwood Ave. He later moved to Chicago and married at least three times. He had no children. He died in 1954 in Chicago at 72.
In 1900 a black laborer earned about $150. A black laundress earned $180 per year.  By 1910 the average worker earned $200 – $400 per year.