After spending half the day wondering around among Joseph Sharp Yowell's records and family members, I decided I would not even try to just write up his story. This will be the story of how I researched just about everybody that appeared in this year's A to Z Challenge.
I found his name when I was looking through Thomas Ray Allen's pension file for names to use in this challenge. "Yowell" was perfect for "Y". Then I copied all the pages with his name. I am not using all of them in this post because some just have his name and there are others with more information.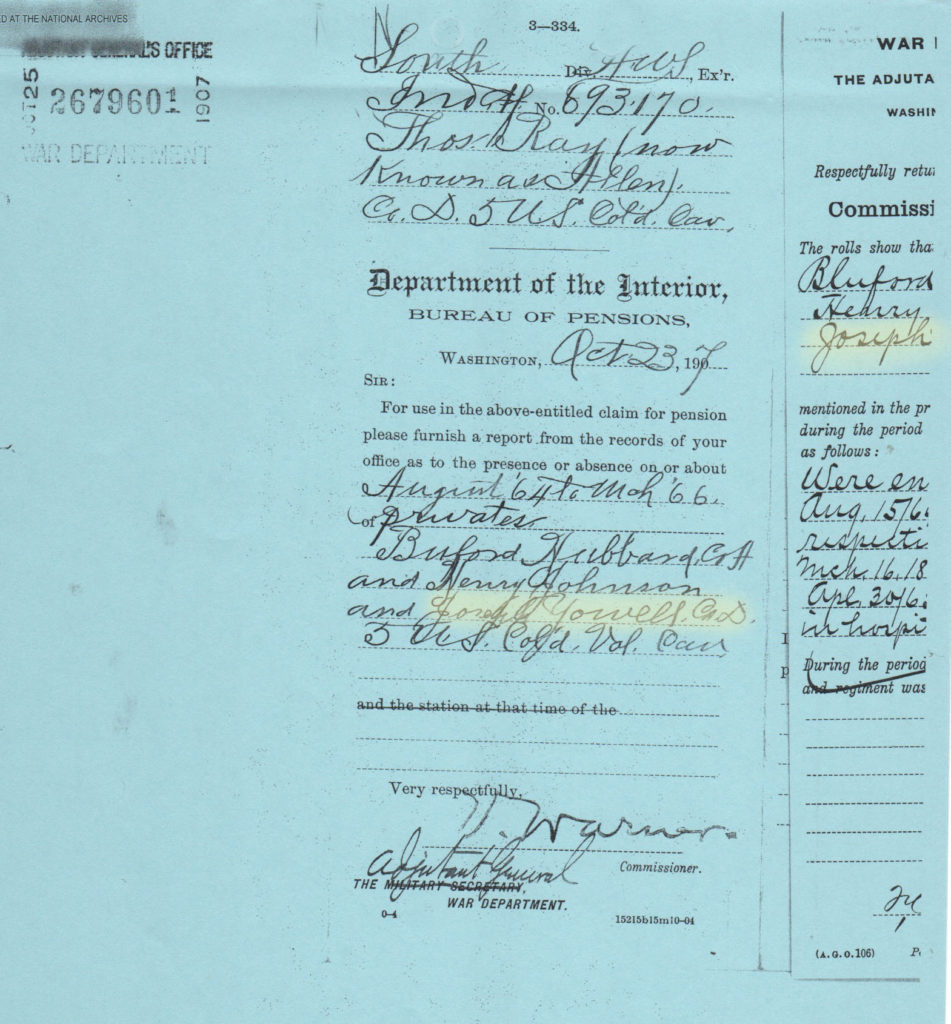 Next I set up a tree for Joseph Yowell on Ancestry.com.  I did this for all the people that I wrote about during this A to Z Challenge. That way I am able to find and save their records.
Below is a chart with various records I found for Joseph Yowell and how they relate to each other.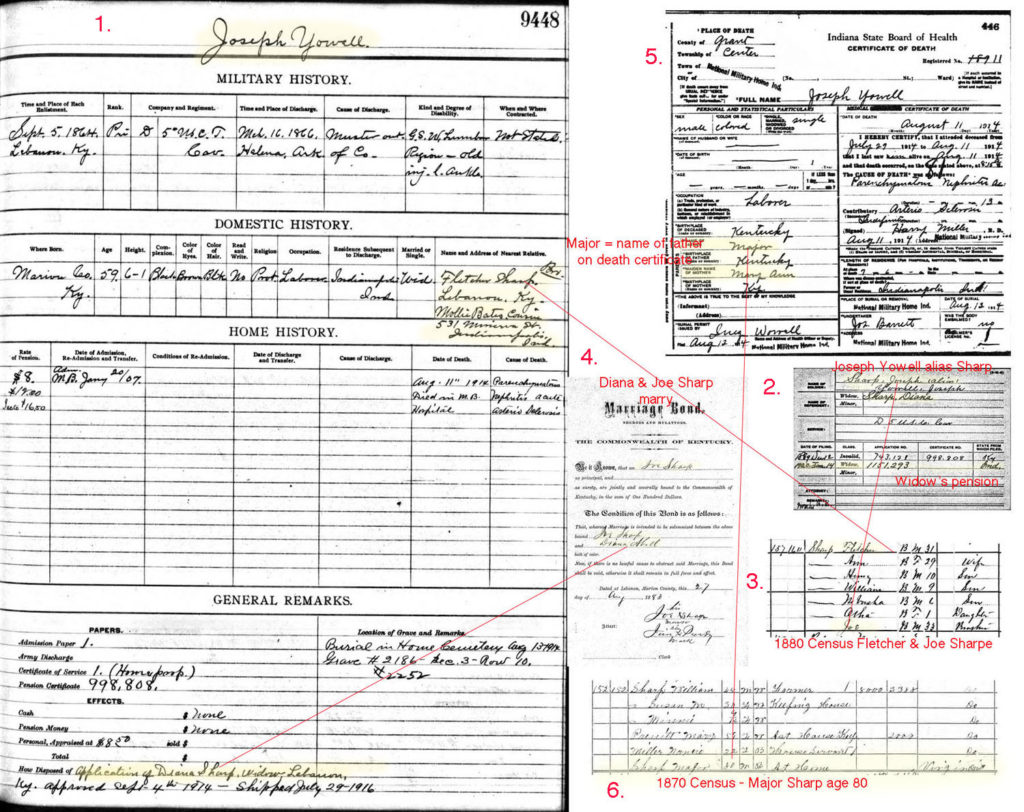 1. on the left, is a record  from the U.S. National Homes for Disabled Volunteer Soldiers, 1866-1938.  On the top right of the form they list his closest relatives. First is his brother Fletcher Sharp who lived in Lebanon, KY. The second is his cousin Mollie Bates who lived in Indianapolis.  At the bottom of the form they mention his widow, Diana Sharp, who ordered his grave stone. She lived in Lebanon, Kentucky.

2. The pension card says that Joseph Yowell also used the name Joseph Sharp. It also has his widow's name, Diana Sharp.
3. 1880 Census, Lebanon Kentucky. When I found a Joe Sharp in the 1880 census, I was not sure if it was my Joe (Yowell) Sharp. When I saw that he was living with Fletcher Sharp and his family and was listed as Joe Sharp, brother, I knew I had found the right Joe Sharp.
4. Marriage record of Diana Abell and Joe Sharp. Diana was named as his widow in the first document.
5. Death Certificate. In addition to telling us what he died of, it gives his parent's first names. His father's name was Major.
6. I followed Joseph's brother Fletcher around in the records for awhile, then I looked at his wives. He was married twice. First to Ann and second to Nancy, both with the surname of Miller. I wondered if they were sisters, so I followed them around. I found Nancie Miller in the 1870 census living as a house servant in the large household of a white couple, William and Minnie Sharp. Also living there was 80 year old Major Sharp, probably Joseph Yowell's father.
I did find his cousin Mollie living with her husband in Indianapolis but did not find Joseph living with them. I did find her family a few pages away from the Sharps in one of the census records from Kentucky.
I never found Joseph Yowell and Diana living together. He was listed as "single" in several records and as married or widowed in others, even though she survived him.
Joseph Sharp Yowell's name – his father was Major Sharp and his owner during slave days was John Yowell. This name appeared on his military records, however I was unable to find a John Yowell who owned slaves in 1850 or 1860 in Taylor or Marion county.
Joseph Yowell appeared in the Indianapolis as "Joseph Yowell" in 1899. In the 1900 Census he appeared as Joseph Sharp. In 1910 he was in the Soldier's Home and was Joseph Yowell in that census and in the records that he generated there.