Rev. J. Raynor did not appear as a witness in the pension file. He is the man who married Thomas Allen and his 2nd wife Kate Wiley.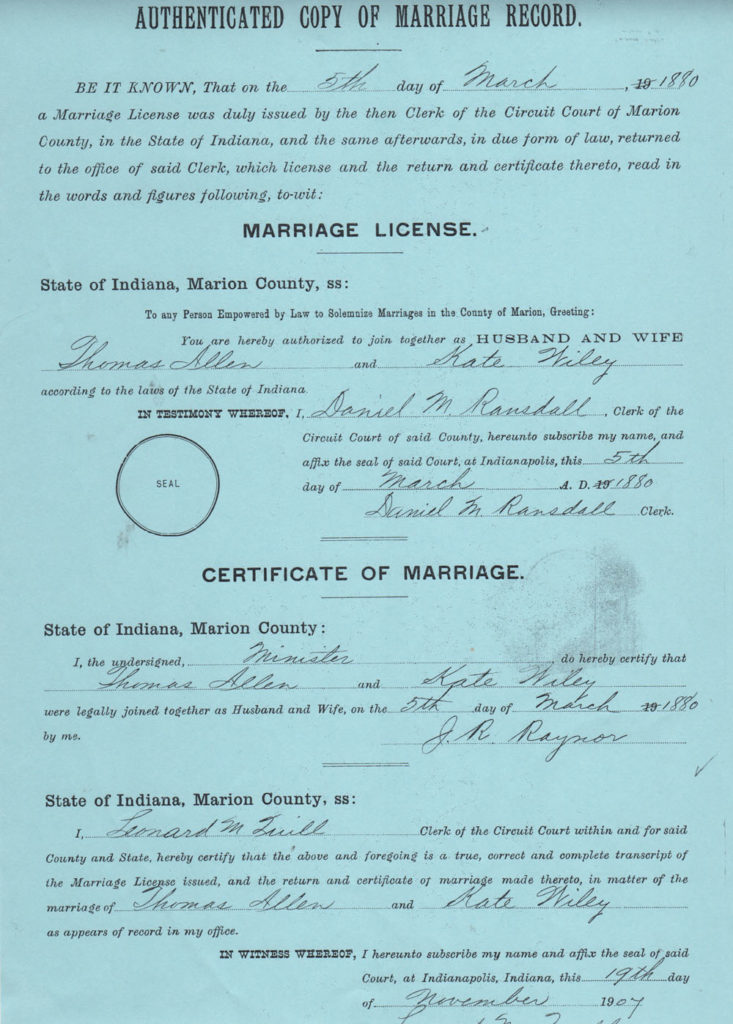 Jacob Roger Raynor was born in Tennessee around 1838. Or 1839 or 1842 or 1849 depending on which census you are looking at.  He was in Indianapolis by 1870.  In the 1870 census, Jacob, his wife Sarah and his mother-in-law made up the household. All were literate and he was attending school. Relationships between household members were not specified in the 1870 census, however Sarah and Jacob both gave the same last name.  His occupation was listed as "cook". His mother-in-law, Jennie Harper, did laundry and his wife kept house.
In 1873 Jacob R. Raynor and Sarah Bennett were married in Indianapolis. I realize that this is three years after they were living as a married couple. Perhaps they had been married during slavery and decided to have their marriage recorded and legalized.
In the census for 1880, the year that he married Thomas and Katie Wiley, Rev. Raynor lived at 123 4th Street with his wife and mother-in-law. His occupation was given as Minister of Colored Baptist Church. His wife, Sarah, was an artist in a wax works. His mother-in-law kept house.
Rev. Raynor was a Baptist minister also working as a carpet layer to supplement his income. I found several small items in the Indianapolis Recorder, an Indianapolis black newspaper. The items usually mentioned funerals he preformed and Sundays when he preached. The article below gives a brief history of First Baptist Church and mentions Raynor as an early pastor. He continued to preach there through the years. It's too bad the attached photograph was of a different pastor.
Indianapolis Recorder 1902-01-11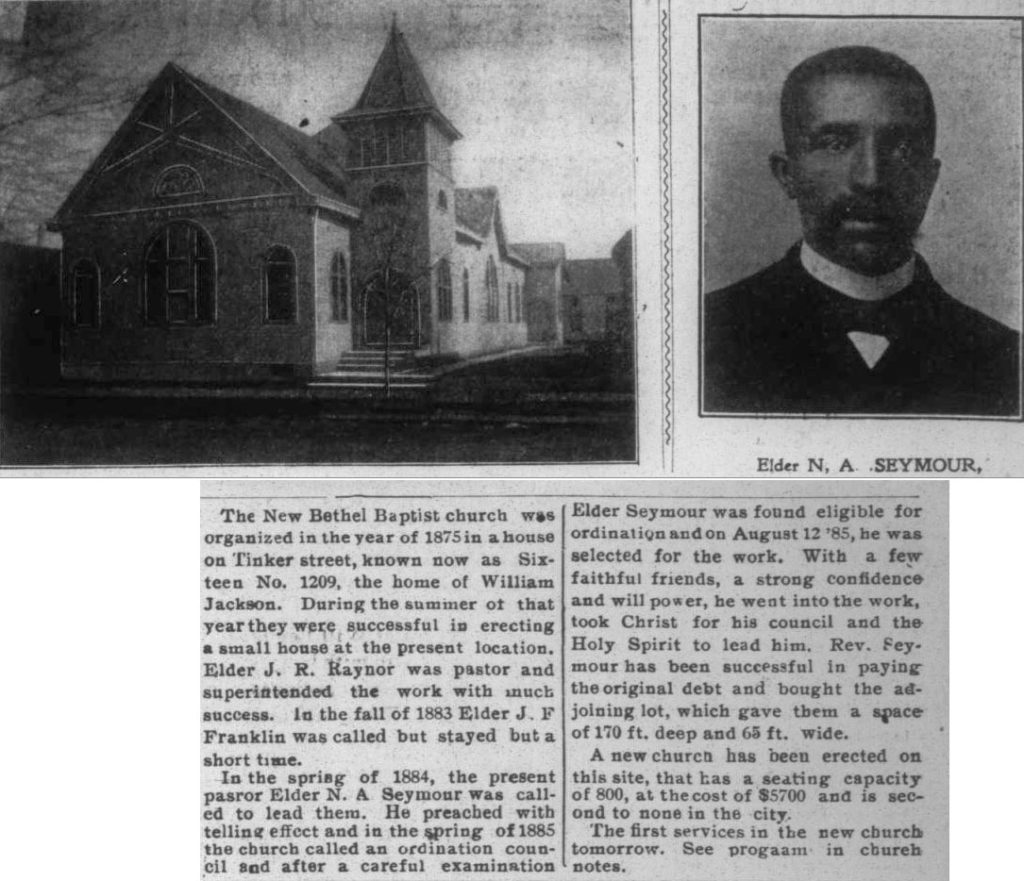 "The New Bethel Baptist church was organized in the year of 1875 in a house on Tinker street, known now as Sixteen No. 1209, the home of William Jackson. During the summer of that year they were successful in erecting a small house at the present location. Elder J. R. Raynor was pastor and superintended the work with much success. In the fall of 1883 Elder J. F Franklin was called but stayed but a short time. In the spring of 1884, the present pastor Elder N. A Seymour was called to lead them. He preached with telling effect and in the spring of 1885 the church called an ordination council and after a careful examination Elder Seymour was found eligible for ordination and on August 12 1885, he was selected for the work. With a few- faithful friends, a strong confidence and will power, he went into the work, took Christ for his council and the Holy Spirit to lead him. Rev. Seymour has been successful in paying the original debt and bought the adjoining lot, which gave them a space of 170 ft. deep and 65 ft. wide. A new church has been erected on this site, that has a seating capacity of 800, at the cost of $5,700 and is second to none in the city. The first services in the new church tomorrow. See program in church notes. MC"
In the 1900 census Raynor is living alone but there is no information about him. All the lines are blank. I am not sure what this means – had his wife and mother-in-law left or died? Was he not home when the census enumerator called and none of the neighbors knew more than his name?
By 1910 he was listed as widowed. He lived alone, rented his house and occupation was minister in a Baptist church. Items stopped appearing in the Indianapolis Recorder after 1915 and he does not appear in the 1920 census. Although I did not find a death record, I believe that he died around 1916, in his mid seventies.