This is my 4th year participating in the A-Z Challenge. I am writing about people who were born into slavery and lived to be free, and their descendants.
---
Today I am going to write about my maternal grandfather's friend Lowndes Adams. Lowndes parents were both born into slavery. He and his siblings were born free after the Civil War and raised in Montgomery Alabama. I have written several other posts about Lowndes over the years and there are links at the bottom. Lowndes had a niece named Ula Mae and she was kind enough to lend us her "U" for this post. (Click on photographs to enlarge.)
"THE ADAM'S OF MONTGOMERY, ALA.
"In presenting interesting colored families of the state and elsewhere from time to time, we could not overlook this one. This group is Mrs. Ida M. Adams and her children. The history of this family is connected with that of Tuskeegee Institute, a brother, George Adams, being one of the founders of that school. Reading from right to left is the elder daughter, Sarah, now Mrs. W.C. Payne, she graduated from Miss Whites School for girls and subsequently from the State Normal School of Montgomery and taught several years in that city. Next to her is Jesse, then the only son, Lownes, who is the father, as well as brother and son, for the paternal head of this family is dead, and Lownes is faithful in his stead. to his right is Maud another teacher in the state schools, and by her hands Emalina. who is now Mrs. Edgar Spigener, and whose baby, Edleline is in its grandmother's arms. On either side of Mrs. Adams is the younger daughters, Alice and Janie respectively. With such families as this we must base our hope for acclaiming the Negro's future." (Date about 1912. Name of Newspaper not known.)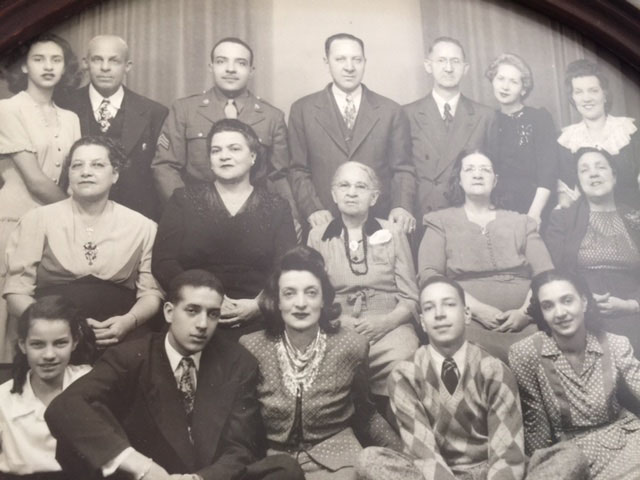 In a series I wrote several years ago about my grandparent's migration north, I wondered if my grandfather had seen Lowndes again. Later I found that Lowndes died in Detroit in 1976, several years after my grandfather. Recently I found Lowndes' WWII draft registration card and saw that he was living in Detroit in 1942 and worked at the Ford River Rouge Plant, which is where my grandfather worked.  They lived less than 2 miles apart. This morning, I found that Lowndes lived in Detroit as early as 1935 and worked as a trim finisher at the Ford plant.  In 1940 he lived with his older sister Jesse Ida and her family.  He was a high school graduate.
In the 1950 Census, Lowndes Adams was living with his nephew, Lowndes Payne and his wife Marie at 101 E. Philadelphia in Detroit. He was employed as a typist at an auto plant. He was 57 years old. His nephew worked as a bench inspector at an auto plant. Marie was a homemaking teacher at a city high School.
Other posts about Lowndes William Adams:
The Migration Part 3 – Those Left Behind
Lowndes Adams Found in 1965 – Migration Story Part 5
Thanks to Kevin Payne, a descendant of the family for sharing the lower two photographs and giving me permission to use them on my blog.