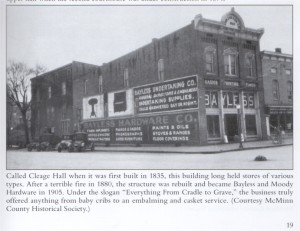 For this year's April A-Z Challenge I am blogging a series of sketches about the free people formerly enslaved on the Cleage plantations in Athens, Tennessee and their descendents. Click on any image to enlarge.  Click on links for more information.
William Henry Cleage was born free on December 4, 1866 in Athens, Tennessee.  His mother was Adeline "Addie" Cleage and his father was Nelson Cleage. His mother married Edmund Sherman shortly after William was born and for over 33 years of his life he used the name William Henry Sherman and was listed in the censuses along with the couples other children as a son of Edmund Sherman.
Until they died Williams grandparents, Henry and Jane Cleage, lived next door.  William and his siblings all attended school and learned to read and write.  In 1866, the Methodist  Church along with the Freedman's bureau started a school for black children in Athens. I was unable to find out much more but this is the school they probably attended.   Grandfather Henry  and stepfather Edmund worked as laborers and the women of the family worked as laundresses from their own homes, when they had paid occupations.  Eventually his widowed sister Belle and her two children moved next door on the other side.  His sister Sallie and her two children lived with their parents, Edmund and Addie. William lived for many years in the multigenerational family home. All three of the households owned their homes free of mortgage.
In the 1910 Census, 45 year old Williams was identified for the first time as a Cleage and as the stepson of Edmund.  The grandparents were dead. Addie, Belle and Sallie were all taking in laundry and all of Belle and Sallie's children were attending school.  By this time the Athen's Academy was up and running and that was probably the school they attended.
William married Laura Hall on June 8, 1911.  He was 44 and she was 22. Laura died eight years later on August 21, 1919 from influenza.  She had been ill for thirty days. The Influenza Pandemic was sweeping around the world. In contrast to other forms of the flu, this type killed more healthy young adults than any other part of the population.
I do not know if they had any children. I tried to find Laura's sister's households for the 1920 Census, but so far I have not found them. In 1920 William was working as a porter at a hardware store in Athens. Laura's 18 year old brother, Clarence Hall, was living with him and attending school. William was renting a house on King Street.
In 1930 William was boarding with Joe and Emma Melton, an older couple who lived on Chester Street. William was a truck driver for a hardware store.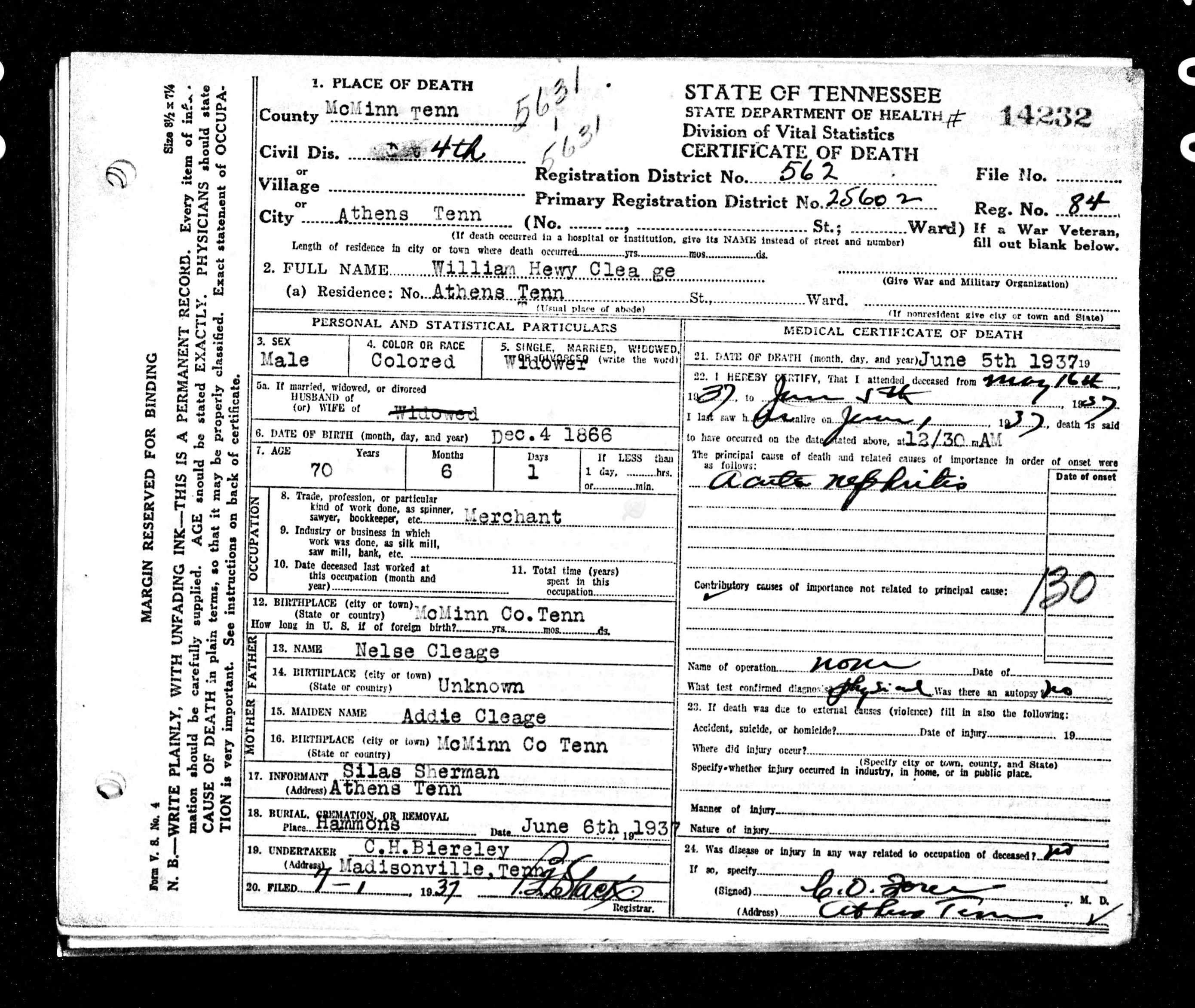 On June 5, 1937, William died of kidney failure. His occupation was listed as "Merchant". He was 70 years old. The informant is listed as Silas Sherman.  I wonder if they meant Sallie Sherman, William's sister.  Several names were misspelled on the death certificate – Nelson is spelled "Nelse" and Henry is spelled "Hewy".