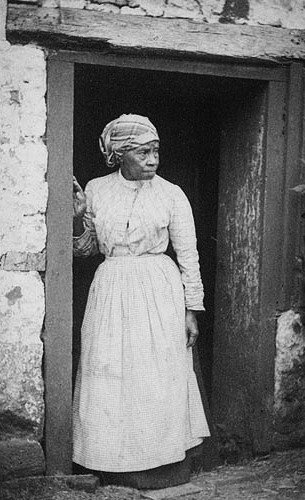 For this year's April A-Z Challenge I am blogging a series of sketches about the free people formerly enslaved on the Cleage plantations in Athens, Tennessee and their descendants. Click on any image to enlarge.
 The first thing I noticed about Sallie Cleage as I started writing about her life, were the wildly differing birth dates.  They ranged from 1817 to 1841. I believe the death record saying she was born about 1823 is closest to the truth.  If she was born in 1841, her oldest child would have been born when she was 4 years old.  If she was born in 1817, she would have been 103 when she died in 1914.
Sallie Cleage was born into slavery about 1823 in Tennessee. Her mother's name was Silver Baver.  Sallie and Clinton Cleage had fourteen children together, most of them born during slavery. By 1900, only five were living. I have already written about three of them – Amanda Cleage, Nelson Cleage and Lydia Cleage.

Clinton died about 1869.  In 1870 Sallie lived in Athens TN with six of her children. None of them can read or write. Lydia, the oldest child still at home, attended school.  Sallie owned no property and her personal property was worth $250.  She was keeping house. Nobody in the household is listed as working outside of the home.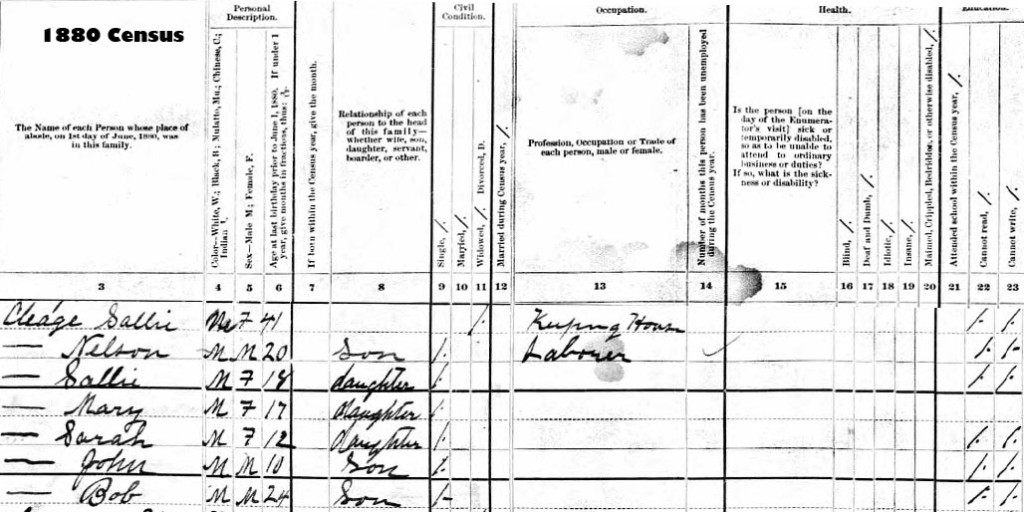 In 1880 Sallie and seven of her children are living together in the same house. Roger William Sherman, who later married my great grandmother, lived next door.  Nelson worked as a laborer. Mary was the only literate member of the household. None of the children were attending school and nobody else had a job.  The 1890 U.S. Census was destroyed in a fire so we have to skip to the 1900 census.

In 1900 Sallie owned her house free of mortgage.  Her son Robert, his wife and son, along with Sallie's granddaughter, Rossie Smith, shared her home.  Robert worked as a dining room servant. He was literate.  Sallie and his wife were without employment. Rosie attended school for 4 months. Robert's son, Thomas Cleage, was not old enough for school.
Sallie's daughter Sallie Cleage Waterhouse, lived down the street.  All of the children in her household attended school.  She and her husband Thomas were able to read.  Thomas and his oldest son worked as laborers.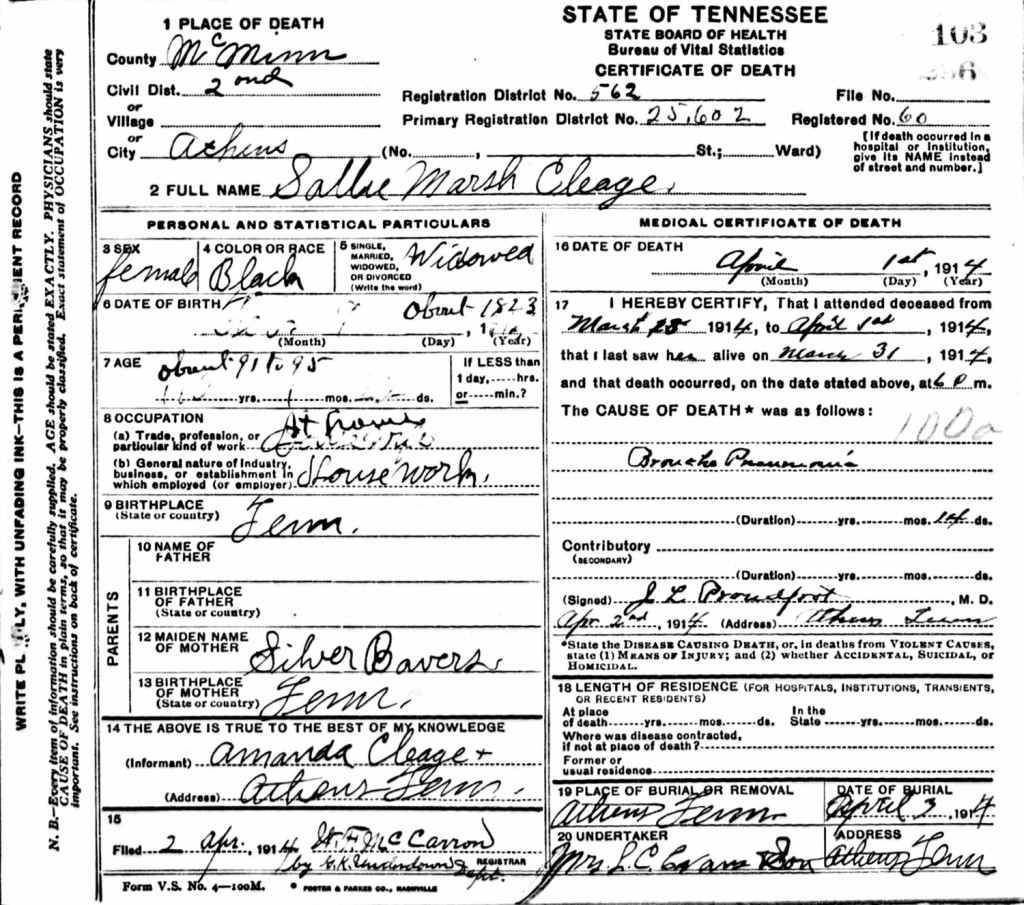 On April 1, 1914, Sallie Cleage died of bronchial pneumonia.  Her daughter Amanda Cleage was the informant. Sallie was 93 years old.
________________
When I started writing Sallie Cleage's life, I thought that it was a full one because she appeared as mother on so many death certificates. As I wrote, I began to feel that I had been wrong because nothing really seemed to happen. I was wrong, she did live a full life. It was full of her family. She lived to be free and to see her children and grandchildren learn to read and write.  Her husband, Clinton, died so soon after freedom. She gave birth to 14 children and saw nine of them die before she did.   It is easy to overlook what those deaths must have meant to her when we have no record of when or how they died.