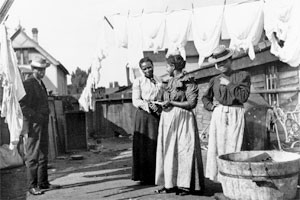 For this year's April A-Z Challenge I am blogging a series of sketches about the free people formerly enslaved on the Cleage plantations in Athens, Tennessee. Most  are not related to me by blood, although our families came off of the same plantations – those of Samuel, Alexander and David Cleage.   Click on any image to enlarge.
Lydia Ann Cleage was born into slavery about 1851 on Samuel Cleages plantation in Athens, McMinn County. She was one of the 14 children of Clinton and Sallie Cleage. In 1852, when Lydia was one year old, she was sold to David Cleage in a transfer of slaves, money and goods after Samuel's death. You can read the Bill of Sale by clicking the link. Lydia was 15 when the Civil War ended in 1866 and freedom came.
In 1870 at age 18, she appears twice in the census, once with her widowed mother and again with the family of Louis and Malinda (Bridgman) Evans. Malinda probably came to David Cleage's plantation with David's wife, Martha Bridgeman.  Louis Evans was farming in 1870 and Lydia was a farm laborer.
Lydia does not appear in any more censuses until 1930, however I was able to follow her through city directories and death certificates where she was the informant.  In 1878 Lydia's daughter Mary Smith was born. Her father was Willie Smith. In 1895 Lydia Cleage was doing domestic work for John McKeldin and family in Knoxville.  McKeldin was formerly of Athens. In 1895 he was a big manufacturer of woolen goods.
In 1900 Lydia and William Smith were both living at Poplar and Exchange St. in Memphis. She was a cook and he was a laborer.  She was 49 years old. In 1903 she was working as a laundress. He was still working as a laborer.
Sometime before 1907, William Smith disappears from the directory. Lydia Glass appears. Lydia married Rev. Charles Glass sometime before his death in 1923, however at the same time that Lydia Glass appears in the directory, Rev. Charles Glass is still married to his second wife, Millie, who also appears with him in the 1910 Census.  In 1923, Charles Glass died and Lydia Glass appears as the informant on his death certificate. She was living at 886 Lane Avenue in Memphis.  She appears several times in the directory at that address as Charles widow.
In 1930 Lydia lived with her daughter Mary in the house at 886 Lane Ave.  Mary was the widow of Robert Jordan and worked as a cook for a private family.  She was 50 years old. Lydia had no employment listed.  She was 84 years old.  Lydia appeared in a few more city directory entries as the widow of Charles living at the same address on Lane.
In 1934, Mary Smith Jordan died of cancer of the cervix. She had been treated from January to August of 1934.  Her parents were Willie Smith and Lydia Glass. Lydia was the informant.
On November 18, 1936 Lydia Cleage Glass had returned to Athens where she died of congestive heart failure. Her parents were listed as Clint and Sallie Cleage. She was a widow. The informant did not know her age, which was about 85.   The informant was her niece Sallie Sherman.  Sallie was the daughter of Edmond and Adaline (Cleage) Sherman.
******
I can only hope this is right. Not finding Lydia in the censuses for 1880, 1900, 1910 and 1920 and not finding any marriage records made it hard to picture her life.  Maybe she had more children. Finding her death certificate and her as informant on two other death certificates was very helpful.  Was that really her listed as Lydia Glass before Millie Glass was dead?  Did Rev. Glass have two wives for a time?  What happened to Millie and Willie Smith? I assume they died, but when?  Her daughter's life was just as shadowy.  Mary Smith appears as a lodger on Front Street in Memphis in the 1900 census.  There are page after page of names with no address other than Front Street.  Mary appears in a few city directories and then in the 1930 Census and after her death on her death certificate.  Did she have any children?  What happened to her husband, Robert Jorden?   This investigation left me with many questions.