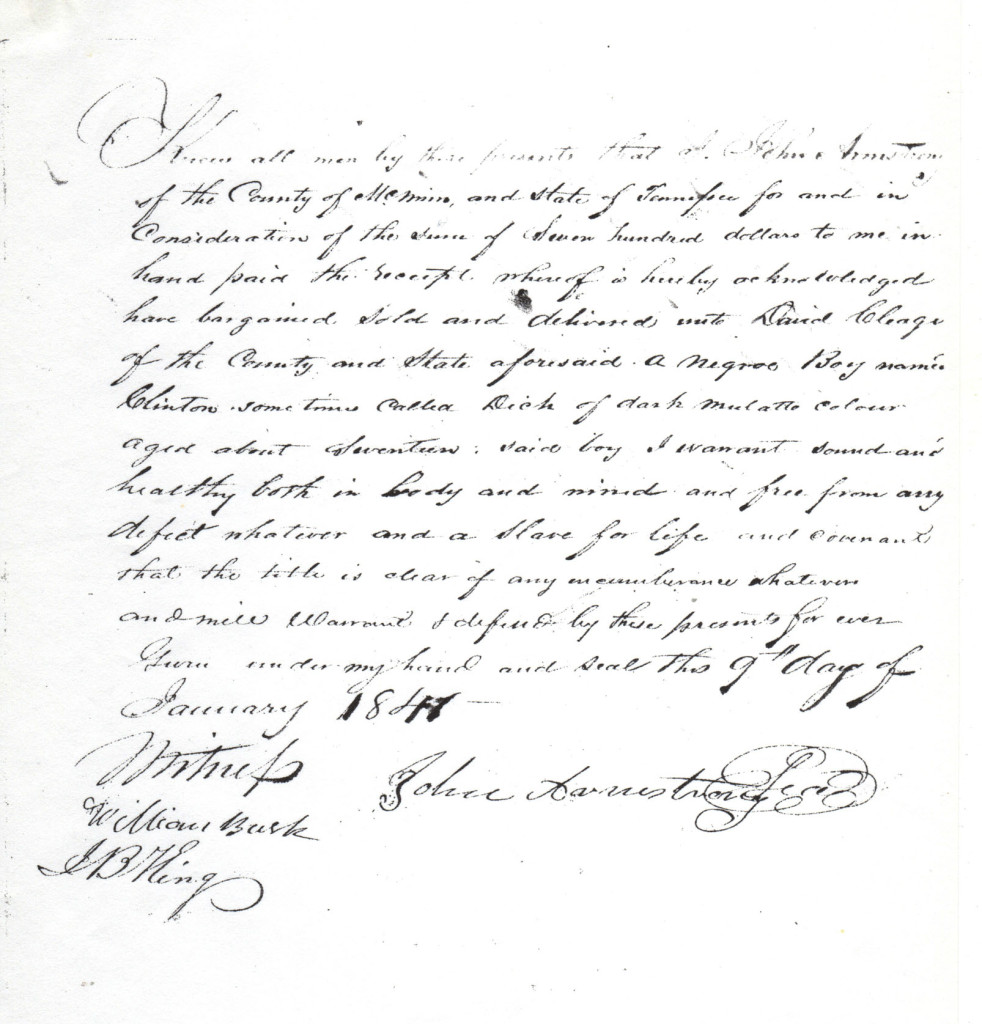 For this year's April A-Z Challenge I am blogging a series of sketches about the free people formerly enslaved on the Cleage plantations in Athens, Tennessee. Most  are not related to me by blood, although our families came off of the same plantations – those of Samuel, Alexander and David Cleage.   Click on any image to enlarge.
Clinton "Dick" Cleage was bought by David Cleage for $700 in January of 1841.  He was about 17 years old.
"From all men by these presents that I, John Armstrong, of the county of McMinn and the state of Tennessee for and in consideration of the sum of seven hundred dollars to me in hand paid the receipt where of is hereby acknowledged have bargained, sold and delivered unto David Cleage of the County and State afore said a negro (sic) boy named Clinton, sometimes called Dick, of dark mulatto colour, aged about seventeen.  Said boy I warrant sound and healthy both in body and mind and free from any defect whatever and a slave for life and covenant that the title is clear of any encombrance whatever and will warrant and defent by these presents for ever given under my hand and seal this 9th day of January 1841.
John Armstrong
Witness:  William Burk, JB King"
On July 7, 1866, Clinton appeared again as a witness in Fannie Cleage Turk's widow's pension hearing.  He testified that he knew her and she was who she said she was.
He never appears in any census, but he appears  on his children's death certificates.  In 1870 his wife, Sallie Marsh Cleage, is listed as a widow. In the 1900 Census Sallie said that she had given birth to 14 children and 5 were still living.  The children that I know the names of, are listed below. Click linked names to read their  A-Z post
George Cleage 1845 –
Sallie Cleage 1855 – 1943
Robert Cleage 1856 – 1902
Florence Cleage 1858 – ?
Mary Cleage 1863 – ?