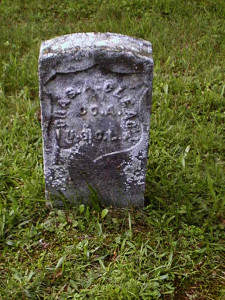 For this year's April A-Z Challenge I am blogging a series of sketches about the free people formerly enslaved on the Cleage plantations in Athens Tennessee. Most  are not related to me by blood, although our families came off of the same plantations – those of Samuel Cleage and his sons, Alexander and David Cleage.   Click on an image to enlarge.
Charles A. Cleage was the person that got me interested in investigating the Cleages outside of my family, at least his headstone did. In 2004 our branch of the Cleages had a reunion in Athens, TN.  It was my first visit.  My cousins, who were born and grew up there, took me on a tour.  They showed me where family members were buried in Hammonds historic African American Cemetery. We wandered around looking at the other graves.  I noticed the headstone belonging to Charles A. Cleage and wondered who he was and what the letters stood for.
Charles A. Cleage was born into slavery about 1828 in McMinn County Tennessee.  He first appears in the record as part of a bill of sale between the heirs of Samuel Cleage.  After Samuel's death there was some shuffling around of the enslaved, livestock and household property between the siblings.  It says in part,
"Know all men by these presents that we Alexander Cleage and Walter Nutter and his wife Elizabeth H Nutter have this day bargained and sold to David Cleage and his heirs and assigns forever Charity fourteen,  Caroline sixteen  Jim thirty  Joe eight  Sally near ten  Arch sixteen  Margth fourteen  Bill forty five  Charles twenty four  Mary thirty one  Henry four  Lydia one year of age

For five thousand two hundred and fifty dollars being his distribution share out of the proceeds of the slaves of Samuel Cleage deceased  We warrant said negroes (sic) to be slaves for life and that we as the heirs at law of Samuel Cleage have a right to convey them
Given under our hands and seals this 20th day of March 1852″
In testimony given by Charles on 17 June,1895, at the Pension Hearing of Mariah Turk Witt, he gave a look into his life on Samuel Cleage's plantation.
"… that he and the said soldier Isaac Turk were slaves and belonged to the same master during the year 1849, and on up to the War of the Rebellion they lived as the custom was, within a few nods of each other, both being married and having children; he further states he is enabled to fix the date of birth of Mariah Witt, daughter of said soldier Isaac Turk, by the birth of his own daughter Juley Ann Watts, which as his Family Bible Record shows occurred July 29th 1849, said Mariah Witt being born just one month later which would make the birth of said child Mariah August 29, 1849."
In 1863 Charles joined the United States Colored Troops (Co. A USCT) in Knoxville, Tennessee.  His papers described him as 41 years old, 5 feet 9 inches with black hair,  black eyes and a brown complexion.
Charles A. Cleage was promoted from private to Corporal on March 15, 1866 only a few weeks before he was mustered out on March 31, 1866 in Chattanooga, Tennessee.
In 1870 Charles A. was 42 and his wife Martha was 25. Charles was a laborer and owned no property.  His personal worth was $180.  Neither of them could read or write. There were 6 children living with them.  The oldest, daughter Julia, was 21. Her husband, Sam Reynolds was also a part of the household.  He worked as a laborer. His son Hillard was 19.    Frank, 13 and Philip, 11 were attending school. The youngest children were Amos, 2 and Richard 3 months.  If Martha's age is correct, Charles had a wife before her.  However, we do not know if Martha's age is correct.  There was a Martha that was in Alexander's part of the division of slaves in 1852.  She was 21 and that would have made her birth year 1831, closer to the birth year given in 1880, as you will see below.
Ten years later, according to the 1880 census, Charles and Martha had aged 20 years.  They are now 66 and 46.  You have to take the ages on census records, especially for older people, with a grain of salt.  The oldest child still home is 18 year old Phillip who is also working as a laborer, as was Charles. Four new children have joined the family – Henry, 9; Mitchel, 7; Rosa, 4 and Mary, 2.
In 1887 Charles applied for his military pension as an invalid. Charles appeared in the 1890 Veterans Schedule. During 1890 he testified at the pension hearing I mentioned above.  On January 20, 1908, Martha began to receive her widow's pension.  Charles probably died in December of 1907.  On October 16, 1910, Martha Cleage died of asthma. Her age is listed as 65 years old.
Both images from: The National Archives at Washington, D.C.; Washington, D.C.; Compiled Military Service Records of Volunteer Union Soldiers Who Served with the United States Colored Troops: Artillery Organizations via ancestry.com