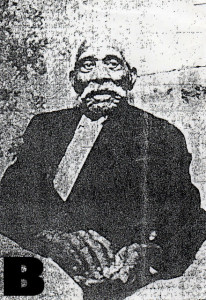 For this year's April A-Z Challenge I am blogging a series of sketches about the free people formerly enslaved on the Cleage plantations in Athens Tennessee. Most  are not related to me by blood, although our families came off of the same plantations – those of Samuel, Alexander and David Cleage.   I do have a connection with Bart's family, not a blood connection but my grandfather's sister, Josie Cleage, married Bart's first cousin, James Cleage. James was the son of his uncle Jerry Cleage.  You can enlarge images by clicking on them.
Born into slavery on David Cleage's plantation about 1860, Bart Arnwine, lived to be 100 years old.  Bart was the son of Jefferson Arnwine and Malinda Cleage.
Oral tradition passed on to me by Elbert Arnwine, one of Bart's descendents, says that when Samuel Cleage left Virginia heading for Tennessee in the 1820's, Bart's grandparents, Joe and Leah were among the few slaves he had with him when he started.
In 1870 Bart was listed as a 9 year old living with parents Jeff and Malinda Arnwine and 6 children from 7 to 14 years old.  Neither the parents nor the older children could read or write. Jeff was 35 and worked as a laborer. He owned no property and his personal worth was nothing.  Malinda was 28 and kept house.
I haven't yet found Bart in the 1880 census when he would have been about 20.  I found his mother and her new husband, Samuel Reynolds and their daughter.  The rest of the family seems to have vanished.  On January 12, 1883, Bart married Mary Brown. He was using the surname Cleage, although he went back to Arnwine soon after.  He was 22 and she was 18.  She had been married once before.  Henry Cleage, his uncle, and John A. Miller acted as a witnesses.
Through the years, Bart farmed and Mary kept house. They had 13 children together. In 1910 only seven were still living.  The children attended school for varying lengths of time and the younger ones were literate. Eventually the parents also learned to read but not to write. He owned his farm, free of mortage at that time.
By 1920, Mary was dead, leaving Bart a widower.  The household included four of his children ages 16, 14, 13 and 9; a 10 year old grandson and his 80 year old widowed mother Malinda. He was still farming, but now on rented land.
In 1940 he was living in his son Augustine's home with daughter Lena and several grandchildren.  He was 70 years old and no longer listed as working, but I cannot imagine that he sat in his rocker all day while his son did farm labor.
Bart lived another 30 years, until 1961.  He was remembered in the book TENNESSEE COUNTRY HISTORY SERIES McMinn County by C. Stephen Byrum like this:
"Finally, in this early period, mention should be made of Bart Arnwine. Arnwine had three trademarks — a broad sense of humor, a shining, double-bladed ax, and the reputation of being able to thresh more wheat in one day than anyone in the county. Like several of these memorable people (note: other people mentioned in the book), Arnwine lived to be over 100 years old."
146 years later, Bart and Mary's descendants gathered in Athens for a family reunion. From the  Athens Daily Post Athenian Newspaper,  Friday, August 11, 2006.
Recounting History – Descendants of Bart Arnwine Return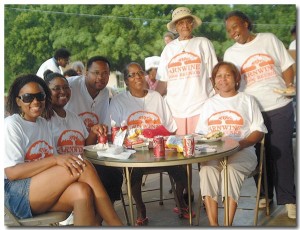 After years of living apart, the Arnwine family gathered at Cooke Park recently to enjoy being together once again and recount the family´s rich history.
In 1870, former slave Bart Cleage changed his last name to Arnwine as the recently-freed family stayed in the Niota area where Bart lived.
Through the years, however, members of the family began moving to various parts of the country from Mississippi all the way to New York. There were members of the family who had never met each other before.
That changed recently as the family held its first reunion to catch up with family members they haven´t seen in years and to meet some they had never met.
Frances Williams, one of the organizers of the reunion, said more than 100 people attended.
"Our family just spread out," Williams said. "We´ve got cousins who have never met. It was time to bring the family back together again."
Everybody at the reunion was a descendent of Bart and Mary Arnwine. Family members came from New York, South Carolina, Ohio, Georgia, Tennessee and Mississippi.
The oldest family member at the event was soon-to-be 80-year-old Vera West, and the youngest was 2 1/2 year-old Raen Williams.
"I think it´s great," West said. "I´m glad they did it."
The family reconvened at Cook Park where they cooked hot dogs and renewed friendships or made new ones. Elbert Arnwine is the designated historian of the group and knows all about the family´s history.
"I think it´s beautiful," Arnwine said. "It´s nice getting the family together on a happy occasion."