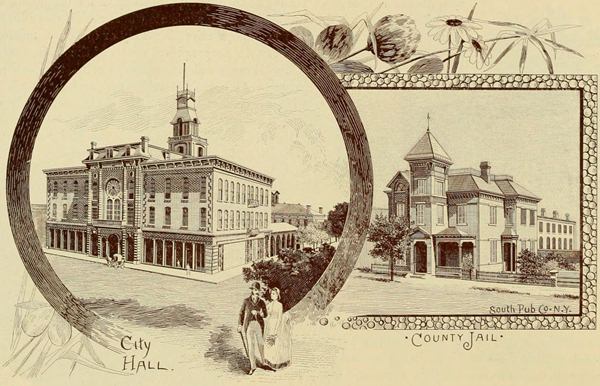 Edward McCall was the husband of my great grandmother's oldest sister, Mary Allen McCall. He worked as cook at the City Jail for 30 years, according to the article below. He was also listed as "turnkey" at the jail in several censuses. Edward's wife, Mary was a talented seamstress, a skill she learned from her mother, Eliza (who I named this blog after).
They were the parents of 7 children. Six of them survived to adulthood. One of their sons, James Edward McCall was a blind poet and publisher first in Montgomery and later in Detroit. Their other children were Annabelle McCall Martin, Leon Roscoe McCall, William Gladstone McCall (who died as an infant), Alma Otilla McCall Howard and Jeanette McCall McEwen.
Edward McCall died in Montgomery, Alabama on February 2, 1920 and is buried there in Lincoln Cemetery. For many years this cemetery was horribly neglected and vandalized. Several years ago the Lincoln Cemetery Rehabilitation Authority was formed and has been working to clean it up and put the graves in order. I hear that it is in much better shape.
Only Fifteen Will Enjoy the Hospitality of the City on Christmas Day
Twenty-six city prisoners whose sentences originally ranged from thirty days to six months, and who had a balance of time of from one to thirty days yet to serve, were given their liberty Saturday at noon as a Christmas present, upon an order to Chief Taylor of the Police Department from Mayor W. A. Gunter, Jr., this being, the annual custom in vogue for a number of years in Montgomery with reference to the city's prisoners.
The release of the twenty-six left a remaining number of twelve, which together with three convictions at the Saturday session of the Recorders Court, who were unable to pay their fines, aggregate fifteen who will be given holiday Monday and a sumptuous Christmas dinner, which is being prepared today by Ed McCall, the negro (sic) who for thirty years has served as chef at police headquarters.
The dinner will be served in the regular dining room at headquarters and will consist in a menu of camp stew, bread, cakes, fruits, coffee and other good and tasty articles of substantial foods.