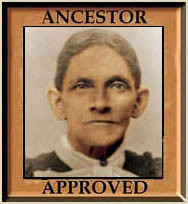 In the past several months I have received several awards for my blogs. (I used to have two blogs, one for my maternal line and one for my paternal line.  I combined them awhile ago.)  I put off posting them because I am supposed to pass them on to 10 or 15 other bloggers and it seemed like almost everybody I follow already has received the awards, some multiple times.
Today I was determined to find ten bloggers to pass the awards on to and to be able to post my awards.  I spent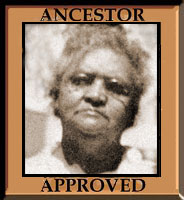 several hours going from blog to blog and it started to be funny to me because I found that bloggers were receiving the Ancestor Approved Award just before I got there.  In one case two people passed on  the award right behind each other!  I don't quite know how to handle this.  I have decided that I will fulfill the other requirements and not pass on the awards at this time.  If someone reading this has not yet received the Ancestor Approved Award, email me!  I've got to post so people will stop thinking I haven't received the award
and keep sending them to me!  So here goes…
Dionne Ford of Finding Josephine gave Finding Eliza two awards some months ago, The "Versatile Blogger Award" and "One Lovely Blog Award".  I apologize for taking so long to respond. I have to list seven things about myself and link back to Finding Josephine.

1.  I can milk a goat.
2.  I swam across Lake Idlewild and back when I was in my 40's.
3.  My third daughter, Ayanna, was born at home.
4.  I home schooled my four youngest children.
5.  I studied Spanish, French, Norweigian and Arabic with varying degrees of success.
6.  I recently began strength training with my sister.
7.  I didn't get my driver's license until I was 29.
I received the Ancestor Approved Award at My Cleages and Reeds (Now combined with Finding Eliza.) from Nolichucky Roots,  Bill West of West in New England and Nancy at My Ancestors and Me   On Finding Eliza I received the Ancestor Approved Award from Nolichucky Roots and Missy of Fables and Endless Genealogies.  I must admit to fiddling around with the award in Photoshop and adding my own ancestors, photographs.
This award was created by Leslie Ann Ballou at Ancestors Live Here. Leslie asks that recipients list ten things they've learned about any of their ancestors that have surprised, humbled, or enlightened them and pass the award on to ten other bloggers who are doing their ancestors proud.  Here are my ten things. I've linked to those I blogged about.
1.  I was enlightened to learn that the story my mother told about Eliza was true but not exactly in the way she told it.  Eliza's story is here. There are 3 parts to the story and a chart.
2.  I was surprised to find that Annie Belle and her brass band ended up in Detroit after living in Florida and Tennessee.
3.  I was saddened to learn that my great grandmother's sister, Willie Allen Tulane had lost two of her three children in infancy.
4.  I was enlightened and humbled to find that my great great grandfather Dock Allen tried to escape slavery by running and so met my great great grandmother Eliza and gained his freedom.
5.  I was moved to tears when I found my grandmother Fannie Turner Graham's father with his parents and siblings in the 1870 census and was able to take the family back a generation.
6.  I was thrilled to receive copies of records from the Cleage plantation where my ancestors were slaves.
7.  I was surprised when I found my grandmother Pearl Reed Cleage had a singing double.
8.  I was enlightened but frustrated to trace Jacob Graham's little Bible to it's first owners and to find his death certificate but I was still unable to connect Jacob with my grandfather Mershell Graham.
9.  I was ecstatic to find photographs of my first cousin once removed,  Naomi Tulane Vincent and her husband using Google.
10.  I was overjoyed when I was contacted by my husband's cousin who took us back a generation or two on this mother's side and shared photographs, stories, places… whoo hooo!