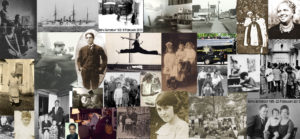 This is the 5th post in the February Photo Collage Festival and the Family History Writing Challenge. Today I am going to write about Hugh Reed Averette's oldest daughter, Anna Roberta.
Before I begin, I want to let you know that I switched out several photographs in my original collage. I realized I didn't have enough photographs of Hugh's family to write about all of them this week and I am in writing about them mode! I also switched out another photo for one of the ship Hugh was on during the Spanish American War. After I received his death certificate and found out that he shipped on the Newark, I realized that I have to write another post about him. While I was changing pictures, I added the now available Sepia Saturday #165 prompt so that I can incorporate that into this series. There are still 28 photographs. I will write about the photos I removed in future posts. Now back to Anna Roberta.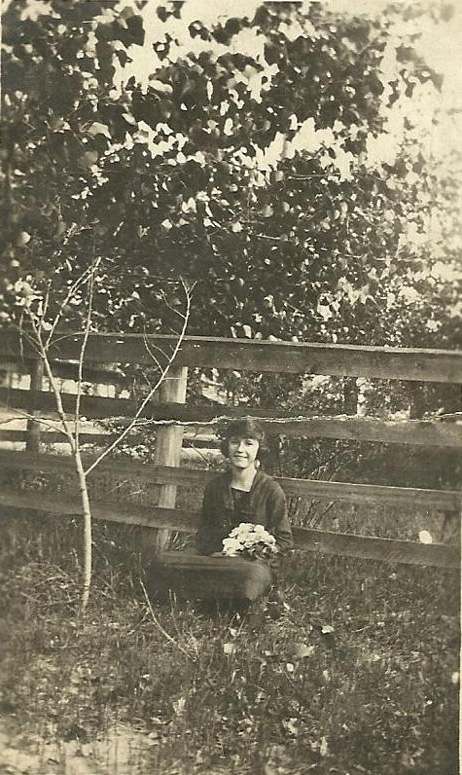 Anna Roberta was born in 1907, the oldest of Hugh and Blanche Celeste's four children. She was named after both of her grandmothers. She spent her childhood in Indianapolis, Indiana. Around 1925, Anna lived with her aunt Pearl's family in Detroit while attending teacher's college. Her Aunt Pearl was my grandmother and her father Hugh's baby sister.  During one of my family history gathering sessions, my uncles Henry, Louis and Hugh (who was named after his Uncle Hugh) had a heated discussion about their memories of that time. They were all several years younger than Anna.

When Anna Roberta stayed on Scotten while attending Wayne, her father, (Uncle Hugh) came in and started threatening to remove his belt because he knew Anna had been seeing Wesley again.  Louis says this couldn't have happened because she was in grad school at the time.  Henry added, "He didn't just threaten to take off his belt, he did.  What would her being in grad school have to do with him taking off his belt?  He was showing off to us.  I remember we sort of snickered.  And she wasn't in grad school, she was in teachers training school."   Hugh said her boyfriends name was Wesley…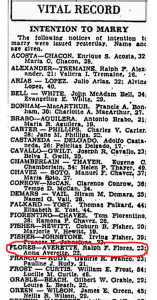 Anna worked as a book keeper for the Talking Machine Company in 1930 before marrying Ralph Franco Flores, a machinist, in Los Angeles, California.  On her marriage application Anna listed her race as "white", her birth place as "Indiana", father as "Hugh Averette" and her mother's maiden name as "B. Celeste Young".  Ralph's race was listed as "Indian and Mexican".  He was born in Arizona.
Over the next 15 years Ralph continued to work as a machinist. Anna worked in the house and gave birth to six children – Rosa born in 1931, Rafael in 1932, Miguel in 1935, Enrique in 1939, Elena in 1943 and Carmen in 1946.
Anna and her husband registered to vote as Democrats over the years. Starting in 1944 the family shared the house of Anna's  father-in-law. at 2515 Alcazar Street.  Brother-in-law Louis, who worked as an x-ray techician, also lived there.  The father-in-law died in May, 1946, several months after Anna's last daughter, Carmen Averette was born.  I found a photo of the house on Google Maps. It must have been crowded because it is small. It was built in 1927. Perhaps the father-in-law built it or bought it new because he was living there in 1930.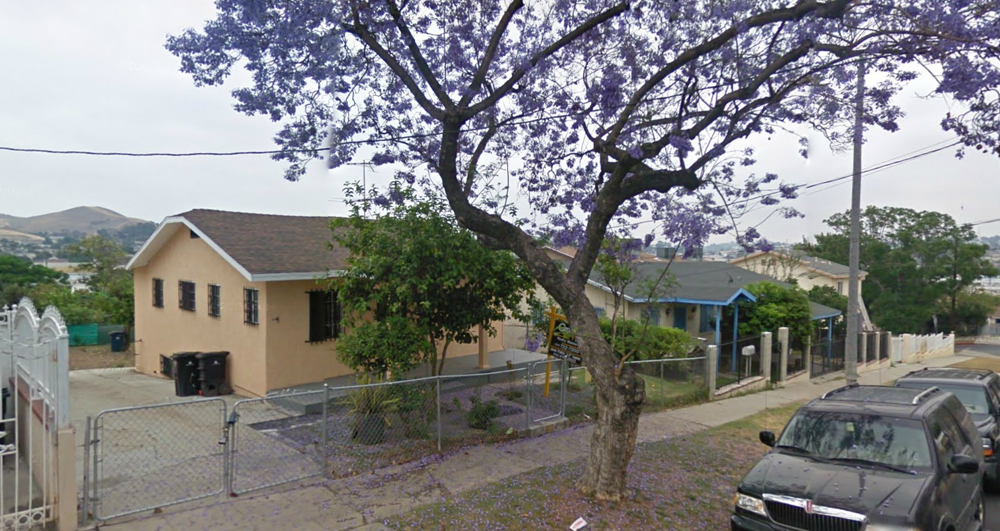 The house has two bedrooms, one bath and is 864 square feet. In 2012 it was assessed at $246, 642 .  I wonder what it cost when it was new. A jacaranda tree flowering in the front and mountains from the back, I hope the family was able to spent a lot of time outside.
The children grew up, got married and had families of their own. Anna Roberta Averette Flores died in 1987 at age 80, a year before her mother.  Anna's husband, Ralph Flores died in 1990.  He was 83 years old.
Other stories in the series about my Uncle Hugh Marion Reed Averette
Hugh Marion Reed Averette 1876 – 1953
Hugh Marion Reed Averette – US Navy Experience 1898 – 1901
Blanche Celeste Reed aka Celeste J. Averette 1887 – 1988
Hugh Marion Reed Averette – 1910 – 1993
Theresa Pearl Reed Averette Shaffer 1913 – 1941