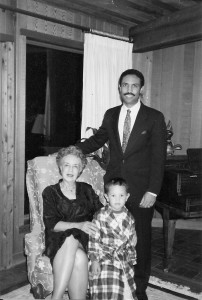 This is the 14th post in the February Photo Collage Festival, and the fourth post of six that will answer the question someone asked when I posted this photograph (follow the link to see it) – What happened to these kids?  Today is the turn of my cousin Ernest Cleage Martin.
Ernest graduated from Michigan State University College of Osteopathic Medicine in 1986.  He had his residency training of Psychiatry at Wayne State University – Detroit Medical Center and Psychiatry at Detroit Psychiatric Institute. Today he  practices Psychiatry, in Anderson, South Carolina with a specialization in Forensic Psychiatry.  When I learned he was practicing Forensic Psychiatry I wondered how he analyzed dead people.  Of course that wasn't what he was doing. It means that he specializing in psychiatry as it relates to the criminal justice system.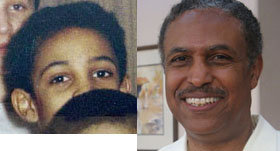 If someone had asked me at that birthday party in 1958 if Ernest would become a doctor, I would have thought they were kidding.  He thought everything was funny, including the kid down the block falling off of his bike. His grades weren't very good. Sometime during his college career he became friends with someone who made him part of their study group and he learned how to study. At the same time he must have realized that there was a point to it and here he is today, a successful doctor. Following in the footsteps of our uncle Louis and grandfather Cleage. You just never know how life will turn out.  Ernest is still practicing today.  He and his wife have raised two fabulous children and he still has that sense of humor.