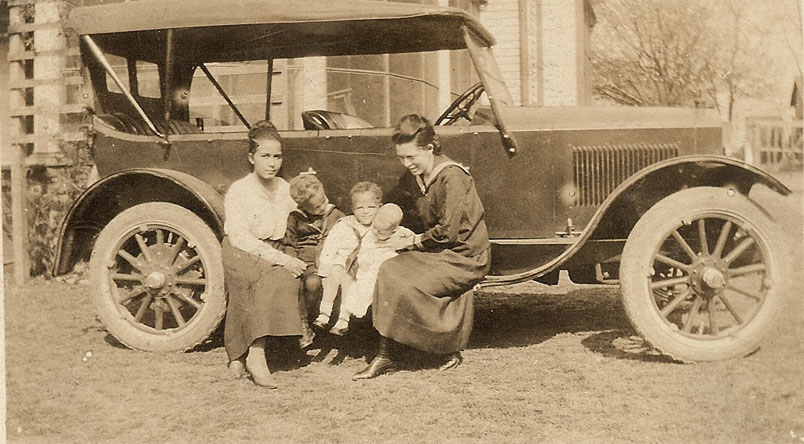 From the drafts file.
Annie Lee Pope and Jeanette McCall were first cousins born in Montgomery, Alabama. They were daughters of the oldest and youngest daughters of Eliza, for whom this blog is named.
Annie Lee Pope and her twin brother Charles were born January 31, 1902 in Montgomery, Alabama. She was one of the set of twins born to Robert and Beulah (Allen) Pope. Their younger, Robert Pope was born seven years later. Her father Robert Pope completed four years of college and worked as a clerk and a porter through the years at a wholesale drug business. Her mother Beulah was a seamstress.
Annie Lee completed two years at Rust College in Holly Springs, Mississippi In 1921 at 19 she married Ludie Thaniel Gilmer, in Chicago. Perhaps she was visiting Jeanette. Soon afterwards he became a physician. They moved to Milwaukee, Wisconsin where their son, Charles E. Gilmer born in 1922. Annie Lee did not work outside of the home.
Jeanette was born on February 18, 1897 in Montgomery, Alabama. She was the youngest of the six children of Edward and Mary (Allen) McCall. Her oldest brother, James McCall was the blind poet in She was owned before the war by…. Her father, Edward McCall, was the cook and turn-key at the city jail. Her mother, Mary Allen McCall, was a seamstress. Jeanette attended Alabama State Normal school, a primary through high school for African Americans in Montgomery that all of her siblings and cousins attended.
Jeanette also attended Rust College in Holly Springs, Mississippi and met her husband, Robert Anderson McEwen there. Robert and Jeanette were married on 8 April 1918, in Iowa while he was in the service. In the 1920 census they were living in Chicago as roomers. On January 2, 1920 she gave birth to her first son, Robert Jr. Robert Sr. worked at the post office. By the time their second son, Raymond, was born on December 16, 1923, Robert was a dental student. Jeanette did not work outside of the home.
By 1929 Robert was a dentist.  Jeanette died December 22, 1931 of influenza, exacerbated by consumption. You may see another photograph of Jeanette here.  Robert remarried before 1938 to Ethel Martha Goins. She was his nurse during his hospitalization at the end of his life. He died of a heart attack on June 29, 1938.