Howard Alexander Graham was my mother's youngest brother. He was named after my grandmother Fannie's father, Howard Turner. Howard was born September 7, 1928, in the year following his older brother Mershell's death by trauma after being run over by a truck on the way back to school. My grandparents felt that Howard had been sent to fill the space left by Mershell. Unfortunately he died of Scarlet Fever, exacerbated by Diabetes in 1932.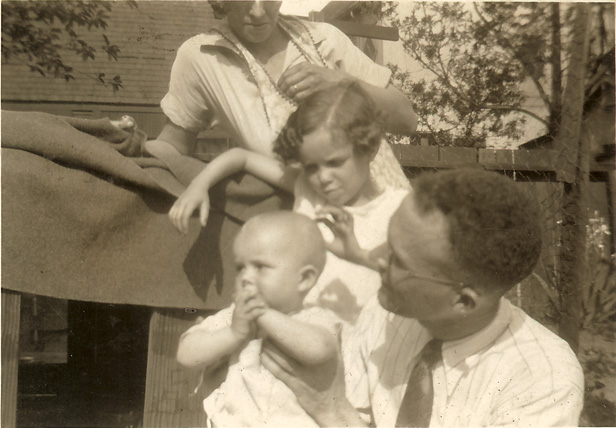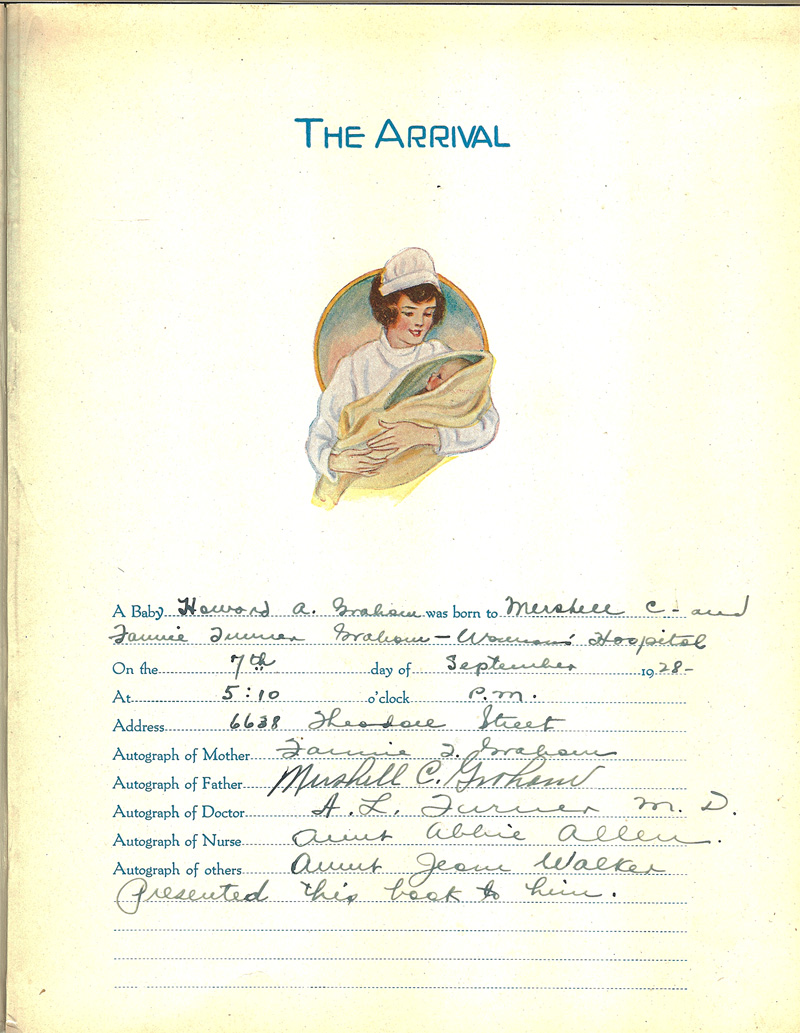 The Arrival
A baby Howard A(lexander) Graham was born to Mershell C. and Fannie Turner Graham – Woman's Hospital.
On the 7th day of September 1928 at 5:10 o'clock P.M.
Address 6638 Theodore Street.
Autograph of Mother Fannie T. Graham
Autograph of Father Mershell C. Graham
Autograph of Doctor A.L. Turner M.D.
Autograph of Nurse Aunt Abbie Allen
Autograph of others Aunt Jean Walker presented this book to him.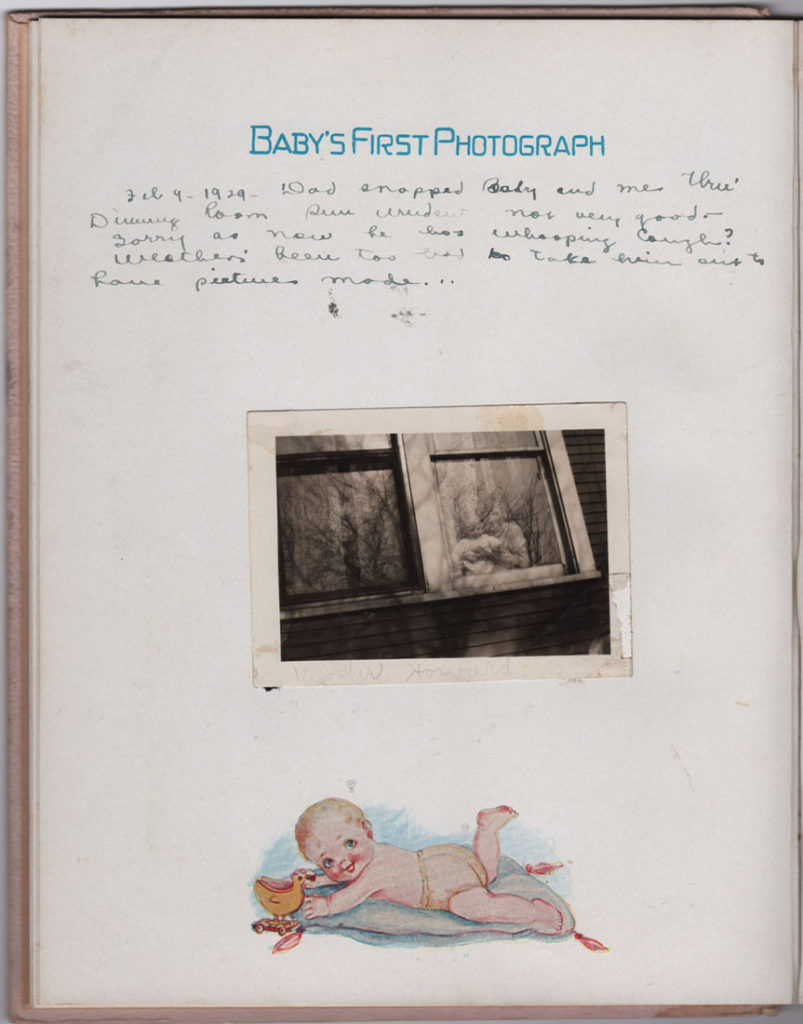 Baby's First Photograph
"Feb. 4, 1929 Dad snapped baby and me thru the dining room sun window not very good – sorry as now he has whooping cough? Weathers been too bad to take him out to have pictures made…"
From my Grandmother Fannie's Bible pages of family records.
20 months old – On May 28th 1929 – Howard was ready for bed – (Dad's working nights) Mary Virginia and Doris kneeling to say prayers – he said "Wait dirls" – "britches coming off" ie. (Diapers) – Never soils or wets bed after 1 year old. A most remarkable baby.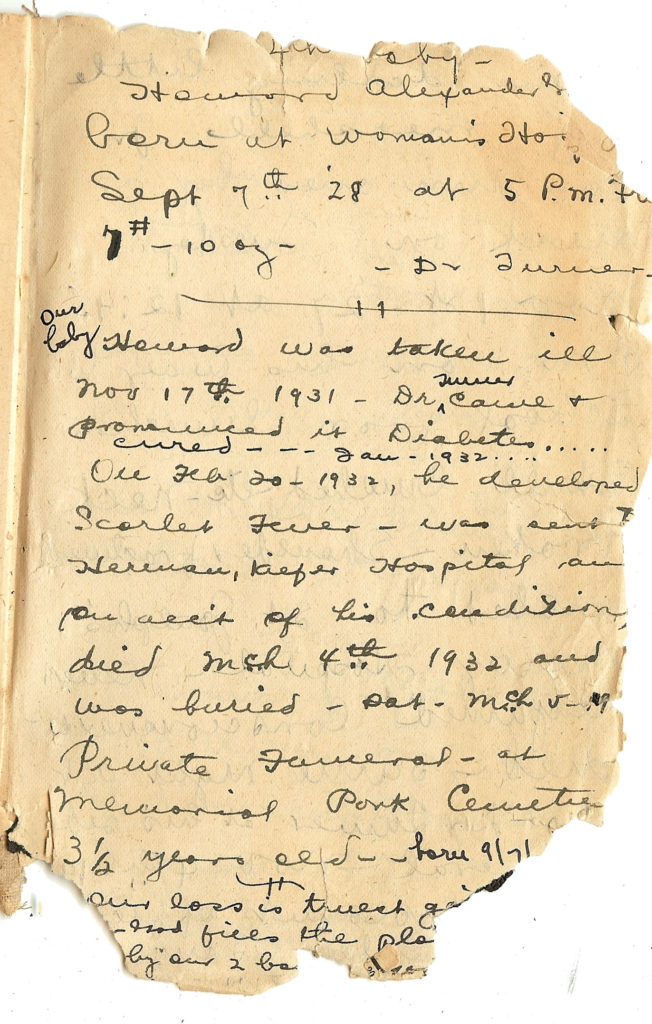 Our baby Howard was taken ill Nov 17th 1931 – Dr. Turner came and pronounced it Diabetes… cured — Jan 1932…
On Feb 20 1932, he developed Scarlet Fever – was sent to Herman Kiefer Hospital on account of his condition, died March 4th 1932 and was buried -sat March 5,
Private Funeral at Memorial Park Cemetery. 3 1/2 years old — born 9/7/28
_____
Our loss is truest gai…. God fills the pla(ce) ..by our 2 bo(ys)…
Other related posts:
Poem for Howard
Howard Alexander Graham Death Certificate
Fannie Mae Turner Graham's Bible
Births, Deaths, Doctors and Detroit