From the back pages of my grandmother Fannie Turner Graham's Bible

"Our darling little Mershell Jr. was run over by a truck on Tuesday Nov. 1st – '27 at 12:45 PM. on his way to school from lunch. skull crushed etc. – Neck broken – shoulder fractured- rushed to St. Joseph's Mercy Hospital – never regained consciousness – died – same night at 2:10 – Dr Turner at his sid(e) (Fun)eral-Nov 4th … (Lavi)scount offic(iated) sang…."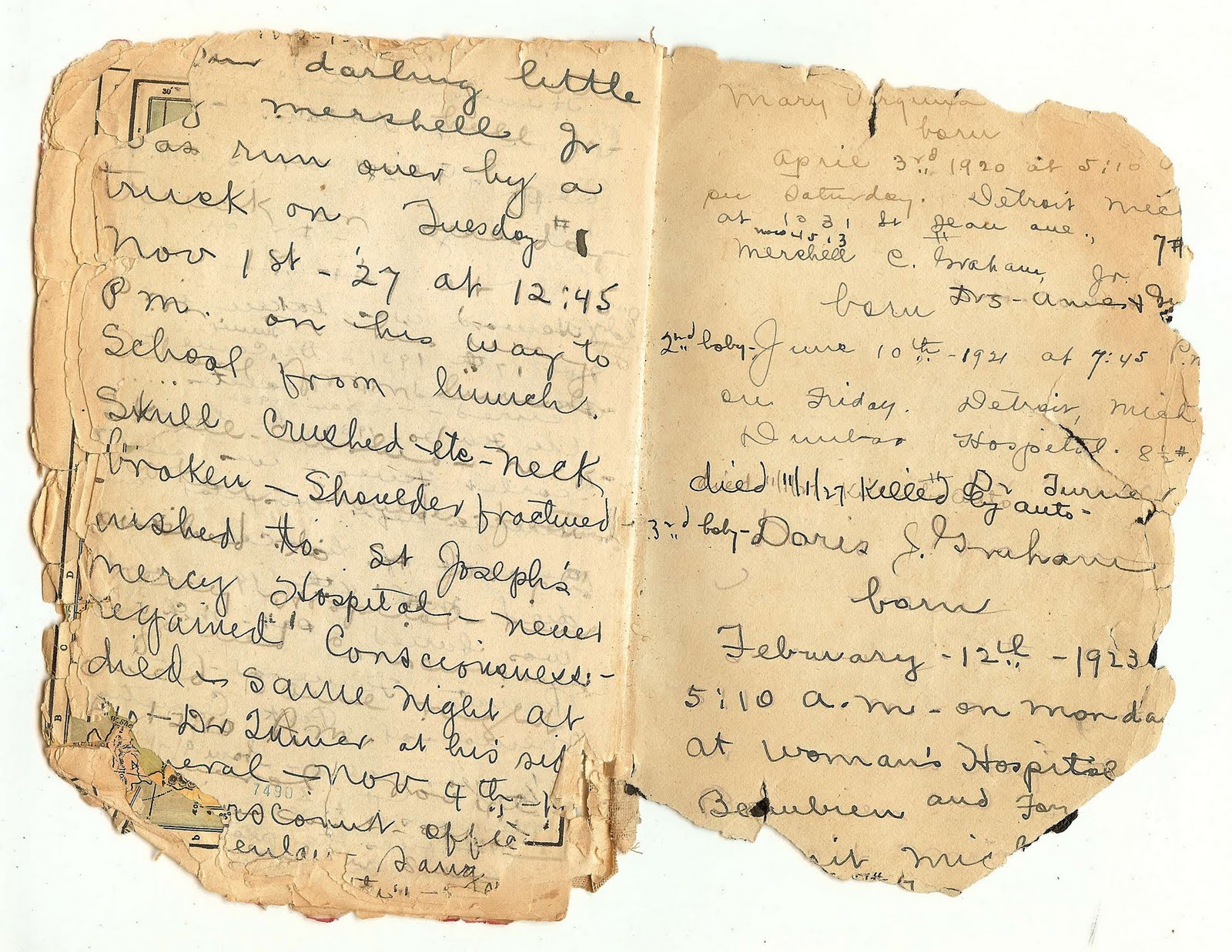 Mary Virginia born April 3rd 1920 at 5:10 AM on Saturday. Detroit Mich at 1031 St. Jean Ave, 7 #. Dr. Ames & …
2nd baby – Mershell C. Graham, Jr. born June 10th – 1921 at 7:45 PM. On Friday. Detroit, Michigan. Dunbar Hospital. 8 1/2# Dr. Turner. Died 11/1/27 killed by auto.

3rd baby – Doris J. Graham born February – 12th – 1923. 5:10 A.M. – on Monday at Women's Hospital Beaubien and For(est) Detroit, Michigan 7#
Two pages from Howard Alexander Graham's baby book.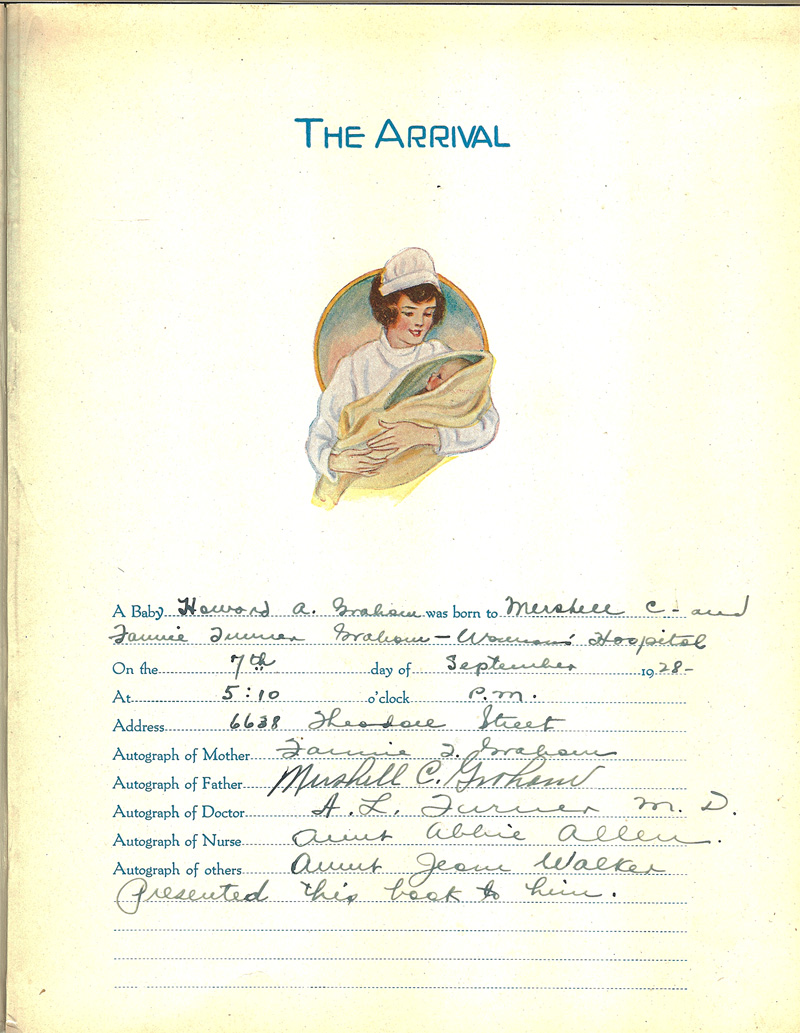 The Arrival
A baby Howard A(lexander) Graham was born to Mershell C. and Fannie Turner Graham – Woman's Hospital.
On the 7th day of September 1928 at 5:10 o'clock P.M.
Address 6638 Theodore Street.
Autograph of Mother Fannie T. Graham
Autograph of Father Mershell C. Graham
Autograph of Doctor A.L. Turner M.D.
Autograph of Nurse Aunt Abbie Allen
Autograph of others Aunt Jean Walker presented this book to him.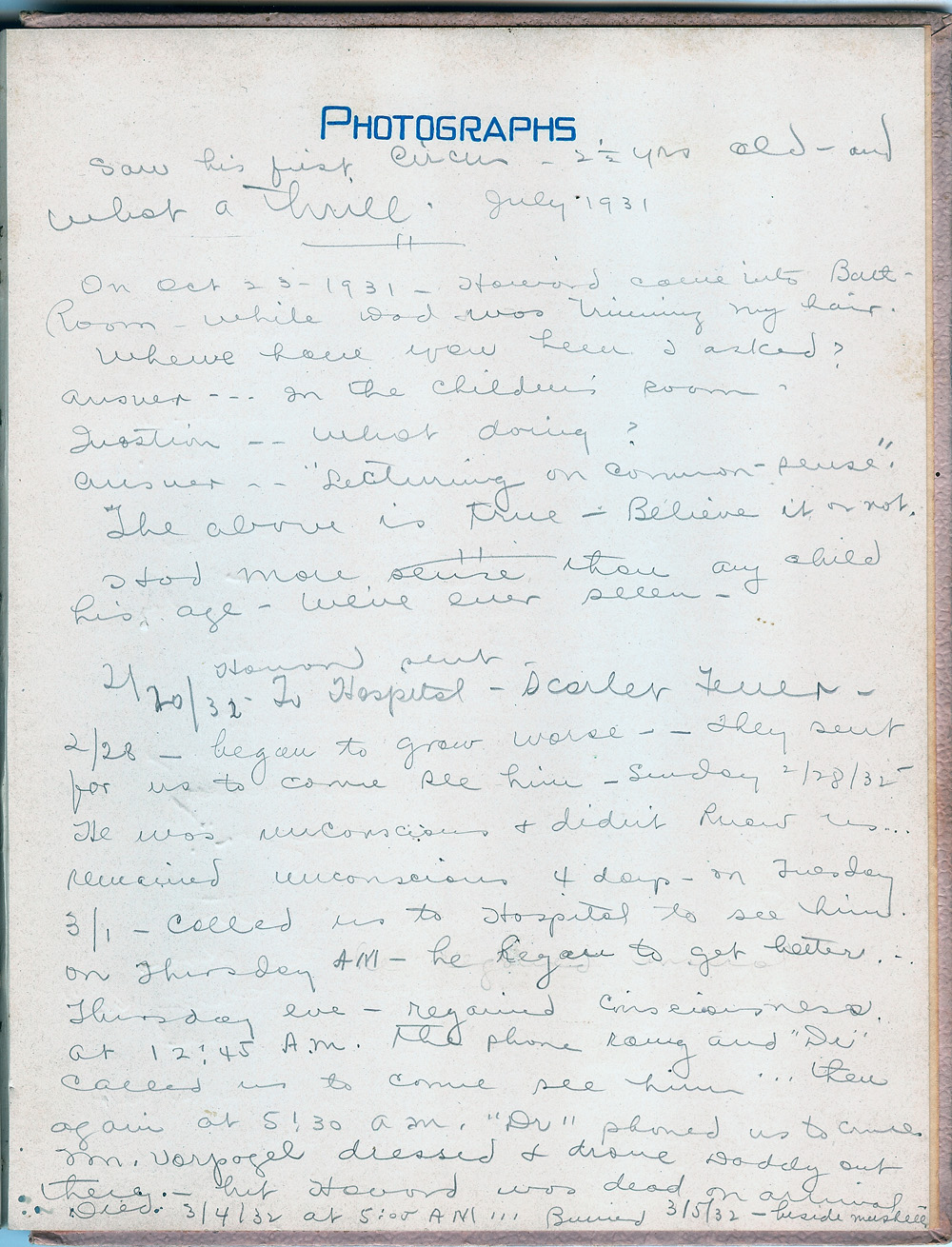 Photographs
Saw his first circus – 2 1/2 years old – and what a thrill. July 1931
On Oct 23 1931 – Howard came into bathroom while Dad was trimming my hair.
Where have you been I asked?
Answer …In the children's room.
Question—What doing?
Answer – "Lecturing on common-sense."
The above is true – Believe it or not.
Had more sense then any child his age we've ever seen.
***********
2/20/32 Howard sent to hospital – scarlet fever.
2/28 – began to grow worse – they sent for us to come see him –Sunday 2/28/32 – He was unconscious and didn't know us…remained unconscious 4 days
On Tuesday 3/1 – called us to Hospital to see him.
On Thursday AM he began to get better.
Thursday eve – regained consciousness. At 12:45 AM. The phone rang and Dr. called us to come see him…
Then again at 5:30 a.m. "Dr" phoned us to come. Mr. Vorpogel dressed and drove Daddy out there – but Howard was dead on arrival. Died 3/4/32 at 5:00 AM…
Buried 3/15/32 – beside Mershell.
*****************