From my drafts. A letter stating that no marriage record was found for Abram and Amanda Cleag.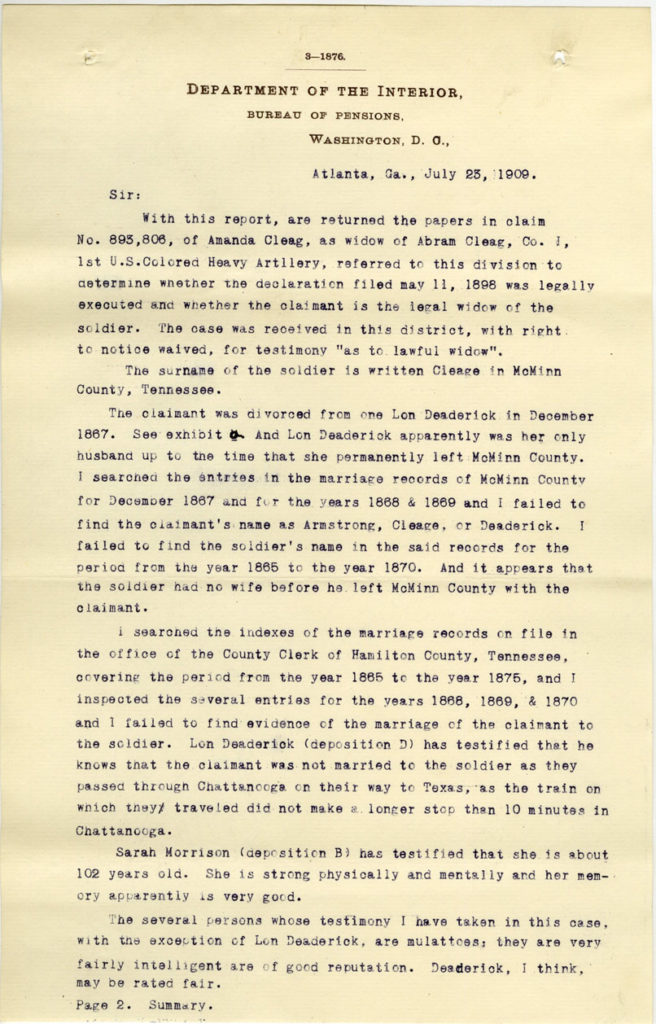 Department of the Interior
Bureau of Pensions
Washington, D.C.
Atlanta, GA., July 2, 1909
Sir:
With this report are returned the papers in claim No. 893, 806, of Amanda Cleag, as widow of Abram Cleag, Co. 1, 1st U.C. Colored Heavy Artillery, referred to this division to determine whether the declaration filed May 11, 1898 was legally excuted and whether the claimant is the legal widow of the soldier. The case was received in this district, with right to notice waived, for testimony "as to lawful widow".
The surname of the soldier is written Cleage in McMinn County, Tennessee.
The claimant was divorced from one Lon Deaderick in December 1867. See exhibit A and on Deaderick apparently was her only husband up to the time that she permanently left McMinn County. I searched the entries in the marriage records of McMinn County for December 186 and for the years 1868 and 1869 and I failed to find the claimants name as Armstrong, Cleage or Deaderick. I failed to find the soldiers name in the said records for the period from the year 1865 to the year 1870. And it appears that this soldier had no wife before he left McMinn County with the claimant.
I searched the indexes of the marriage records on file in the office of the County Clerk of Hamilton County, Tennessee, covering the period from the year 1865 to the year 1870 and I failed to find evidence of the marriage of the claimant to the soldier. Lon Deaderick (deposition D) has testified that he knows that the claimant was not married to the soldier as they passed through Chattanooga on their way to Texas, as the train on which they traveled did not make a longer stop than 10 minutes in Chattanooga.
Sarah Morrison (deposition B) has testified that she is about 102 years old. She is strong physically and mentally and her memory apparently is very good.
The several persons whose testimony I have taken in this case, with the exception of Lon Deaderick, are mulattoes; they are very fairly intelligent are of good reputation. Deaderick, I think, may be rated fair.