I was born in Springfield, Massachusetts and lived there until I was almost 5.  We moved in April of 1951 when my father got a church in Detroit, Michigan. Here we are on moving day, my sister and I, with two little girls I knew then but I don't remember their names.  I have a photo of the oldest girl, my sister and myself, standing on the parsonage porch.  I also have a memory of the oldest girl pouring milk in my dinner, which I wasn't going to eat anyway, but still… we were sitting at the little table in our room eating. My mother said if I'd eaten it in a timely fashion it wouldn't have happened.  No sympathy there.  I remember another time when this little girl hit me and my mother told me if I didn't hit her back, my mother was going to hit me.  I hit her back. Don't remember that she ever hit me again.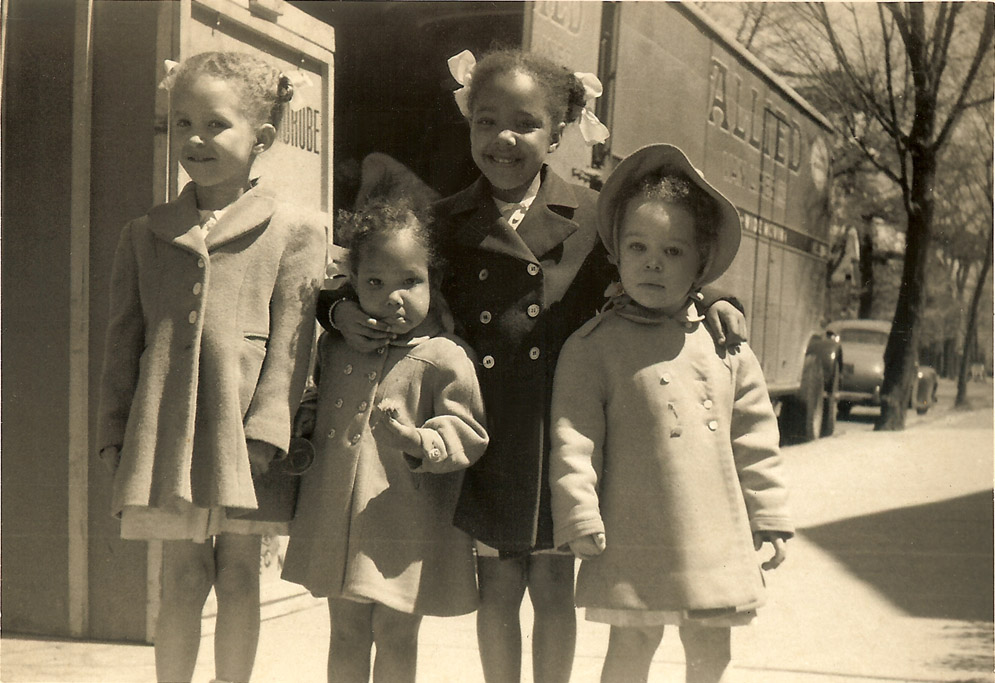 Me, sisters I cannot remember the names of, my sister Pearl
I saw them one more time, after we moved to Detroit.  In the winter of 1967 my father returned to Springfield to preach for the Men's Club. I went with him. We also went to New York on this trip where I bought my first pair of bell bottom jeans.  My grandmother was so disappointed that I didn't get a nice dress.  But that isn't this story.  I remember the living quarters in the parsonage seemed so small on this trip.  Nobody was living in them at the time. I'm sure the next minister got the congregation to move him back into separate quarters. We stayed with the family of these two girls. I was 20 so they were probably 20 and 18.  The oldest one was going to a party.  Well, actually she wasn't going to the party, she was going to meet her boyfriend  there and  they were going elsewhere.  Her father had forbidden her to see this boy.  I was never a big party person and I sure didn't want to be left at a strange party with a bunch of strangers.  Needless to say, I didn't go. The adults tried to persuade me that it would be "fun". Ha. I didn't give away her plan but I didn't go.  Wish I could remember her name, I'd look her up on facebook and see what she remembers about any of this.