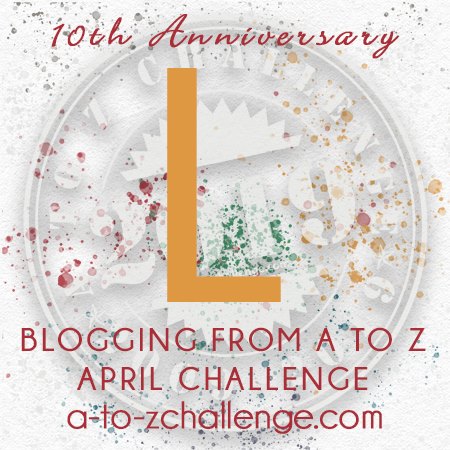 This is my 7th year participating in the A to Z Challenge. In the 2015 challenge, I wrote about the Cleages formerly enslaved on the plantations of Samuel and his sons Alexander and David Cleage of Athens, McMinn County, Tennessee. Most of the people in these posts are not related to me by blood or DNA, however my ancestors were enslaved on the same plantations with them.
Late last year, I ordered the Civil War Pension files of the Cleage men who served in 1st Regiment, United States Colored Heavy Artillery (USCHA), during that war. Through these files I learned that their lives were much richer and more complex than census, death and other records can show. I am using the information from pension files and records that I found through the pension files for this years challenge.
Today I write about Thomas Lillard who gave testimony in Charles A. Cleage's Pension application hearing.
Charles A. Cleage Pension File
Deposition A
22 July 1890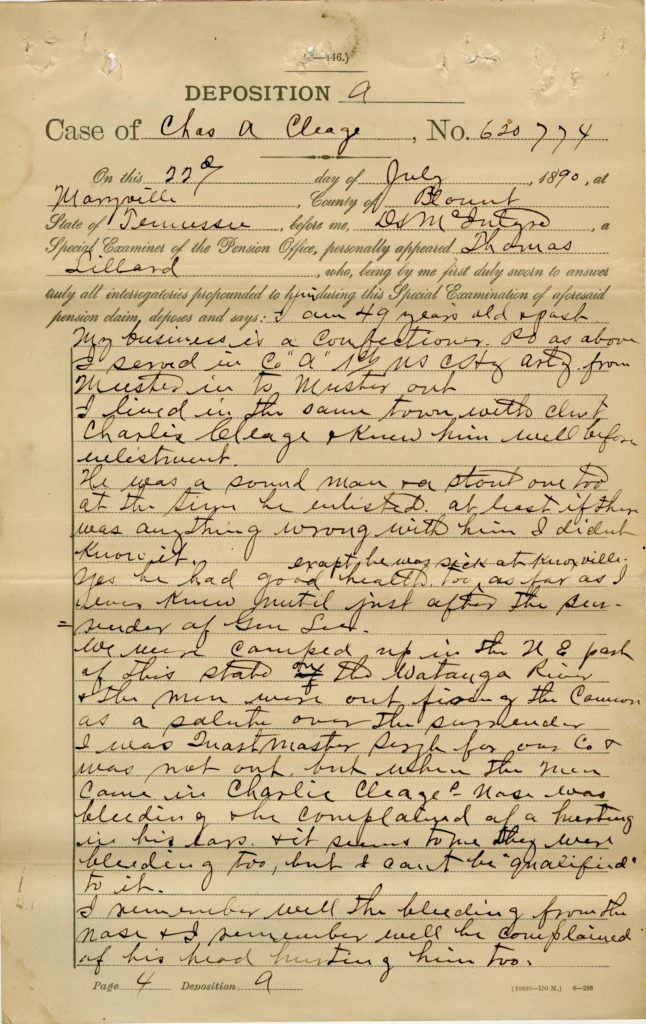 Thomas Lillard
Maryville, County of Blount State of Tennessee.
I am 49 years old, and past. My business is a confectioner. PO as above. I served in Co. A 1st USC Heavy Artillery from muster in to muster out. I lived in the same town with claimant Charlie Cleage and knew him well before enlistment.
He was a sound man and a stout one too at the time he enlisted at least if there was anything wrong with him, I didn't know it, except he was sick at Knoxville. Yes he had good health too as far as I ever knew until just after the surrender of Gen. Lee.
We was camped up in the N.E. part of this state on the Watauga River and the men were out firing the canon as a salute over the surrender. I was quarter master sergt for our Co. and was not out, but when the men came in Charlie Cleage's nose was bleeding and he complained of a hurting in his ears and it seems to me they were bleeding too, but I can't be "qualified" to it.
I remember well the bleeding from the nose and I remember well he complained of his head hurting him too. He said the jar of the artillery caused it. He complained after that several times of the head and he always "laid it" to that firing of that salute.
I don't now remember that he complained of any other part of his body was affected by that firing. No sir, I do not now remember that I ever heard him complain of his heart or any trouble with his heart. If he did I have forgotten it.
I did not live near him after the war, but have seen him several times. He has been weakly, but I do not know what his complaint has been.
Since you asked me the question and used the word "palpitation" of his heart, it seems to me that I did hear it said while in the army that that was one thing that ailed him, but I don't remember it definitely enough to be qualified to it.
I think William Porter was sergeant when claimant was hurt. James Magill, now dead, was the orderly sergeant before Porter.
I am not related to claimant nor interested in his claim for pension.
I have understood the questions asked me. My answers are correctly written.
Thomas Lillard
********
Thomas Lillard was born into slavery in McMinn County. He was literate when he joined the USCHA and was promoted to Quartermaster Sergeant. After being mustered out, he married Mariah Iven in 1868 and they had eight children together. One died in infancy. Those surviving all received good educations and attended college.
Lillard was active in politics and held several offices in Maryville, Tennessee. He worked to establish St. Paul AME Zion Church and schools for black children in both Maryville and nearby Knoxville. He was also a businessman. The add below appeared in the local paper Maryville Times in 1882 and covered a variety of businesses.
Thomas Lillard's Store Thu, Dec 14, 1882 – Page 4 · Blount County Democrat (Maryville, Tennessee) · Newspapers.com
He often appeared in the local papers, nine times out of ten about his ice cream parlor or politics. David Jarnigan's daughters visit with Thomas Lillard's wife appeared in The Maryville Times "Colored Notes" column in 1899.
lillard jarnegin visit Sat, Jan 7, 1899 – Page 4 · The Maryville Times (Maryville, Tennessee) · Newspapers.com
I was surprised to find Thomas Lillard in my family tree, in a round about kind of way. His daughter Melinda was the first wife of Franklin Marion Kennedy. After Melinda died, leaving three small sons, Kennedy married Mayme Sherman. Mayme Sherman was the daughter of my great grandmother, Celia Rice Cleage Sherman's second husband, William Roger Sherman.
Thomas Lillard died in August 1911, leaving two grown children and his wife to mourn his passing.