This year I am going through an alphabet of news items taken from The Emancipator newspaper, published between 1917 and 1920 in Montgomery, Alabama. Most are about my grandparent's circle of friends. All of the news items were found on Newspapers.com. Each item is transcribed directly below the clipping. Click on any image to enlarge.
__________________
Zephyrus Todd was a friend of my grandmother Fannie Turner. When she visited my grandmother, Fannie Turner in May 1918, she was 26 years old. My grandmother was 30.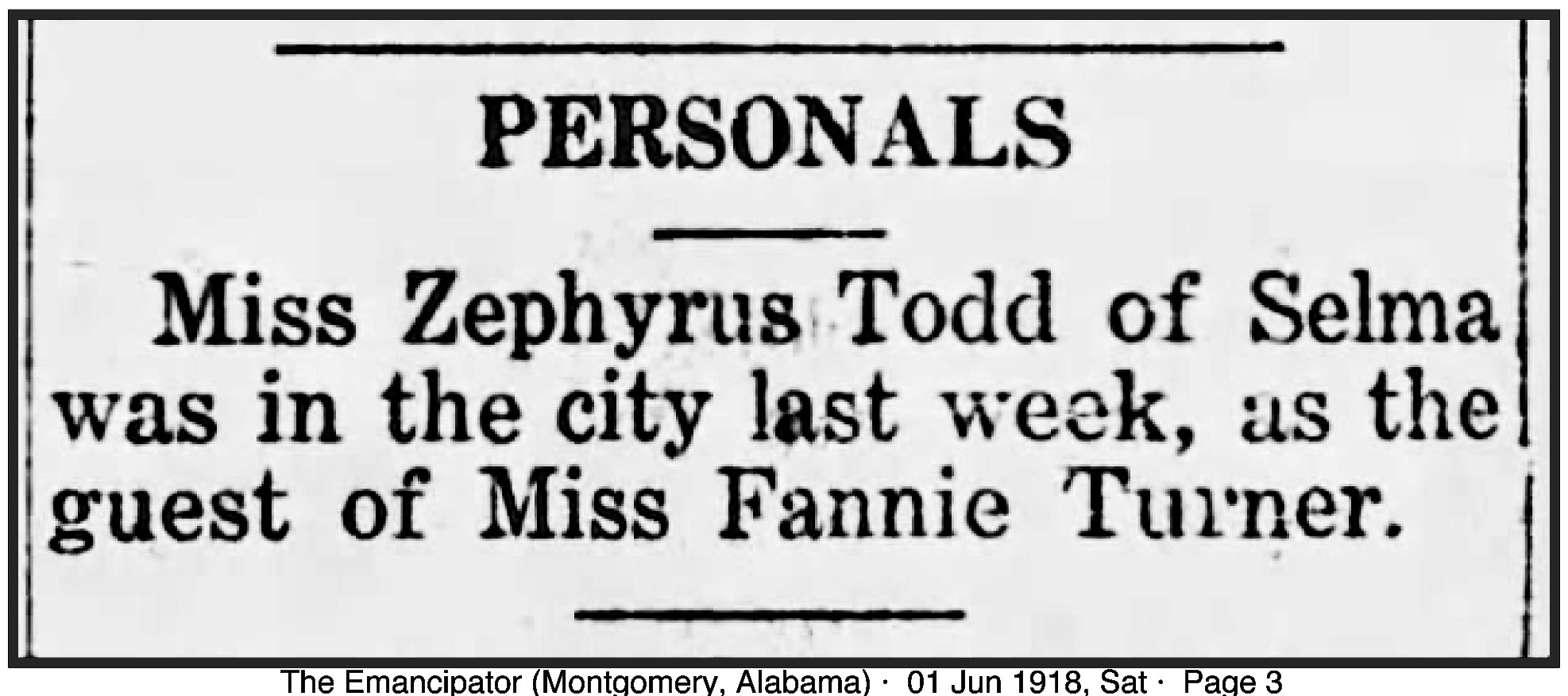 PERSONALS
Miss Zephyrus Todd of Selma was in the city last week, as the guest of Miss Fannie Turner.
Zephyrus Todd was born in 1892, the second child of James and Corinne (Hunter) Todd. There were eight siblings. The one born after Zephyrus died in childhood, the rest lived well into adulthood. Both of her parents were born soon after the end of slavery. Both were literate.
In the 1900 census, her father James taught school. Her mother Corinne was a seamstress. There were Four children. The oldest, Percival, was ten and attended school. Zephyrus was eight, Ruby was three and James was one. Corinne had given birth to five children and four were living. The deceased child was probably born between Zephyrus and Ruby.
In the 1910 census, her father, James Todd was listed as a laborer in an oil mill. His wife Corinne was still pursuing her work as a seamstress while raising six children. Two more had been added to the family, Six year old Furrnis and two year old Nathaniel. The four oldest children had all attended school.
By the 1920 census, James Todd was an engineer at the oil mill. Their was no occupation listed for Corinne. Zephyrus was teaching. Percival was not living at home. All but six year old Corintha were attending school.
All of the children finished high school. At least five attended college. Zephyrus began teaching at Clark Elementary School in 1913 when she was 21. Here is a bit I found about education in Selma at that time.
"…in 1891 the Alabama state legislature approved new education laws that allowed for discrimination in facilities and in the salaries provided for black teachers compared to whites. Despite these impediments, Richard B. Hudson (1866-1931), who was a Selma University graduate, remained committed to building a public school presence for black children in Selma. In 1890 Clark Elementary School opened on the first floor of Sylvan Street Hall, the first public school for African American students in Selma. A permanent building was constructed and opened in 1894 on Lawrence Street. Hudson administered Clark School for approximately 40 years and coped with a white perception that black children did not need education when they were needed more in the cotton fields or in the cotton industry. The length of the school year for blacks in Alabama, for instance, decreased from 100 days in 1900 to a mere 76 days by 1910." (1)

Zephyrus' sister Ruby joined her as a teacher at Clark Elementary School in 1922. Both of them continued to live at home and teach at Clark until they moved 129 miles away to Lamar County and began to teach at Lamar County Training School. Eventually Zephyrus Todd became the principal. Neither Zephyrus nor her sister Ruby married.
At the age of 76, on August 13, 1968, Zephyrus died in Lamar County. She was buried in Elmwood Cemetery, the black cemetery in Selma,
"… Elmwood Cemetery on Race Street (note: so named because of the Race Track.) became a forgotten civic space. The earlier Confederate burials were removed c. 1878. By the turn of the century it was the town's recognized African American cemetery and became the final resting place for many significant local leaders in commerce, religion, and education from the first half of the twentieth century." (1)

________________
I found this information on Ancestry.com in Census Records, Directories, Death Records and Military Records. The news item was found on Newspapers.com. The history information was found here Section E. Historic Context (1)