The medical testimony that was given regarding the physical condition of Thomas Ray Allen over the years was covered in his pension file. I have chosen one testimony from the beginning of the process and one from near the end of his life to share. (Click to enlarge the handwritten reports.)
The first doctor's testimony is dated December 13, 1894. At this time Thomas' pension of $12 a month had just been reduced to $6 a month.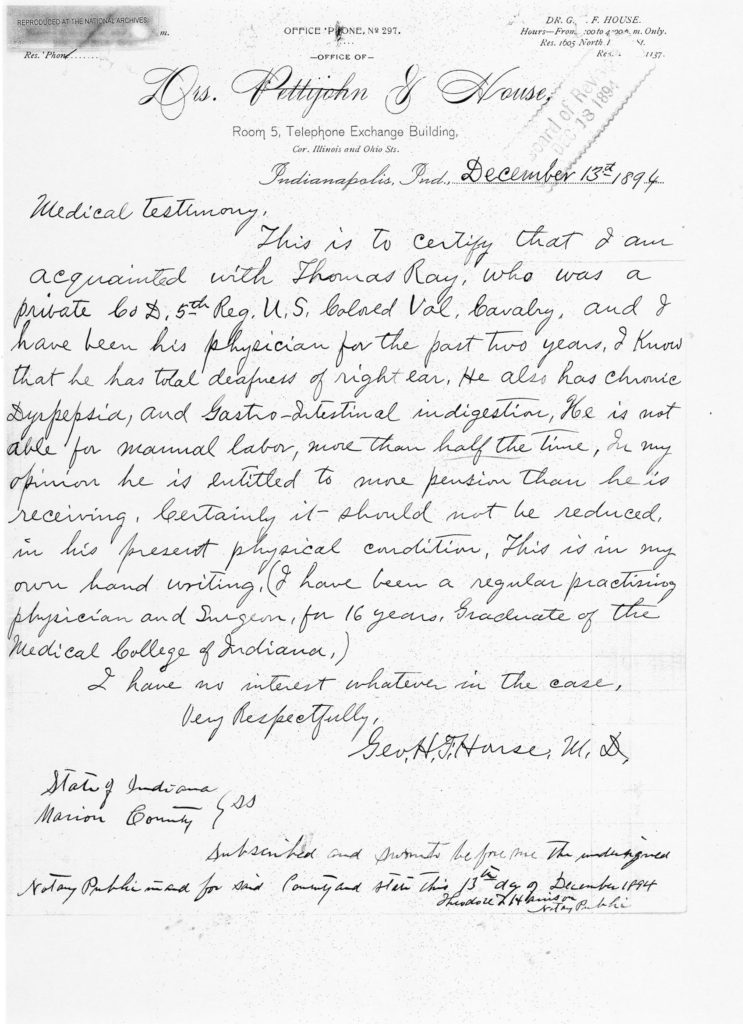 Indianapolis, Indiana December 13, 1894
Medical testimony
This is to certify that I am acquainted with Thomas Ray, who was a private Co D. 5th Reg. U.S. Colored Vol. Cavalry, and I have been his physician for the past two years. I know that he has total deafness of right ear. He also has chronic Dyspepsia, and Gastro-Intestinal indigestion. He is not able for manual labor, more than half the time. In my opinion he is entitled to more pension than he is receiving. Certainly it should not be reduced, in his present physical condition. This is in my own hand writing. (I have been a regular practicing physician and surgeon for 16 years. Graduate of the Medical College of Indiana.)
I have no interest whatever in the case.
Very Respectfully,
Geo. H.F. House M.D.
State of Indiana
Marion County
Subscribed and sworn before me the undersigned Notary Public in and for said County and state this 13th day of December 1894
Theodore F. Harrison Notary Public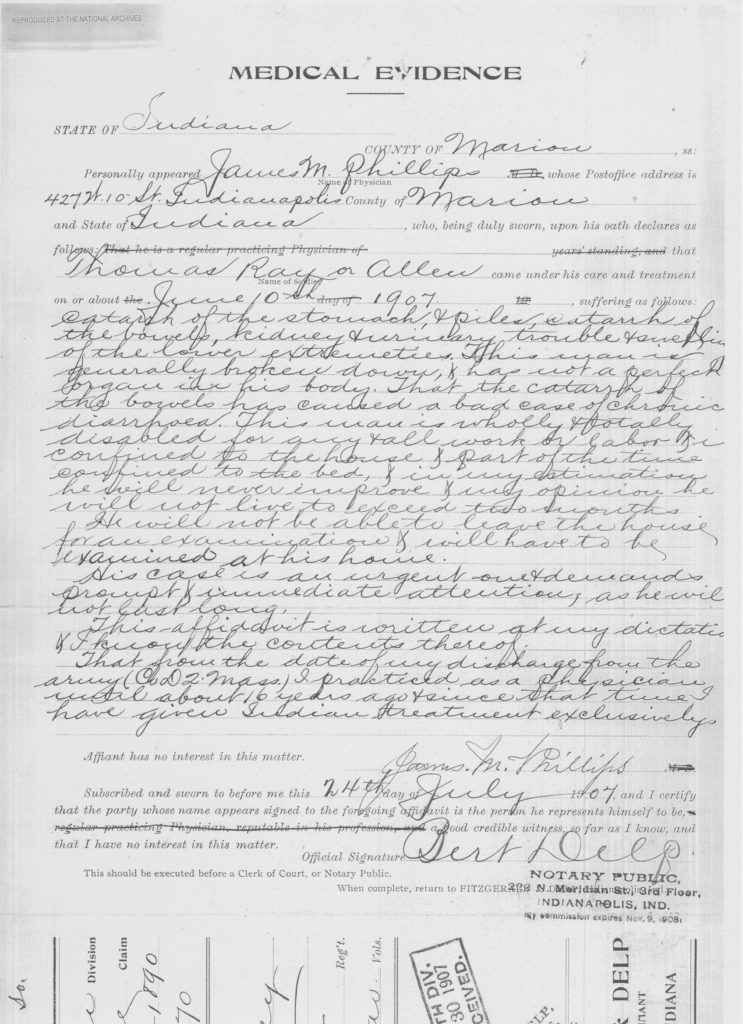 Twelve years later, in July of 1907, Thomas was in even worse shape. His pension remained unchanged at $6 a month. Thomas died five months after this examination in November of 1907.Medical Evidence
State of Indiana
County Marion
Personally appeared James M. Phillips whose Postoffice address is 427 W. 10 St. Indianapolis County of Marion and state of Indiana, who, being duly sworn, upon his oath declares as follows: that Thomas Ray or Allen came under his care and treatment on or about June 10th 1907, suffering as follows: catarrah of the stomach, & piles,& has catarrah of the bowels, kidney and urinary trouble & swelling of the lower extremieties . This man is generally broken down, and has not a perfect organ in his body. That the catarrah of the bowels has caused a bad case of chronic diarrhoea. This man is wholly & totally diabled for any and all work or labor & is confined to the house & part of the time confined to the bed, & my opinion he will not live to exceed two months. He will not be able to leave the house for an examination & will have to be examined at his house.
His case is an urgent one & deserves prompt & immediate attention, as he will not last long.
This affidavit is written at my dictation & I know the contents thereof.
That from the date of my discharge from the army (Co. D 2 Mass.) I practiced as a physician until about 16 years ago & since that time have given Indian (?) treatment exclusively.
Affiant has no interest in this matter. James M. Phillips
Subscribed and sworn to me this 24th day of July 1907 and I certify tht the party whose name appears signed the foregoing affidavit is the person he represents himself to be a good redible witness, so far as I know, and that I have no interest in this matter.
Official signature Bert Delp Notary Public