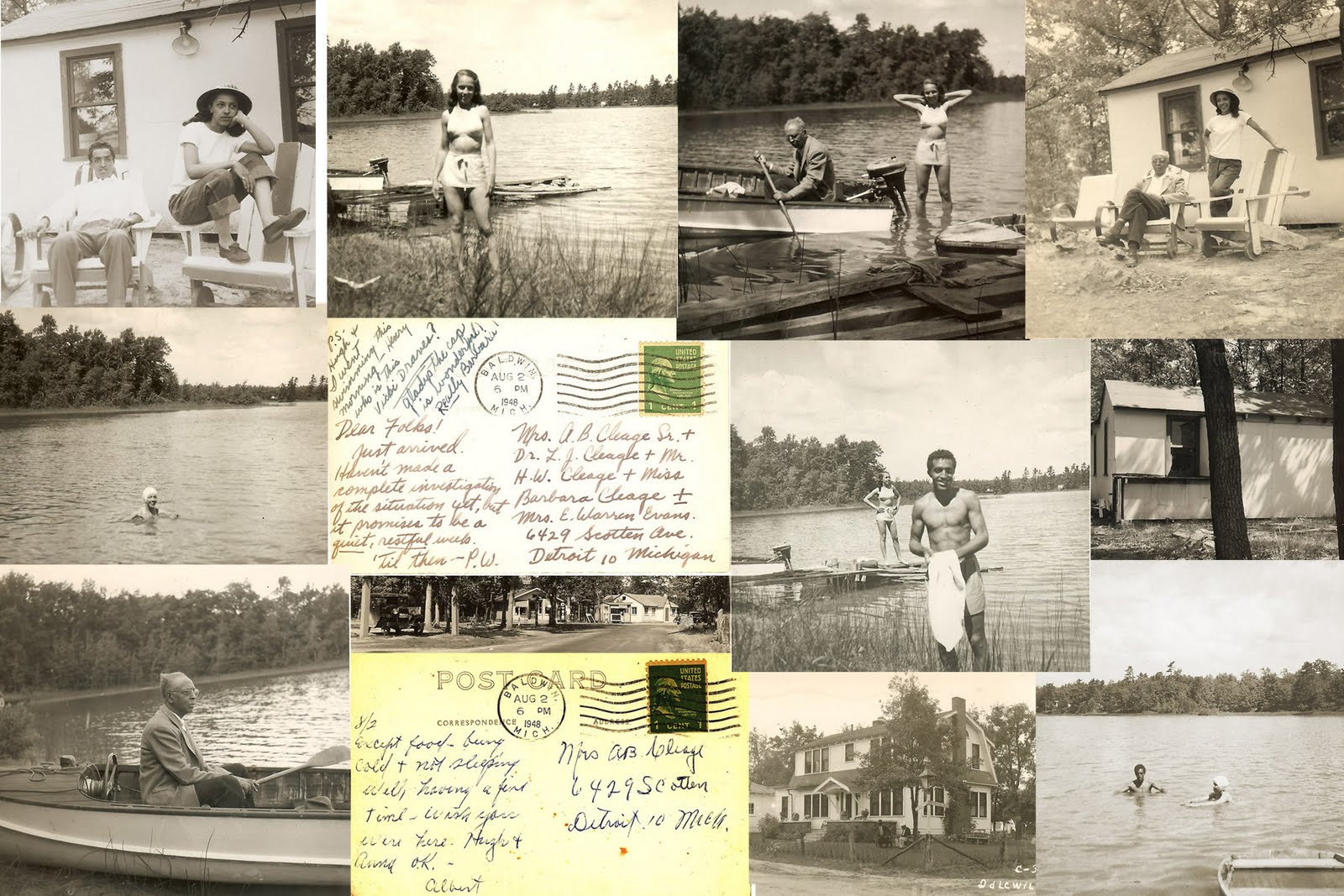 My Aunt Anna addressed her post card to everybody at the house.
Mrs. A.B. Cleage Sr. +Dr. L.J. Cleage + Mr. H.W. Cleage + Miss Barbara Cleage + Mrs. E. Warren Evans
6429 Scotten Ave.
Detroit 10 Michigan
Dear Folks!
Just arrived.  Haven't made a complete investigation of the situation yet, but it promises to be a quiet, restful week.
'til then – P.W.
P.S. Hugh and I went swimming this morning – Henry who is this Vicki Draves? Gladys the cap is wonderful!  Really Barbara!
My grandfather addressed his card to his wife, Mrs. A.B. Cleage
8/2
Except food being cold and not sleeping well, having a fine time.  wish you were here.  Hugh and Anna o.k.
Albert
In 1948 the war was over and Hugh and Henry were back in Detroit after farming in Avoka as their Conscientious Objector service.  Hugh was working at the Post Office and Henry was  in law school at Wayne State.  Gladys was home visiting while waiting for her oldest son, Warren, to be born at the end of December.  No idea how or why my grandfather, Hugh and Anna had gone away alone to Louis' cottage in Idlewild.  Anna, who signed her letter P.W. for her nick name of Pee Wee, was the youngest of Albert and Pearl's 7 children.  She was 24 and at Wayne preparing to be a pharmacist.
Idlewild was organized by a group of white businessmen in 1912 as a resort for African Americans.  This was during the time of segregation and it didn't matter if you were in the north or the south you weren't going to be able to buy a cottage on a lake if you were black.  In it's hey day, Idlewild had night clubs with acts by both the known and the unknown.  There was horseback riding at Sarges and skating at the skating rink in the club house. Various clubs from Detroit, Chicago and Kansas City got together to party and socialize.  The parties went on forever in the clubs and after hour places. This is what I heard from the old timers before I was an old timer.  My experience as a summer person in Idlewild consisted of swimming in front of my Uncle Louis cottage, socializing with my sister and cousins and jumping over the cracks in the roller rink floor (while skating).  In 1986 my husband, children and I moved to Idlewild.  It was a very different experience to be a local.  Lake county, where Idlewild is located is one of the poorest counties in Michigan.  But this isn't that story.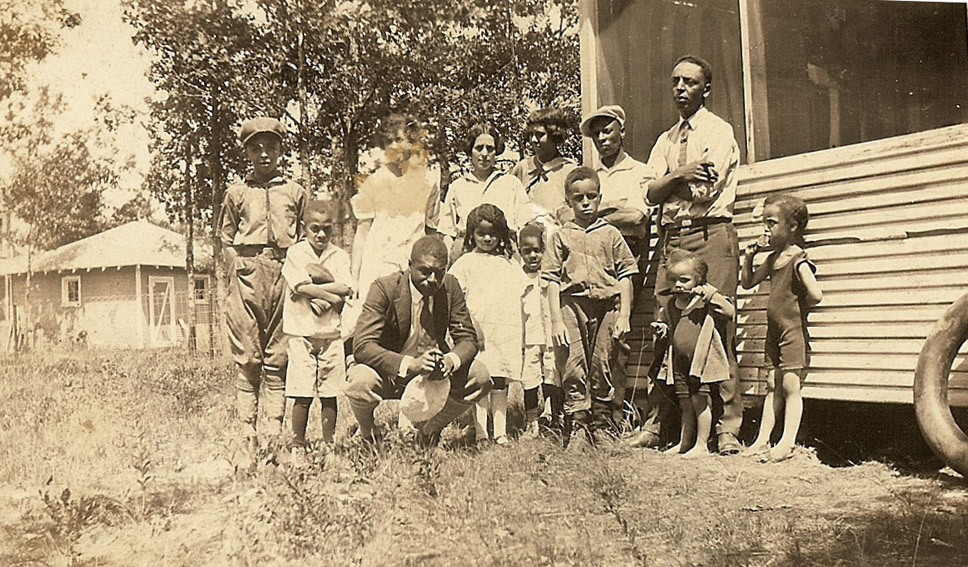 My family started coming up to Idlewild in the early 1920s. In the photo above my father is the tall one with the cap on the far left, cousin Helen Mullins next, then my grandmother Pearl Reed Cleage, two people I don't know, my grandfather with his arms crossed on the right. Front row far right my aunt Barbara, the shorty in front of grandfather is Gladys, the kid with the bubble gum in his cheek or the chaw of tobacco or a toothache is my uncle Henry. I don't know any of the rest.  Where are Hugh and Anna (aka Pee Wee)? Napping? Waiting until 1948 to show up and steal the show?
I miss Idlewild.  We went up during the summers when I was growing up and lived there for 20 years, longer than I lived any place else in my whole life. When I think about home, I think of Idlewild.  In the photo below my son Cabral is coming out of the lake after swimming across and back.  It was about 2003.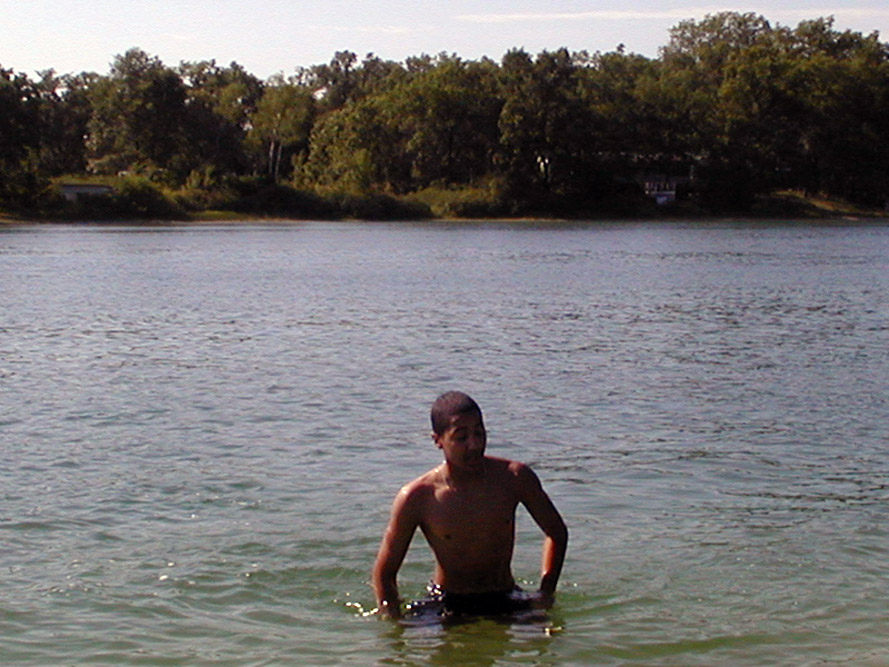 This blog post was written for The 4th Annual Swimsuit Edition The Carnival of Genealogy, organized by Jasia at CreativeGene.