More about Dunbar Hospital which was recently saved from being sold at auction when the it was decided to let the owners pay all back taxes, fines and water bill.  The article seems to be based on an interview with my aunt, Barbara Cleage Martin/Cardinal Nandi.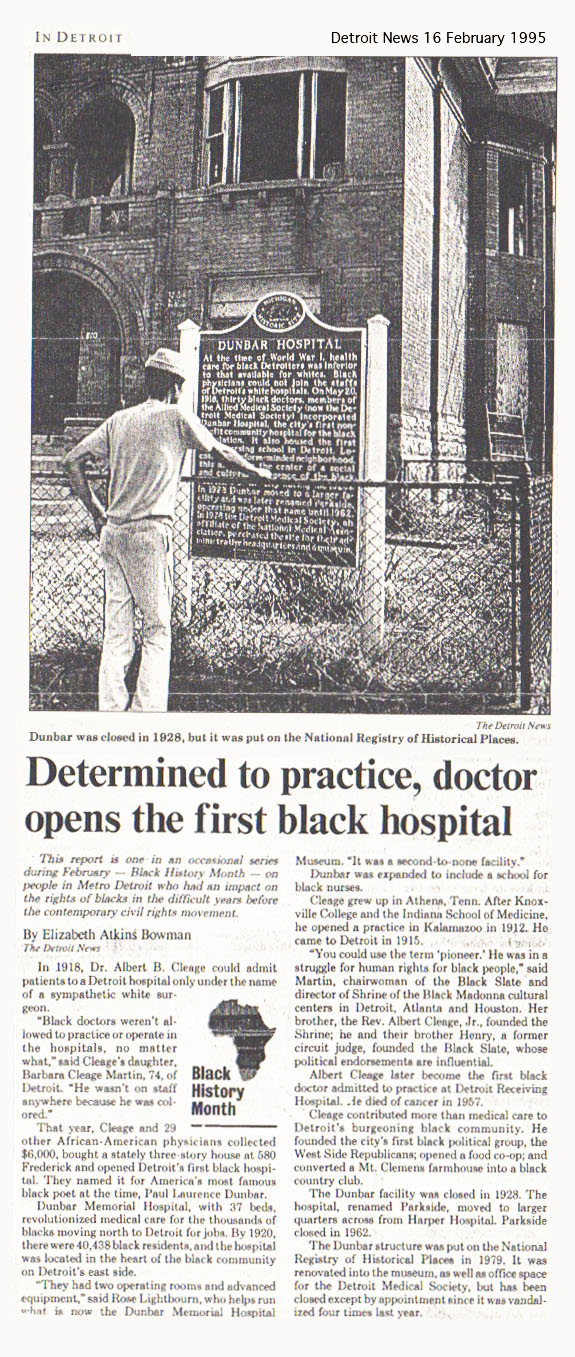 The sign on front lawn reads:
Dunbar Hospital: Michigan Historic Site.
At the time of World War I, health care for black Detroiters was inferior to that available for whites. Black physicians could not join the staffs of Detroit's white hospitals. On May 20, 1918, thirty black doctors, members of the Allied Medical Society (now the Detroit Medical Society) incorporated Dunbar Hospital, the city's first non-profit community hospital for the black population. It also housed the first black nursing school in Detroit. Located in a reform-minded neighborhood, this area was the center of a social and cultural emergence of the black residents of the city during the 1920s. In 1928 Dunbar moved to a larger facility and was later renamed Parkside, operating under that name until 1962. In 1978 the Detroit Medical Society, an affiliate of the National Medical Association, purchased the site for their administrative headquarters and a museum.
You can read more about Dunbar Hospital in previous posts at these links A Speech on the Graduation of the first class of nurses,  Births, Deaths, Doctors and Detroit, Part 2,Dunbar Hospital 1922 and 2014.  You can read about this building being auctioned in September 2014 here Detroit's first black hospital hits auction…
And here is an article from The Michigan Citizen about the Dunbar Hospital being saved. Let's hope something positive is done with it now. Saving the Dunbar.